"CARRIE" & MYKITA: A LOVE STORY
Everything she has worn, from fabulous dresses, dramatic headpieces to elegant heels, and stunning eyewear, has become iconic. After the finale of second season "And Just Like That…" concluded with Carrie, played by real-life style icon and MYKITA enthusiast Sarah Jessica Parker, in a stunning pair of custom MYKITA sunglasses, we decided to go back in time and explore one of the most enduring relationships of the series – the one between the iconic fashionista and her beloved MYKITA frames.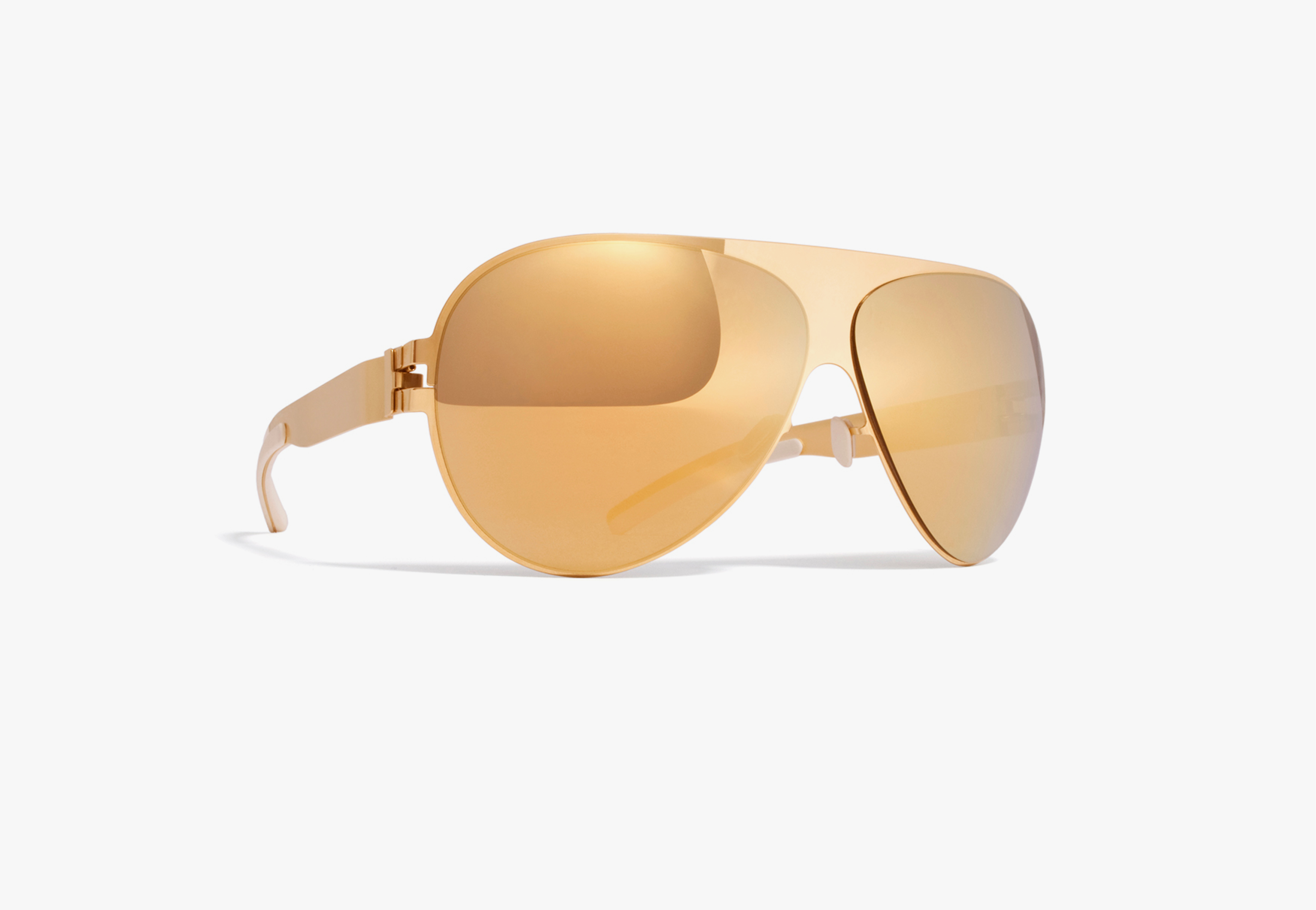 CARRIE & FRANZ | Sex And The City 2
In the opening scene to the movie, Carrie makes a glorious entrance, expertly hailing a cab dressed in a white Halston dress with all gold accessories, including FRANZ in monochrome gold. There was simply nothing like this piece on the market at the time and these golden aviator sunglasses from the MYKITA & BERNHARD WILLHELM collection were handpicked by legendary stylist Patricia Field herself.
CARRIE & MERYL | And Just Like That – Season 1, episode 1
Fast-forward some years and the next viral Carrie & MYKITA moment has arrived. The opening scene to the new series features a shot of our favourite writer illuminated only by her laptop and wearing optical frame MERYL sitting, thinking, writing. The scene neatly captures the jump in time for the characters, the ladies have arrived in the age of visual aids and dispels all doubts definitively – reading glasses are now a style statement. Back in the real world, graceful MERYL with its oversize, vintage silhouette is flying off the shelves.
CARRIE & CLAAS | And Just Like That – Season 1, episode 4
In this episode about making new friends, Carrie bonds with the ultra-chic realtor Seema Patel over, amongst other things, old smoking habits, wearing a vintage Eighties Norma Kamali madras colour-block blazer and matching jumpsuit, and of course optical model CLAAS. The eyewear was customised with lightly tinted indigo lenses by the MYKITA Shop Soho New York. CLAAS is a true MYKITA design classic and perfectly matched to the main character energy of Carrie's walking rainbow outfit.
CARRIE & ALESSIA | And Just Like That – Season 1, episode 6
Carrie considers and decides against a facelift in this episode that sees the characters finding their way back to their truest selves. In addition to lounging around in her beloved MERYL reading glasses, Carrie grabs her ALESSIA sunglasses to block out the light in her new sunlit apartment in a futile attempt to sleep. This stunning frame with a hexagonal shape deserves a closer look – the geometric rims are made using via a specialised semi-etching technique and meticulously hand-lacquered to achieve a refined yet unconventional elegance. Very Carrie Bradshaw.
CARRIE & BJELLE | And Just Like That – Season 2, episode 2
True to the times, Carrie the columnist is now Carrie the podcaster – to record her latest episode she keeps things fresh and interesting by switching to BJELLE, a cat-eye shaped optical model that translates this classic feminine shape into the signature lightweight stainless-steel construction by MYKITA.
CARRIE & LIVA | And Just Like That – Season 2, episode 6
Carrie is really settling into her relationship with MYKITA. It's a steady companion in the studio, at home, while writing and podcasting. In this homey scene where she pairs her silky pyjamas with LIVA, an oversize, subtly hexagonal optical frame with very fine rims, we get to see just how comfortable they have gotten with each other.
CARRIE & STUDIO12.5 | And Just Like That – Season 2, finale
It doesn't get much more iconic than this: Carrie wears custom made MYKITA as she watches the sun set at a beach in Greece with best pal Seema Patel. She removes her gradient shades, holds them in her hand and orders two more cosmopolitans, in Greek. The custom eyewear piece worn by real-life style maven Sarah Jessica Parker was created especially for the character, answering a creative brief that references 1920s Hollywood. It's vintage glam with a futuristic spin and distinctively MYKITA.

Fans of the show and fashion enthusiasts will be pleased to know that "And Just Like That…" will return for a third season – we can't wait to see how Carrie will take her relationship with MYKITA to the next level.
Discover all frames worn by Carrie in "And Just Like That…" here.