A DAY ON TOUR WITH... CITIZENS
With captivating voices and catchy melodies CITIZENS! are on a mission to reclaim the pop cause one city at a time. MYKITA Journal caught up with the band before their gig in Berlin to get a taste of life on tour.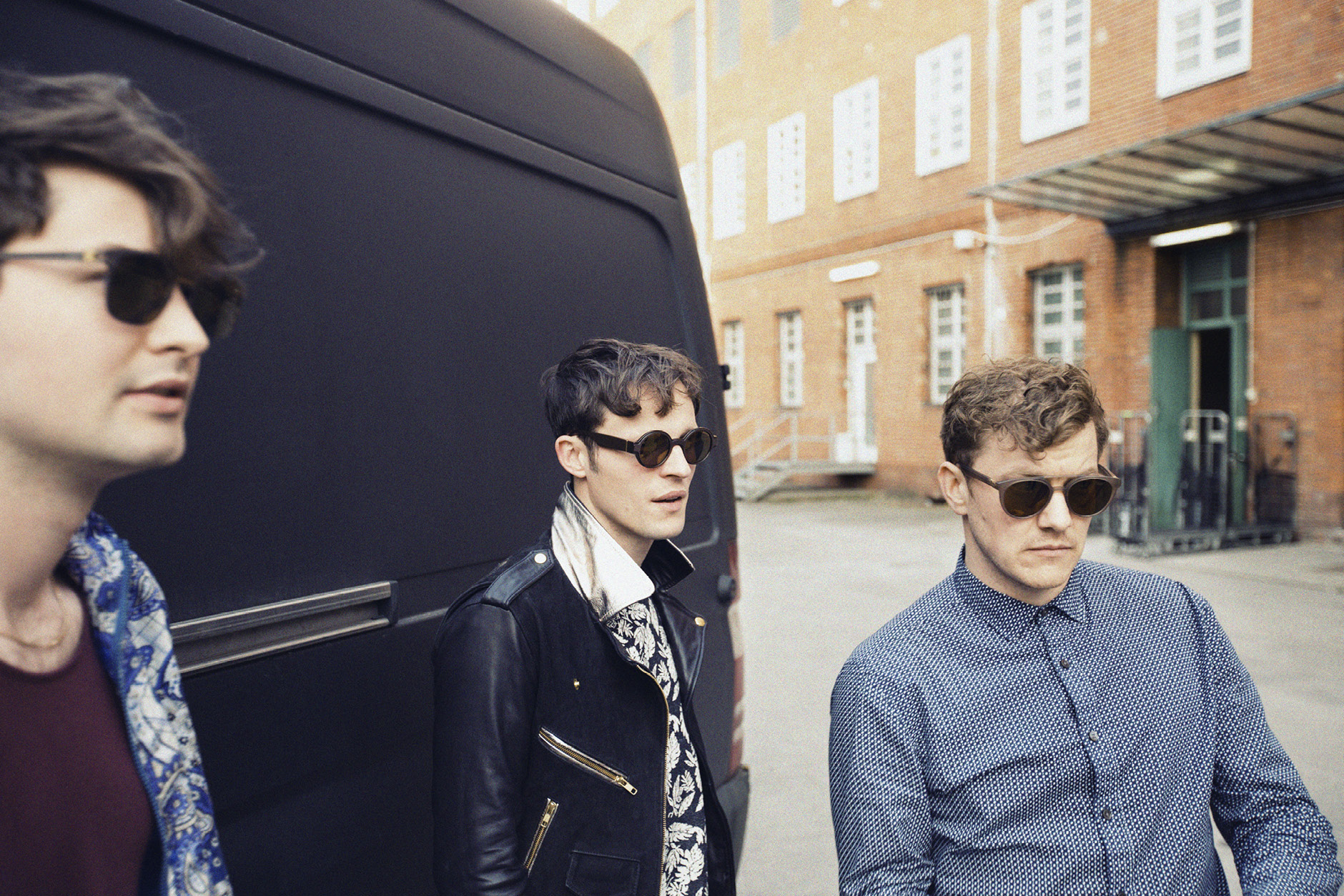 From left to right: Thom wears HUNTER, Tom wears MMDUAL005 and Lawrence wears GILES.
"I'm happy to be in Berlin", says singer Tom Burke, "this is a city where we know we can bring the vibes even on a Monday night." Choosing the intimate atmosphere of casual, smaller venues for their European Soul tour, it's little wonder that the CITIZENS! gigs are quickly sold out. Tom is understandably in high spirits: "We're promoting a new album and it seems like there wasn't a better time to do it. We've had great weather, amazing crowds and every gig has been sold-out. It feels like a road trip with friends where every day ends with a party – how it should be, right?"
For Tom the typical day on tour follows an exponential curve:
"It starts right at the bottom in monotony and finishes in a massive adrenaline high at a party. It takes a very long time to get to that exciting part though; it's like monotony, monotony, vans, service stations, carrying things, sitting in the dressing room… and all of a sudden things start getting exciting and finally the gig and the party is on."
Not surprisingly, actually playing the gigs is the band's favourite part about touring. Always seeing and connecting to new destinations is another bonus. "That's one of the real privileges of playing music', says Tom, "we've been to some incredible places we'd never dreamt we'd go to. Not only that, but by playing the shows you get to engage with these places in a very intimate way, a way you wouldn't if you were on holiday for example."
CITIZENS! are indeed an approachable bunch and not above spending a few hours post-gig hanging out with their audience and posing for a photo or ten as they did at the Privatclub in Berlin. If only we could get Tom to hand over that incredible, customised leather jacket of his…
Check out the interactive video for "Lighten Up", which shows Tom wearing URSULA from the MYKITA & Bernhard Willhelm collection – the glasses for instant rock star appeal.
More details on CITIZENS! upcoming tour dates here.
About CITIZENS!
Signed to French success label Kitsuné, the electro-indie pop quartet from London is composed of singer Tom Burke, keyboardist Lawrence Diamond, drummer Michael Evans and guitarist Thom Rhoades. Their debut album produced with Alex Kapranos from Franz Ferdinand came out in 2012. After extensive touring to support their first release, the band got busy on the follow-up at the Kitsuné Paris studios. Their sophomore effort European Soul embraces a more upbeat spirit: dancefloor oriented with elements of 1970s disco and 1980s synth pop, the album is a carefree pop record without lacking soul and integrity.