BEST FIVE GLASSES FOR… THE FESTIVE SEASON
MYKITA JOURNAL presents the five best specs for a dashing, festive look. Gold, Champagne and ruby red – this special selection of both optical and sunglass frames will add a sense of occasion year round.
MADELEINE in Gold/Terra with Terra Flash lenses| MYKITA / DAMIR DOMA
A brilliant example of sophisticated handcraft, perfectly round MADELEINE appears to consist of two frames, but a closer look reveals a trompe l'oeil design. Made of one piece, the frame has essentially been folded in half and brought into shape in a series of meticulous steps. The result is a distinctive aesthetic in which two delicate circular lenses hover in front of more solid round rims. Contrasting colours accentuate the layered concept – a touch eccentric, very elegant and thoroughly modern.
PEYTON in Glossy Gold with MY+ Fern Polarised lenses| NO1 SUN
Especially suited for taking in those panoramic alpine scenes, PEYTON comes fitted with MYKITA MY+ Fern Polarised lenses that will absorb reflective glare from glistening snow or ice surfaces. The classic panto frame in MYKITA's distinctive stainless steel construction – pictured here in Glossy Gold – will cut an elegant figure in any and all surroundings.
MMRAW002 in Raw Ruby | MYKITA + MAISON MARGIELA RAW
A perfect panto shape meets the unpolished acetate concept of RAW for a classic look with edge. The roughly cut optical frame still bears the traces of industrial machinery, while sophisticated bevelled edges add the necessary refinement and comfort for wearing. Warm shade Raw Ruby lends radiance year round.
MMTRANS001 in Silver/White| MYKITA + MAISON MARGIELA TRANSFER
Celebrate the avant-garde with a stunning example of contemporary handcraft. Conventional luxury codes are given an intellectual spin in the MYKITA + MAISON MARGIELA TRANSFER concept. Here, the covetable python texture that has been etched and meticulously lacquered by hand onto a stainless steel sunglass frame. Ultra-flat lenses add to the modern aesthetic of this high-fashion eyewear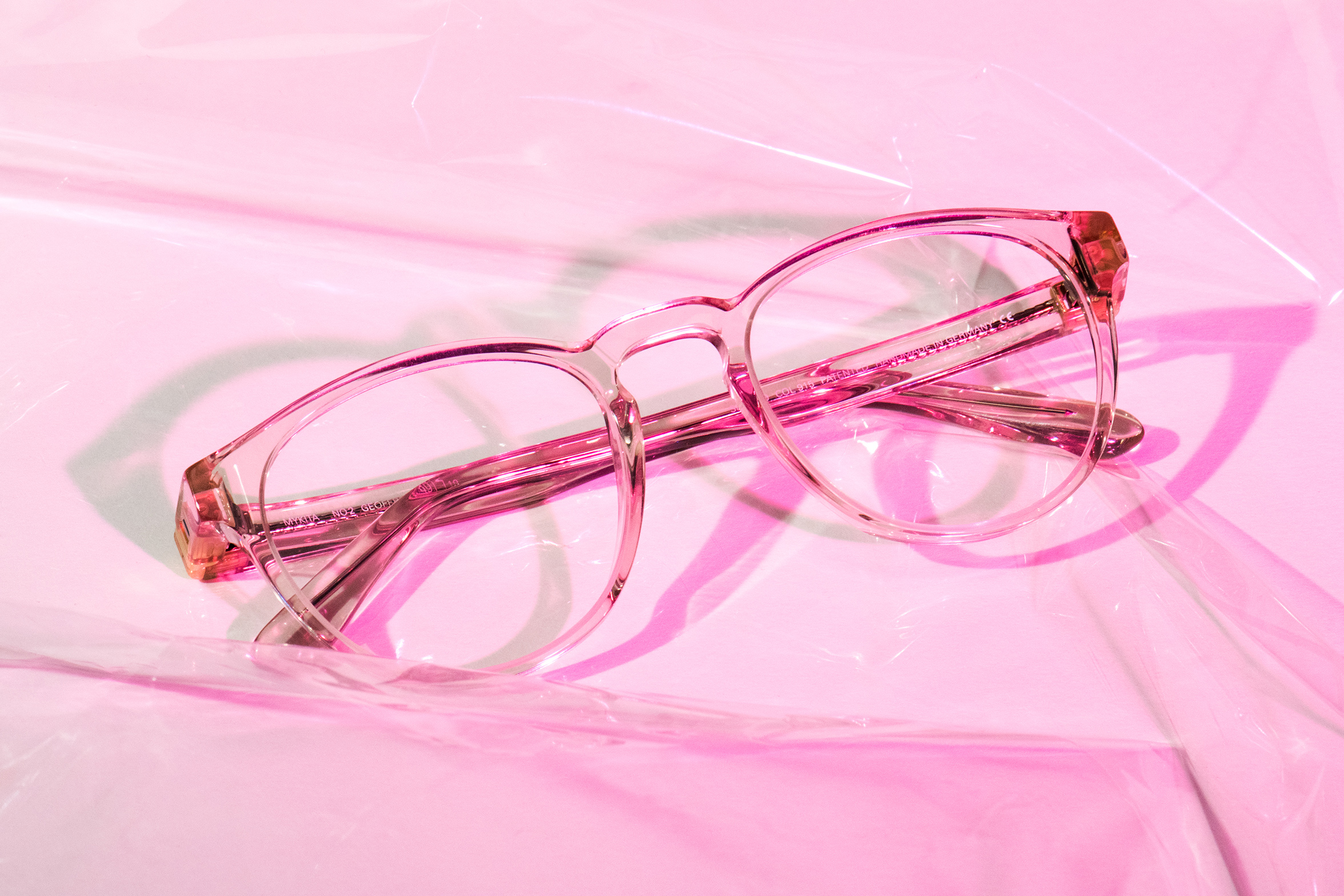 GEOFFREY in Champagne | NO2
Everyday is a good day for Champagne! Carried out in transparent acetate, optical model GEOFFREY features a chameleon-like versatility. The flattering panto shape leads to glasses with a subtle elegance that lifts but never overpowers the wearer.