HOW TO PICK THE PERFECT PAIR
MYKITA JOURNAL visits the MYKITA Shop Berlin West for some professional advice on choosing among the multitude of styles available this season.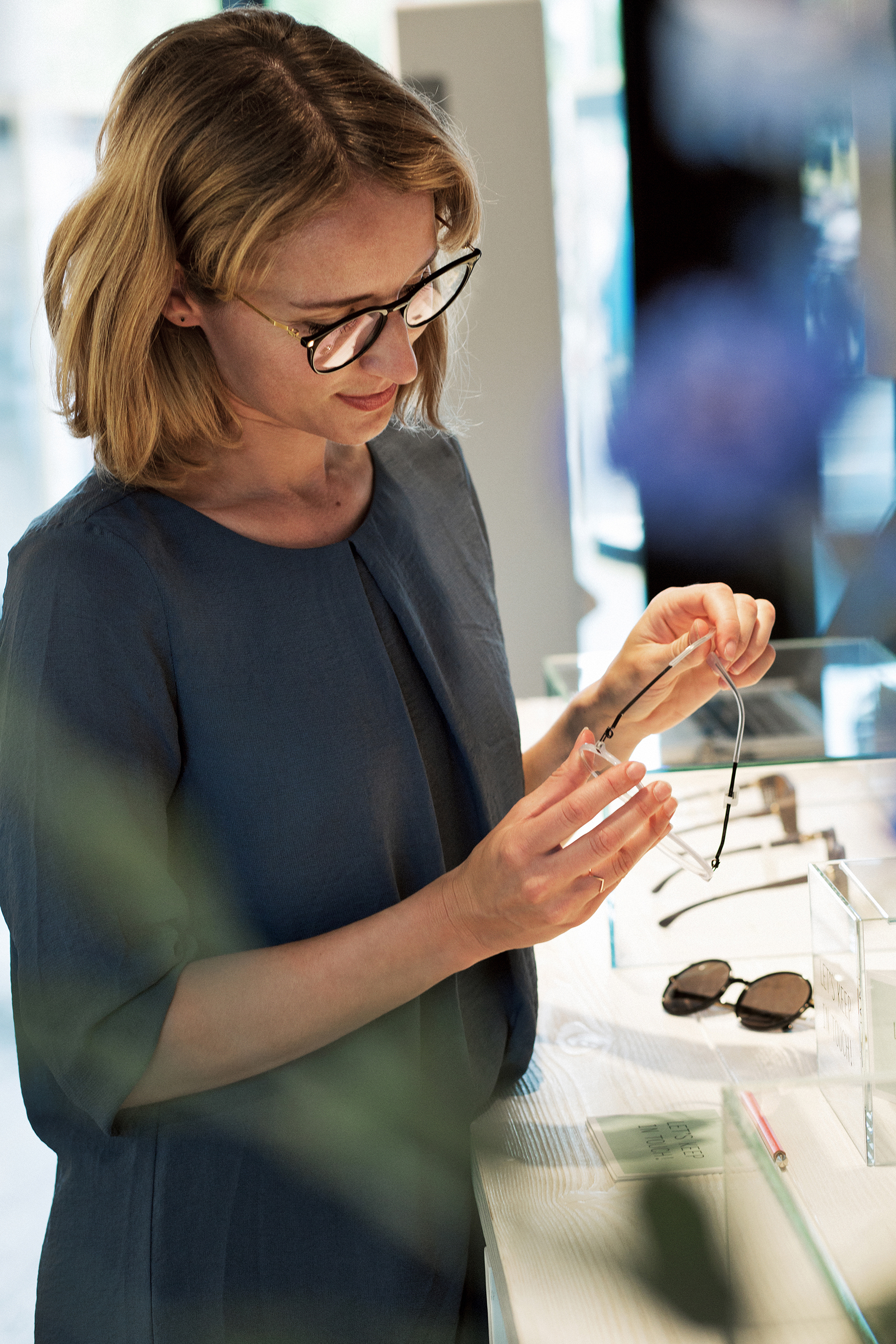 With a 31-metre long MYKITA WALL holding over 850 optical and sunglass frames, the MYKITA Shop in Berlin City West's iconic Bikinihaus is just the location to find the perfect pair of glasses – looking to update your optical look, make a fashion statement or find a refined masculine style. With the invaluable expertise and experience of the shop's friendly assistants, MYKITA JOURNAL presents a shopping guide to the highlights of the season, as well as the evergreens in the collection.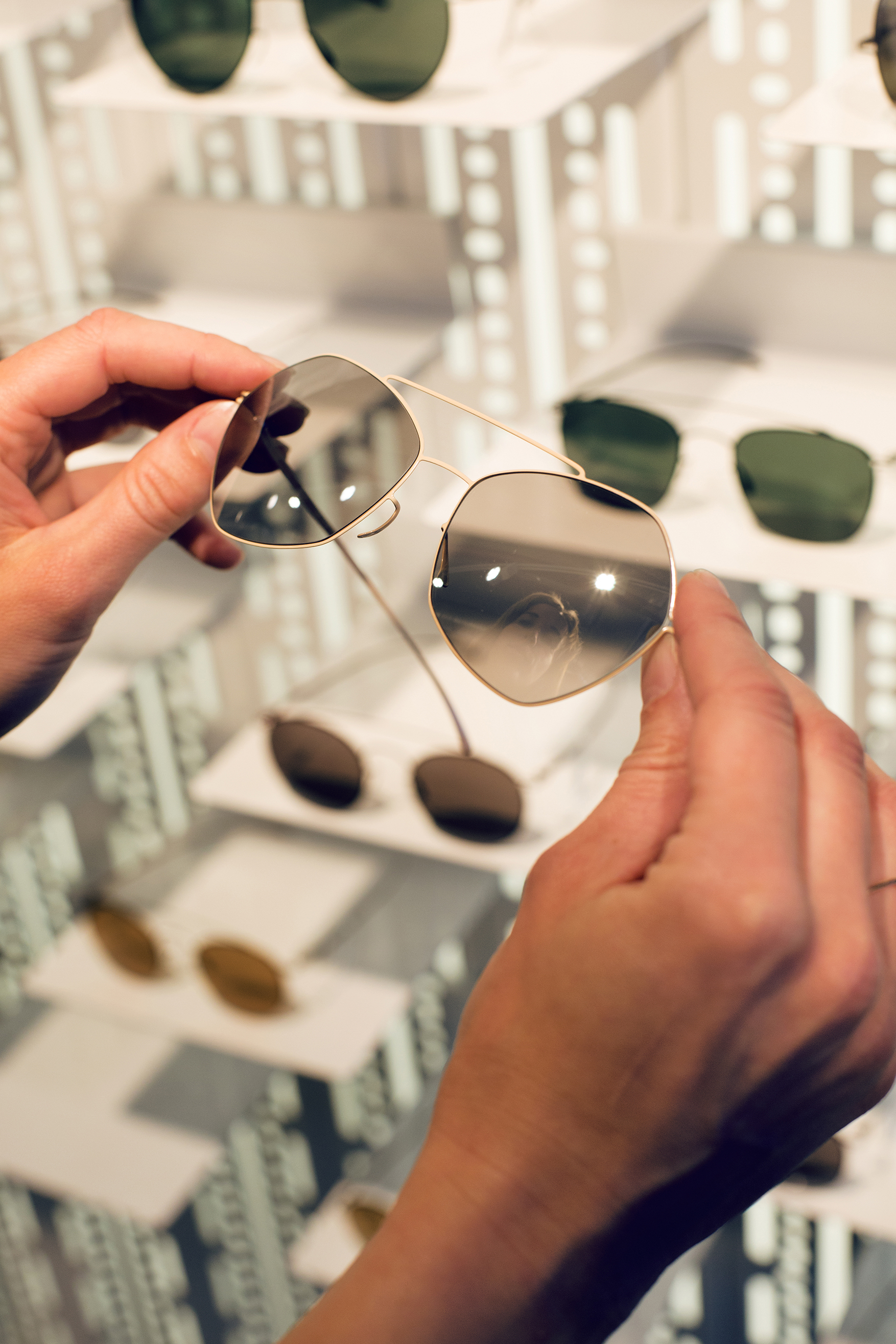 MYKITA + MAISON MARGIELA sunglasses MMESSE012 in E9 Nude
The first thing to establish when picking out a pair of glasses is the role you want your glasses to play. What follows are the five most common eyewear wish-list scenarios, alongside the MYKITA collections and specific models most likely to satisfy the shopping requirements.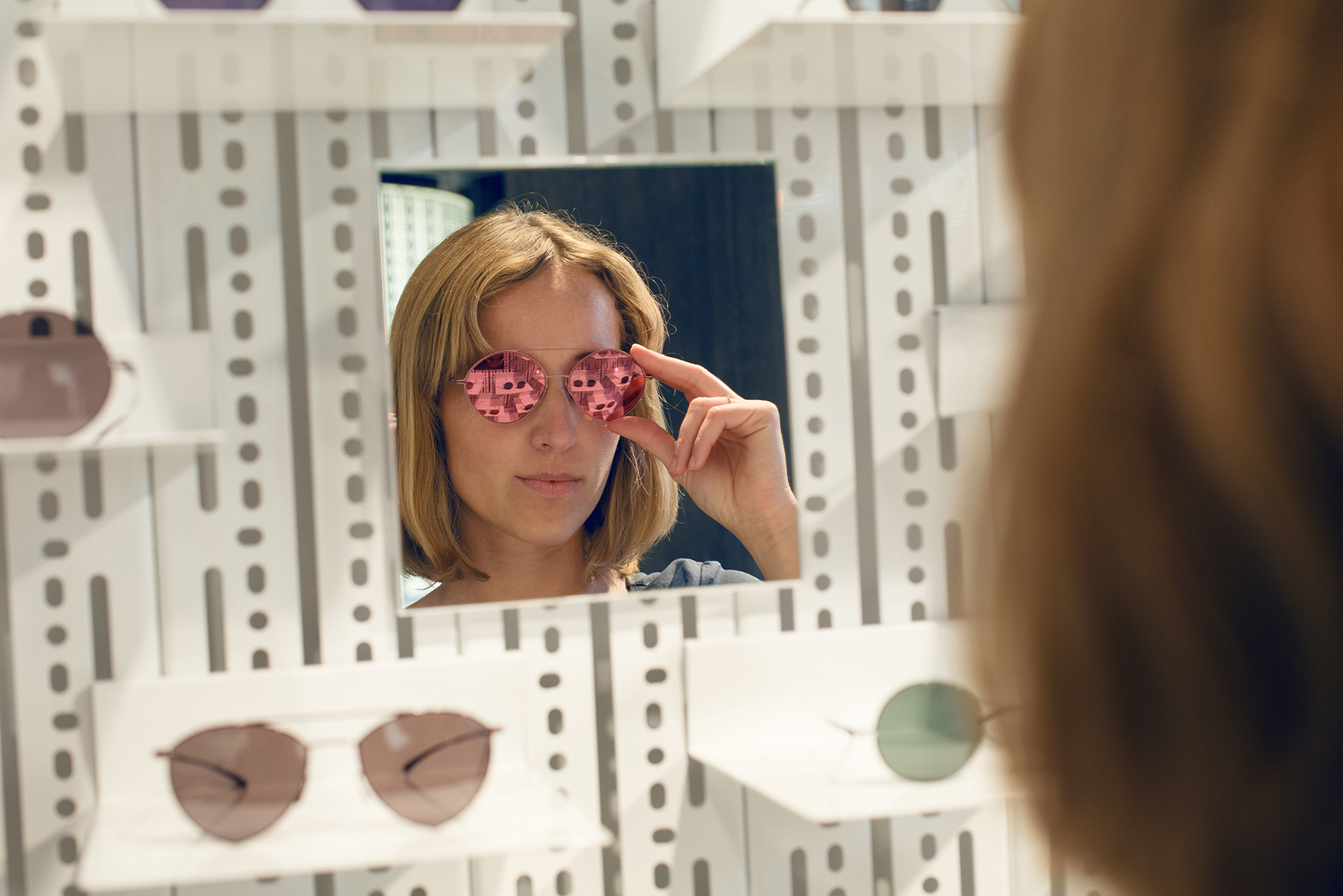 MYKITA + MAISON MARGIELA sunglasses MMESSE008 in E8 Dark Green
The Go-To Sunglasses
Super lightweight with experimental shapes in a stainless steel design concept reduced to the bare essentials – MYKITA + MAISON MARGIELA ESSENTIAL is a sound choice when looking for those 'everyday hero' sunnies. You know, the pair that not only goes with everything, but also manages to lift a t-shirt and jeans combo into effortless, chic perfection. The rich, saturated colours in Red, Dark Green or Dark Blue are a cool alternative to plain black, because the solid tone is still so versatile but offers this subtle distinguishing feature on closer look. The Nude colourway with Warm Grey Flash lenses flatters all skin types. The subtly mirrored lenses and an experimental shape like MMESSE012 ensure 'nude' is far from conservative. The more daring Pink with matching lenses looks especially great on darker skin tones.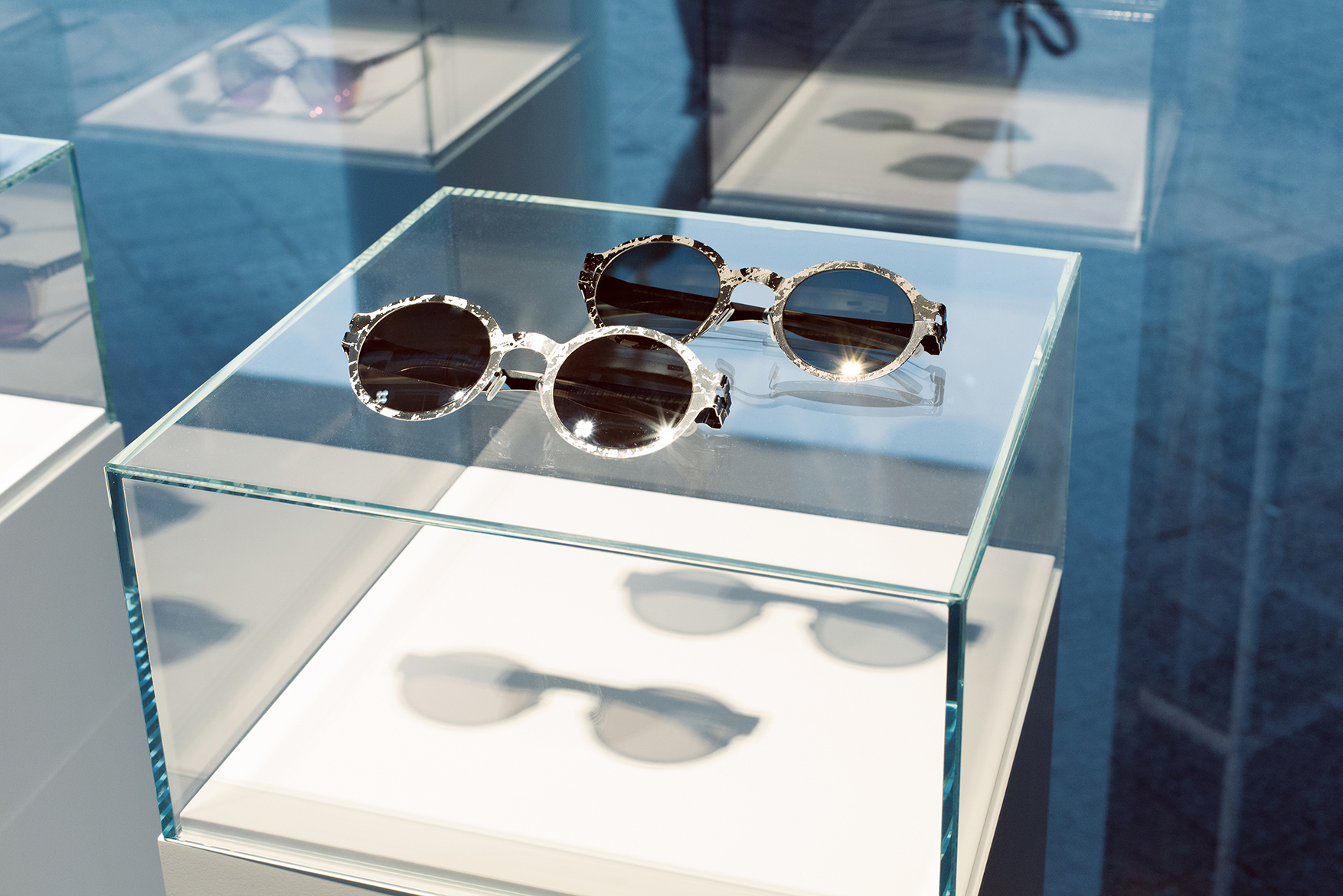 MYKITA + MAISON MARGIELA sunglasses MMTRANSFER003
The Fashion Statement
With its textured surface, MYKITA + MAISON MARGIELA TRANSFER models are the ultimate high-fashion frames. Round with a natural stone pattern in Gold/Black or Silver/White stone, MMTRANSFER003 is an exceptional style for the bold and fashion-savvy client. The collaboration with fashion rogue Bernhard Willhelm is another top-favourite with the style set: aviators HORSCH and HANSI are great for adding tongue-in-cheek glamour to men's wear, and the rounded Seventies-inspired stainless steel sunglasses such as JANIS, URSULA or VERUSCHKA are universally flattering while delivering that covetable aura of bohemian, rock star flair.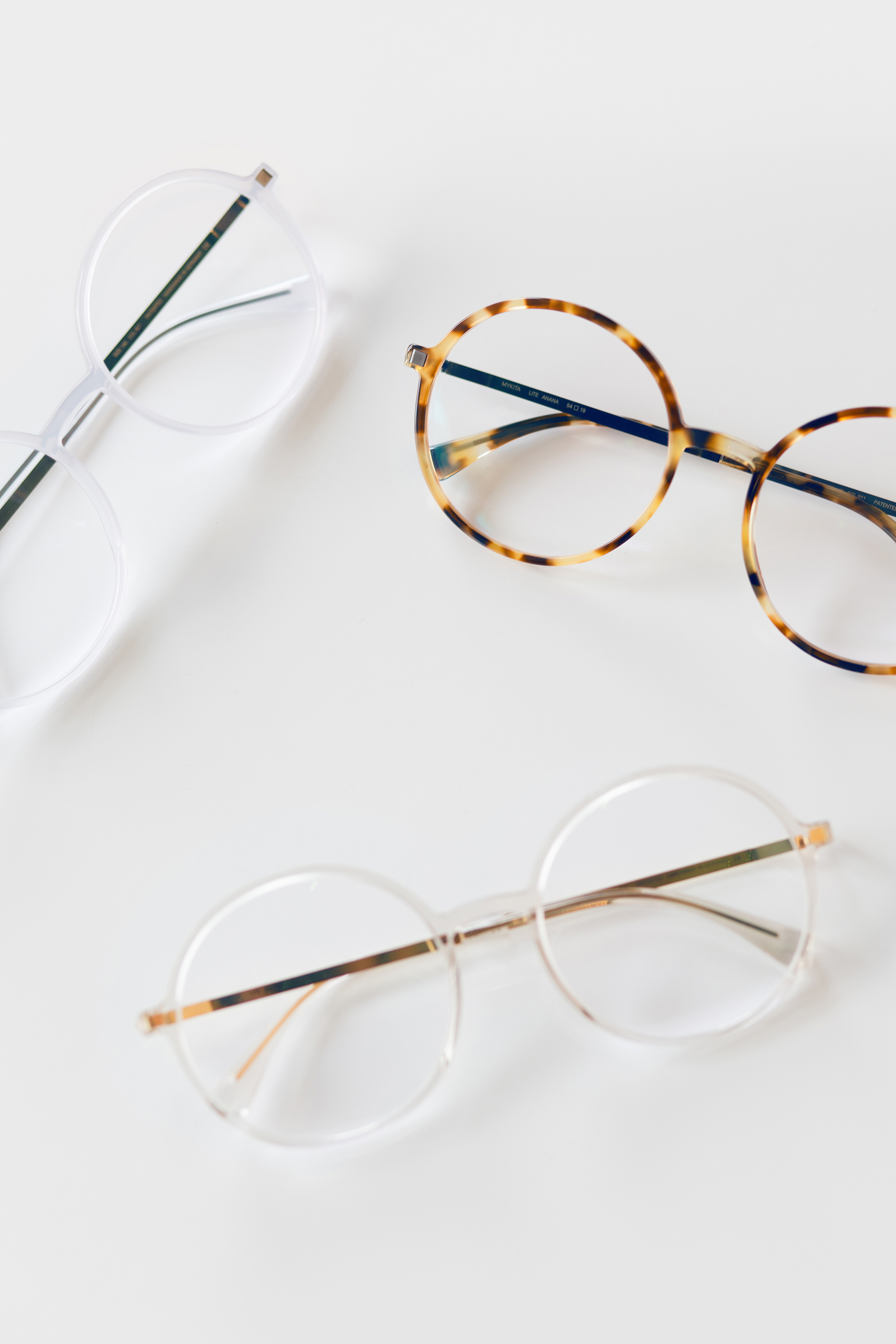 MYKITA LITE Acetate prescription frame ANANA
The Alluring Optical
The new arrivals to the LITE collection featuring the acetate and stainless steel material mix are the natural choice for customers looking to update their optical look. Bringing together the best of both worlds – the warmth and vivid colours of acetate with the flexibility and lightness of stainless steel – this is pretty much as good as it gets. The straightforward shapes – round, panto, rectangular – celebrate the perfectly balanced constructions which come in a range of colour combinations; clear Champagne with Glossy Gold is super chic and works well on all skin types. Other exciting news within optical is the MYKITA SHADES concept, which introduces a modern interpretation of the clip-on. TERESA is a panto-shaped frame that can be fitted with prescription lenses. TERESA SHADES is a stainless steel clip-on that has been perfectly tailored to fit and transform the acetate frame into an edgy sunglass cat-eye. A bona-fide fashion accessory, SHADES is the answer for people not willing to compromise on form and function when it comes to combining prescription frames with sun protection.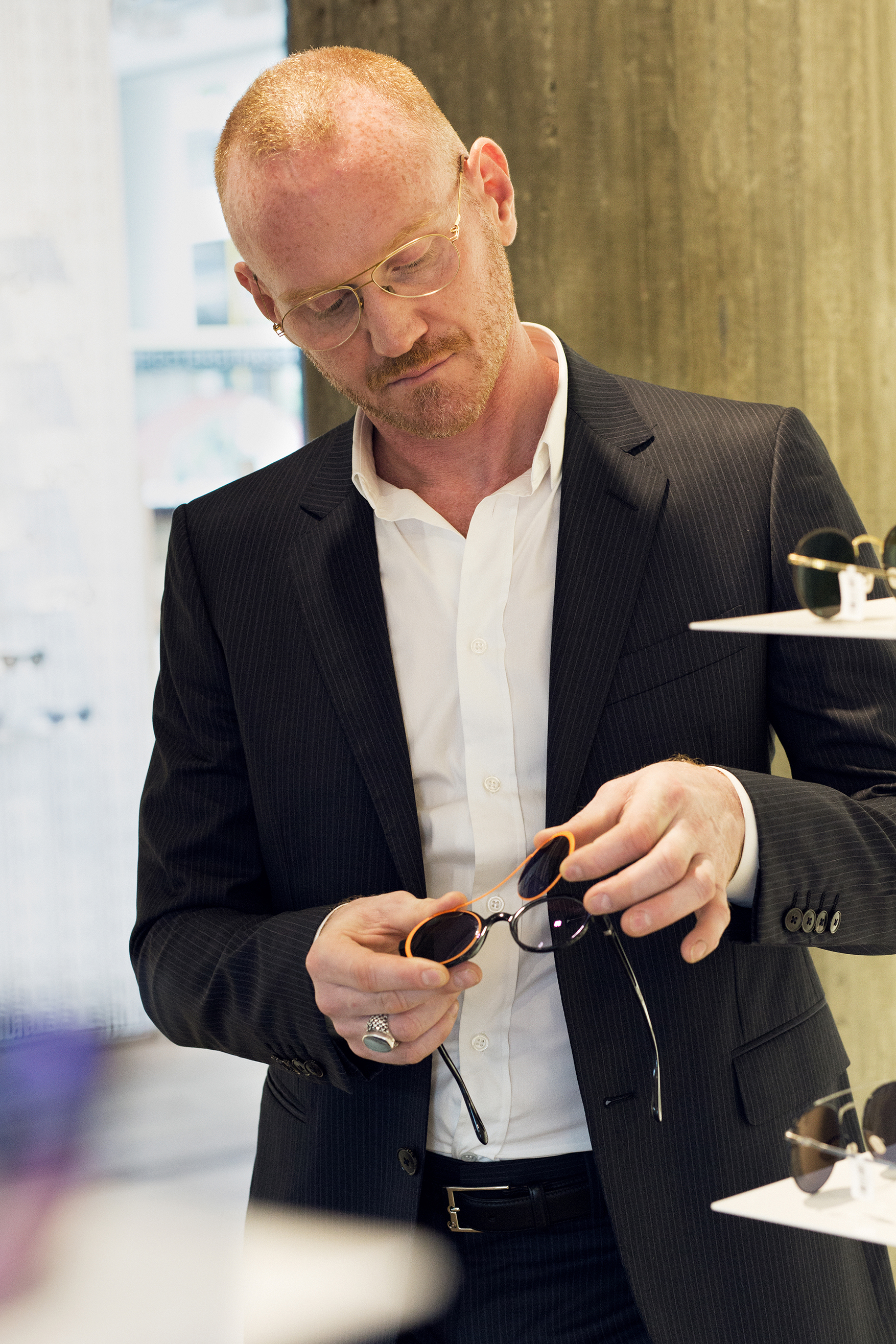 The High-Tech Classic
People after a high-performance frame are well served by the MYKITA MYLON collection. MYKITA's proprietary polyamide material MYLON is made using a 3D printing technology called Selective Laser Sintering. Distinguished by an unmistakeable look and feel, the fashion sports eyewear is super light and durable. The tinted lenses in the MYKITA MYLON collection from optical specialist Zeiss deliver maximum glare control and protection from UV rays.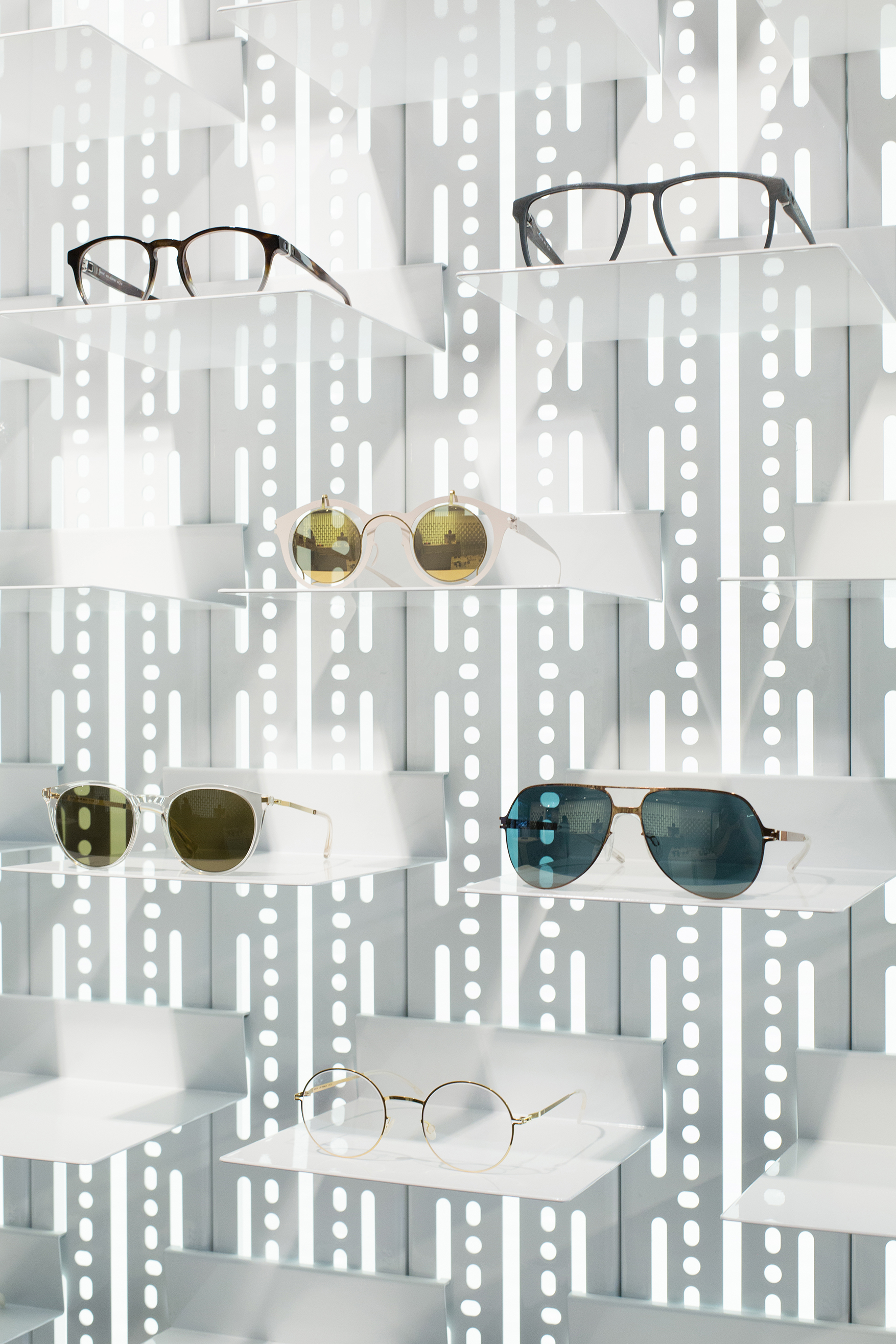 The Showstopper
With the distinctive layered aesthetic that creates an illusion of two frames, BRADFIELD and MADELEINE from the MYKITA / DAMIR DOMA collection can always be counted on to cause a stir. Radical, original, futuristic – these standout models strike the perfect balance between eccentricity and wearability. Model GIGI + SHADES – in Black with Fluor Orange for maximum impact – is another strong statement look, which nevertheless works on many face shapes due to the round shape and balanced proportions. The acetate frame GIGI is available with prescription lenses and its optional SHADES clip-on also comes in a range of colours. Champagne (clear) with Glossy Gold is a popular alternative, lending the futuristic look an elegant air.