IN CONVERSATION: GISUE HARIRI, ARCHITECT OF SISTERHOOD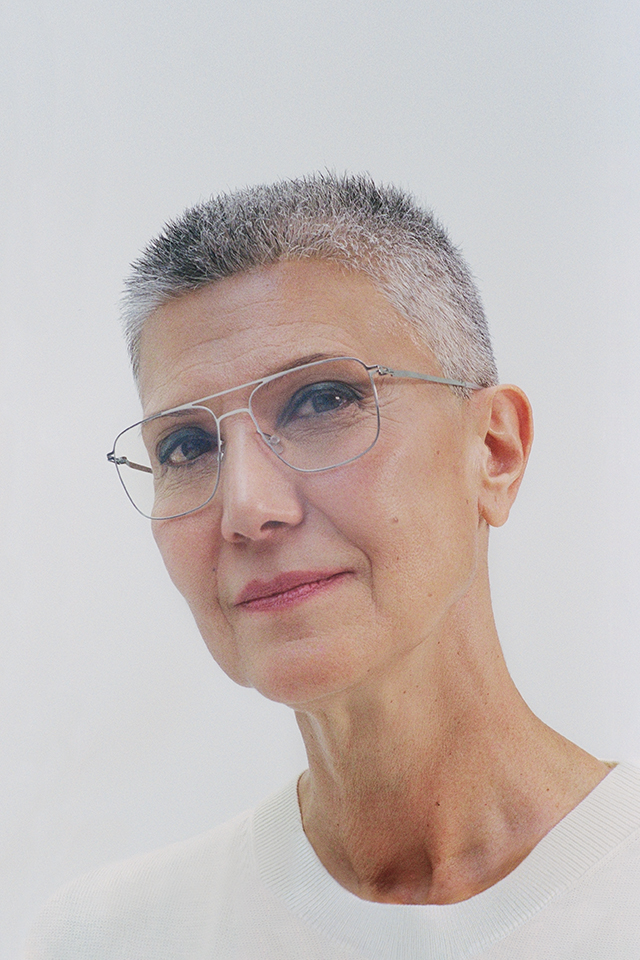 Gisue Hariri, founder of Hariri & Hariri Architecture wearing MYKITA LITE model TOBI. Photo courtesy of MYKITA.
To coincide with the opening of a new MYKITA shop location in the Upper East Side in New York City, MYKITA JOURNAL spoke with award-winning architect Gisue Hariri: a proud New Yorker since 1983, a denizen of the Upper East Side, and one of the celebrated subjects of our 2021 campaign — a special portfolio of creative New Yorkers photographed by Mark Borthwick.
For Gisue Hariri, the idea of home has been the moving force throughout her architectural practice and life, starting from her childhood spent in the deserts of Southern Iran, to the formation of Hariri & Hariri Architecture in New York City in 1986 with her sister, Mojgan Hariri. The firm's most recent project, a pre-fab Disaster Relief Folding Pod designed for displaced people due to climate change devastations, global poverty and war refugees around the world, manifests their belief that home is not solely a building, but a social site that profoundly affects the Weltanschauung of every human being.
In the email correspondence leading up to our interview with Gisue Hariri, who often employs all-caps for enthusiastic emphasis, we already sensed the forthcoming conversation would be passionate, intelligent and FUN. And on call with Hariri, she speaks as she writes: intently and powerfully, so that as she says, "the important things don't get missed!" Below, she discusses how the extreme conditions of the desert can yield the most beautiful innovations and how women, like the desert, can create life from dust. Hariri also shares how she views her life and career as a bridge between two parts of her world: Iran and the United States.
Gisue Hariri's lifelong dedication to innovative design and commitment to education, advancement of women architects, and representation of Middle Eastern women in the arts, speaks to MYKITA's commitment to celebrating unique insight, creative vision and innovative approaches to life and work.
You were one of the unique characters MYKITA's 2021 campaign, shot by Mark Borthwick. Can you tell us about the experience?
I love working with Mark because I trust his vision. He shot me for the Vogue Italia cover series in 2020 as well. He allows you to be yourself – he knows I am not a fashion model and does not pressure me. We work together as friends and two artists who respect one another. I only knew of MYKITA by accidentally walking into their SoHo store one day, and I loved the eyewear. At that time, I did not know we would one day connect. Maybe one day I'll even design a collection for you, haha! To me, eyewear is an expression of who you are. As an architect, I am always looking for a special design, a refined form, quality of fabrication, interesting details, colours and material. Your eyewear is a lens through which you see the world and the world sees you.
MYKITA just opened up their second home in NYC, in the Upper East Side. As this is your neighbourhood – what do you see there, what makes it special? And perhaps what might a hypothetical dream day there might look like for you?
I love New York City; I'm a committed New Yorker! I love the Upper East Side – it gives me the quiet and sanity that I need. My favourite architectural highlight of the neighbourhood is Central Park, the 'lung' of our city designed by Frederick Law Olmsted and the most visited urban park in the US. I do 'walking meditations' around the Reservoir every day if the weather permits – just walking around to help put things in perspective. It's marvellous and lifts my spirit. Sometimes, I'll walk one hour and 45 minutes from the Upper East Side through the Park to my office in Chelsea, where it's galleries, energy, young people, all so inspiring.
Central Park in New York City. Photo courtesy of Gisue Hariri.
An ideal Upper East Side-day would be a visit the Guggenheim Museum or The MET to get inspired by architecture and art. This would be followed by a small bite of avocado toast at Bluestone Lane and a bit of window shopping on Madison Avenue. I would end the day with a cocktail at the MARK Hotel, in their heated outdoor structures on the street. To me, the Upper East Side is peaceful, elegant and sophisticated.
If you could only choose one museum in UES, which is your favourite and why?
The Guggenheim, because it's a sculpture and a work of art itself, (unlike most museums that are basically containers for storing art.), because it was designed by one of my favourite architects, Frank Lloyd Wright and it follows his Organic Architecture philosophy. Because it was originally designed as a temple for a collection of Non-Objective Paintings. Because the building was commissioned by the then-museum director Hilla von Rebay – a visionary woman of her time.
The Guggenheim Museum in New York City. Photo courtesy of Gisue Hariri.
You and your sister, Mojgan Hariri, founded Hariri & Hariri Architecture together here in New York, but you were both raised in Iran. Tell us what was your upbringing there like and how did your family play a role in your outlook then and now?
My sister and I are a year and a half apart so we're very close. I am the older sister. As long as I've known myself, she's been there. We grew up in Southern Iran, close to the Iraq border, in the desert and near the oil fields because my father was an engineer with the National Iranian Oil Company.
I'd say we grew up in isolation because the desert consists of sporadic little towns and small communities. Although the desert was isolating, it was at the same time nurturing to me and my sister. There was nothing around us so with our imagination, we developed our own world. We had to invent our own toys — there was no store, no mall. We didn't have Frank Lloyd Wright blocks to play with, but we had a lot of lizards, snakes and other desert nature to run after. It was fascinating. We created our own structures to play in — it was child's play, but I truly believe that it pushed us to work together and it was the beginning of our architectural mindset.
Looking back at that period, it was a time when you are reforming and seeing the world. Now I see that the desert is the place that helped shape our work. We learned to be very frugal and see things that are pared down — as minimalism, if you will, where you always go down to the essentials. There is nothing extra there to use and no waste, so the luxury is to use whatever is there and given to you and create something amazing and extra-ordinary. It's a kind of stripping down and getting to the essence of your work in a project.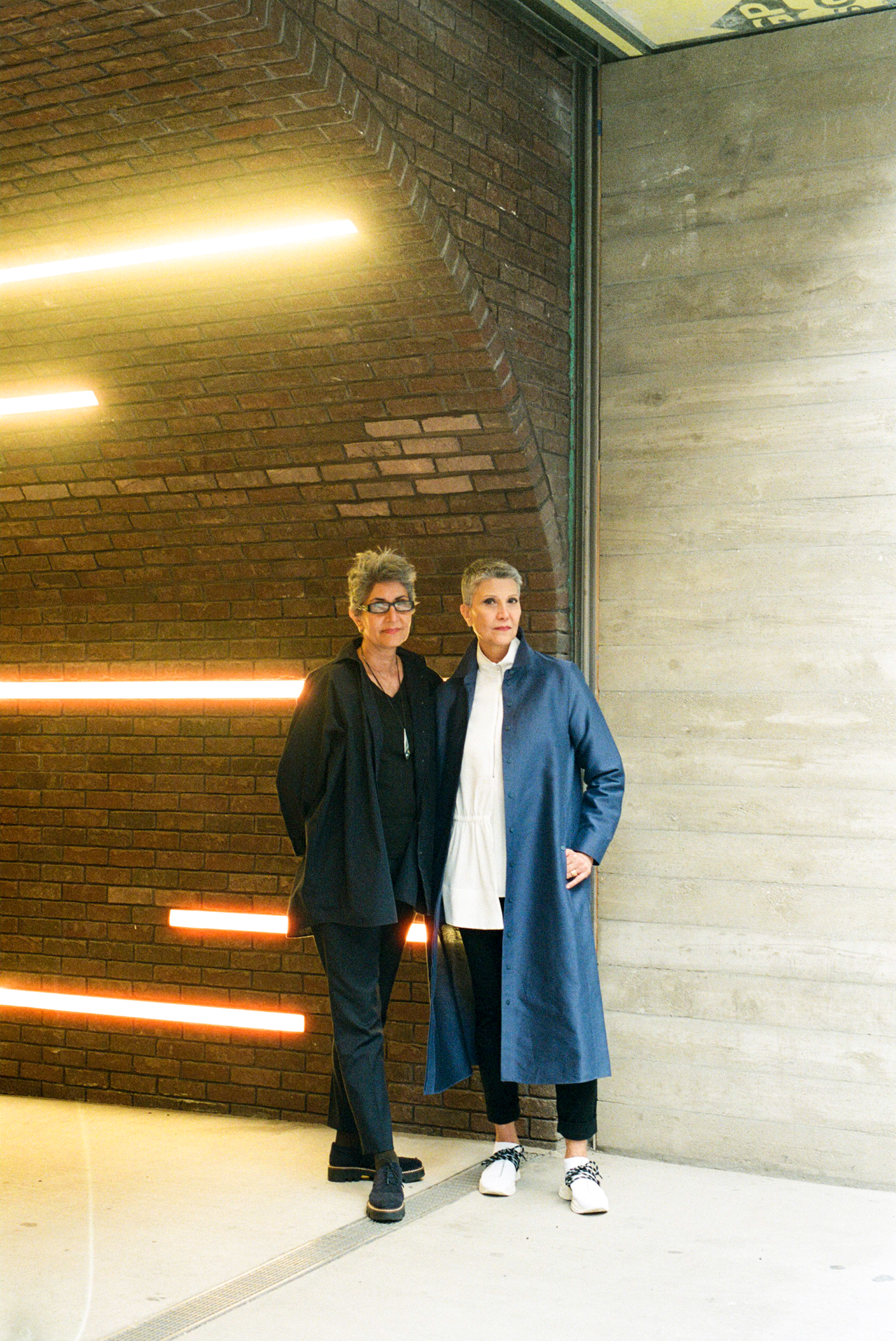 Gisue Hariri and Mojgan Hariri. Photo courtesy of Claire Cottrell.
This is so fascinating to hear, this idea of the generative qualities of the desert and how it has shaped this essential approach to your work. It's also part of MYKITA's ethos - to pare down every aspect of design to create aesthetic beauty…
The desert is also about survival and that's phenomenal and beautiful. If you allow yourself to imagine, the desert is a blank canvas – the horizon, the earth and the sky. With all that beauty, there's also harshness. Hot temperatures and brutal winds. This understanding for nature remains with us to this day and is incorporated into our work.
Earlier on, I was discussing women and sisterhood with a friend and from that, I'm beginning to think that we can use the desert as a metaphor for women, because for so long we have been marginalized and therefore, I think it allows us women to really be the most creative force in the world. I'm beginning to see how women are in a position of using that force that's been given to them. Making life. Making the world better. Whether you're the prime minister of New Zealand, Vice President of US government, an architect or engineer, we're going to see women in all professions who are going to make a very essential and historic impact in creating a better world.
I love this extended metaphor to the space of women. You've often gone on record about the role your father had in your upbringing; I was curious to know about the role of your mother - what role did she have in your outlook? Did she work…?
Moms are very influential. My mom was a housemaker, so she never really worked outside our home. But she knew English as a second language and volunteered in a lot of charities and organizations to translate materials from English to Farsi and vice versa. My sister and I saw her being active socially, but not often outside the home. She did have a community of women who would gather once a week and paint. Growing up and seeing that was very special and pleasant. They would bring objects or a person to pose and they would paint and chat. I don't know if they loved art, or if it was about the social aspect, but I do like to think my mother did have a kind of artistic vein in her.
And so then how did you find your way to architecture? Did you have any architects within the family as role models?
There were no architects in the family. In fact, I don't think I ever met an architect before I studied it! Architecture is, however, very appreciated in Iran. We had a lot of beautiful historic buildings around us; you are surrounded by architecture.
Every summer I would visit Isfahan with my mother and sister. Isfahan is itself a 'museum' of architecture. It's so beautiful and special that even now when I go back, I cry, because … why can't we do work like that anymore? It's a place of art, construction and innovation that was all around us. Then there are the gardens – the Paradis, which means garden in Persian— created to be a heaven on earth. There are handmade blue tiles, geometric forms and most importantly, the bridges. I began to see the history of a place, and to intuitively know that what's around you has helped many old cultures as in China, Japan, Iran or Afghanistan, to invent things that even up until now are still in use.
I'll give you an example: The Si-o-se-pol Bridge in Isfahan is one of the most famous bridges in Iran. It's not only a bridge and a dam, but a place for public meetings. When the sluice gates are closed, the water-level rises which facilitates the irrigation of the gardens along the river. The bridges are also used for pleasure: the lower level of the bridge is for pedestrians, a place of shade and where poets gather to recite poetry. It's genius: one element, one structure, many purposes. In a way it actually brings me back to our iPhones: the fact that you have a camera and a computer and instant messaging and a telephone, all in one place! This is how my sister and I think – architecture can be holistic. You look at something not as a part, but as a whole.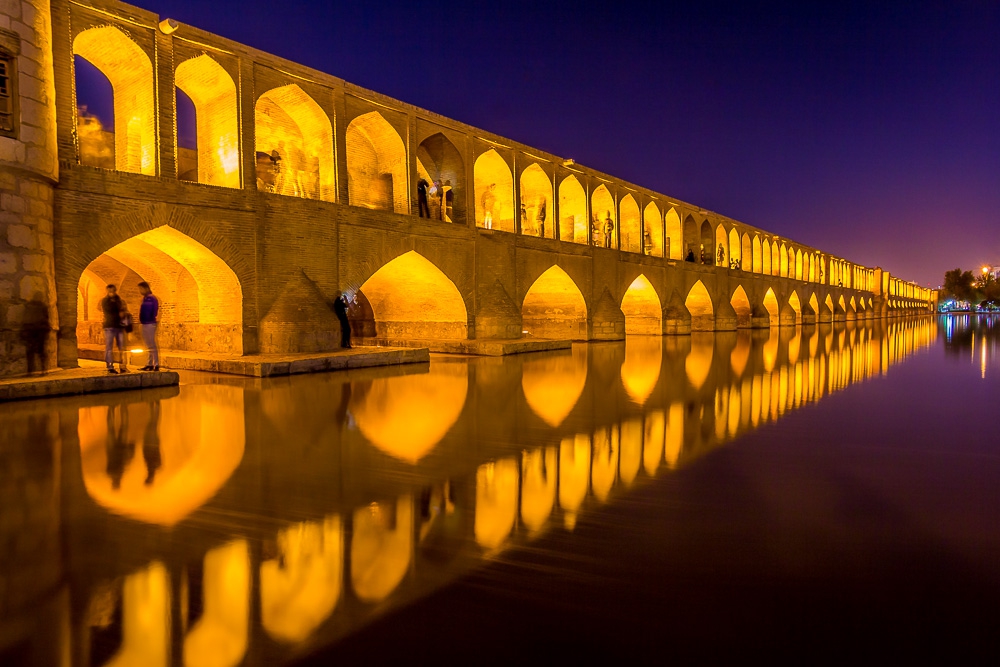 The Si-o-se-pol Bridge in Isfahan, Iran. Photo courtesy of S-Travels.
I'm curious then to go back to your family — did they allow you as a woman to find a calling? A profession…?
Our parents always said that the future was about educated people. They were willing to do everything and anything to make sure this happened for us, and even sent us abroad. The country we grew up in was becoming modernized quickly and everyone talked about the younger generation going abroad to learn and then bringing that wisdom back – transitioning from the old Iran. Women were suddenly studying to become lawyers and doctors. My sister and I wanted to be architects and help build a. modern Iran. So in 1975, we ended up at Cornell's architecture program in the United States.

Were your family supportive of your field of study?
They were worried about architecture being a male-dominated field. You go on to a job site and you deal with bricklayers and contractors, all men, and they were concerned whether I could handle it. They suggested I might want to do something more feminine, like interior design.
I arrived in the US and thought "I'm coming from Iran, a developing country and a place where men and women are segregated, but surely, the equilibrium would be more balanced in America", because that's what I'd seen in movies. But in some ways, it was almost worse, and that was a shock to me.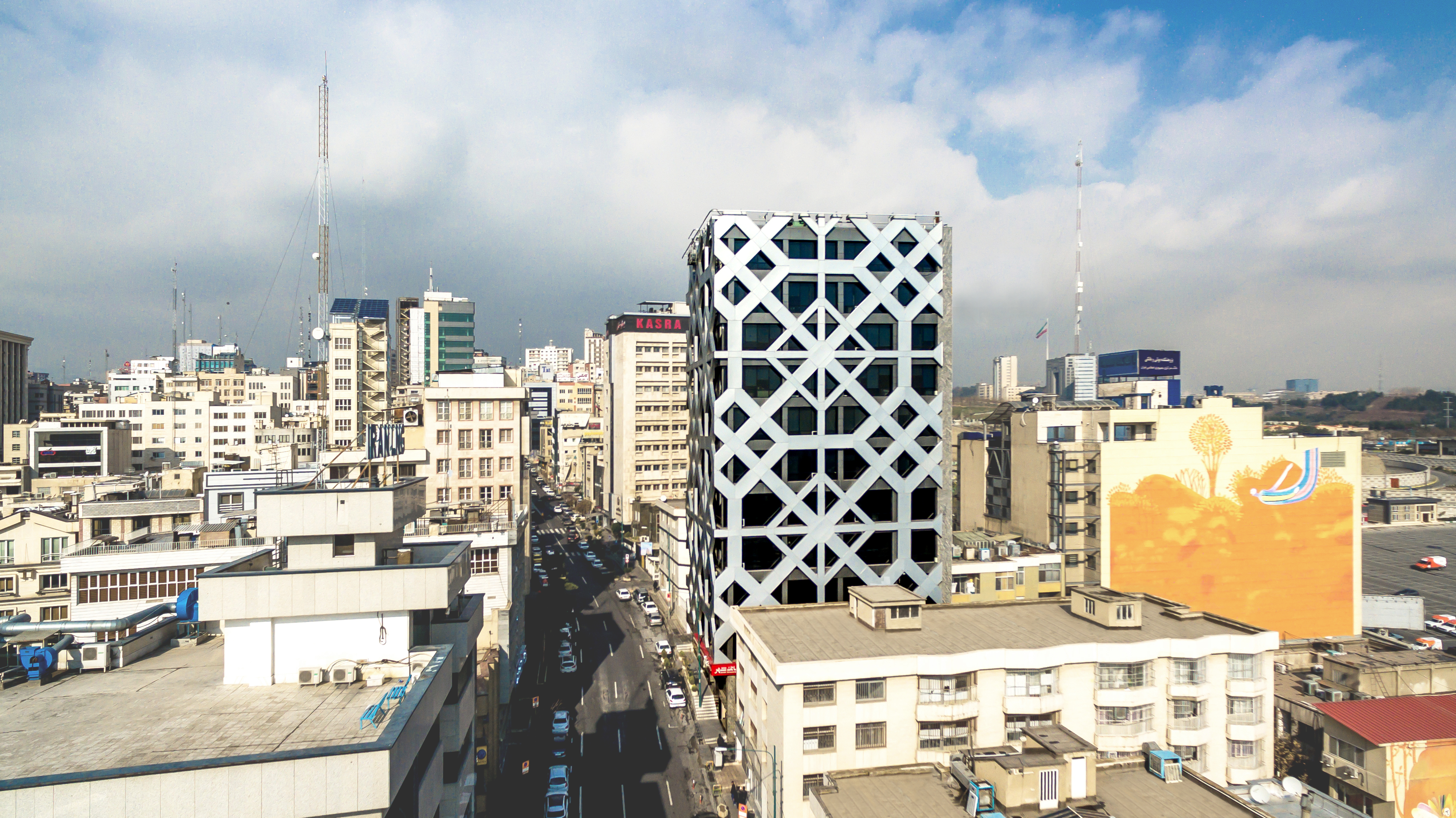 Alvand Tower in Tehran, Iran. Project of Hariri & Hariri Architecture. Photo courtesy of Moein Hosseini.
A cultural shock?
Yes definitely. In Iran the whole society is historically a certain way because the religion is predominantly Islamic – according to the Quran, women are sacred. I didn't grow up that way personally, but you became aware of it because it's all around you. And then there is Cornell, an elite Ivy League school in America. At the time, there were very few female students and of course all the professors were male, and I don't know whether they were even aware of our existence or just uncomfortable in our presence. Either way, I felt very isolated. You are in this environment to have a dialogue with the other 50% of the population but nobody wants to hear what you have to say. Again, my sister and I learned to make a community between the two of us so we could discuss projects and encourage each other. This sparked our activism in our work. To encourage women – there were so few of us so we might as well support one another. I've been promoting sisterhood for 35-40 years now.
The recognition of women in all professions is very important. If people don't know you, well then, they don't know you. Society as a whole, needs to be better about lifting women's work. Cultural institutions, media, television - these kinds of organizations need to showcase women because I, as an individual, can only do so much. For example, you go to a school's library, Rizzoli or other bookstores and you find rows and rows of books by male architects. Many of them are not even good. But these things come from recommendations. For example, your professor recommends someone and so on. The baton is something you have to pass on and we, as women, simply didn't have the opportunity. But things are changing. For example, mentorship didn't exist in my time, but now we have programs, and there's a big effort in the institution of architecture to have women help, discuss, and advise each other.
Has your position as a multicultural female architect ever been beneficial?
Being multicultural has been good for me and my work. I've been in the US since 1975. I was already 18 when I left Iran so there's a strong sense of connection to my roots and heritage, but my whole adulthood (education and professional career) has been in America.
Metaphorically, I am a bridge between the East and the West. My respect for nature come from my Iranian heritage. Iranians were not only inspired by the beauty of nature, but also the construction of nature. The patterns, the geometric natural forms. Not just copying nature, but fundamentally understanding nature. Thus, sustainability and environmental issues have always been a priority in the way we approach a project. It's always been that way in Iran, and in many other older cultures. But, the West has taught us about openness and transparency – the importance of both interior and exterior lives.
You state that housing is a human right – what experiences have you encountered to make this an integral part of your approach to architecture?
We have been working on a new experimental humanitarian project. We do not have a huge company behind us, we don't have the funding others do and a project like this need a lot of commitment and powerful funding – in terms of manpower, communication power, going from idea to prototype and into manufacturing and then production. But we full-heartedly believe in it and keep working on it daily while reaching out to non-for profits and humanitarian organizations for funding.
We are sensitive about the human suffering we witness every day. The faces we see on TV and social media, of people running away from war, forest fires, floods, earth-quacks and hurricanes. The way we have handled immigration, the Wall, putting people in cages, taking children away from their parents. And what is really sad to me is that there's no place for people go to, to find refuge, a new home. There are very few organizations taking care of them, or the military gets involved and creates camps with 18th Century tents. These tents get muddy, are insanitary, and are a huge fire risk. The human suffering is just beyond comprehension.
It made us think that as human beings and architects, we have a moral and social responsibility to take charge and come up with solutions to help those who need shelter to live. We came up with the Disaster Relief Folding Pod – a pod that "un-folds" like origami with the push of a button. A basic structure which meets all the necessary conditions; lightweight, sustainable, affordable and movable. We must be able to ship them around the world easily, to places in need, and any government must be able to afford it.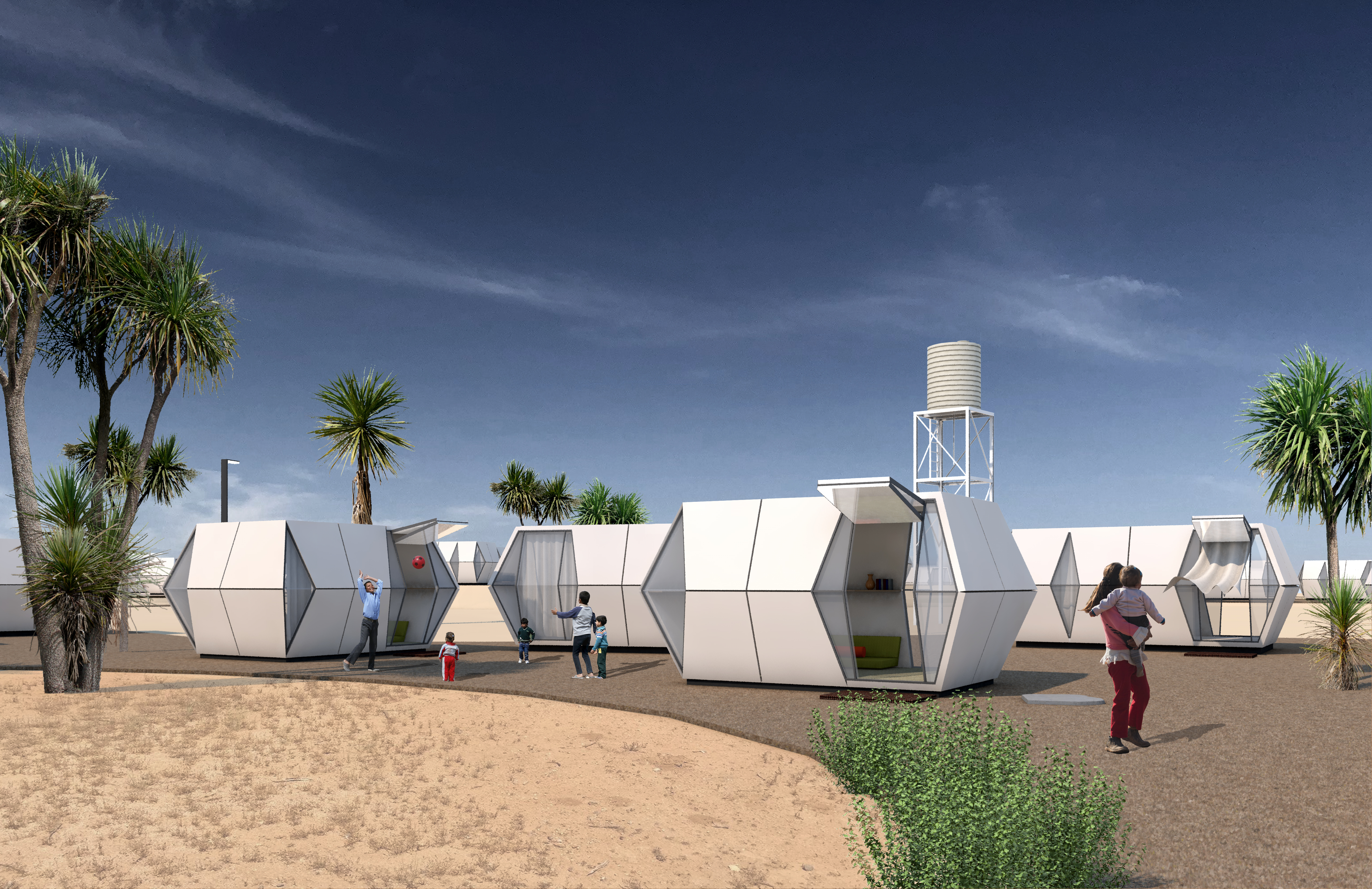 Hariri & Hariri Architecture most recent project "Disaster Relief Folding Pod". Photo courtesy of Hariri & Hariri Architecture.
What was the greatest challenge in terms of bringing this project to light?
The hardest, most challenging part of the project was that movable homes already exist. However, they are not effective, so we needed to come up with the solution. We already have these combinations of IKEA-structured things, so the idea is out there, but these structures are still complicated. When you're running away from home because of a flood or fires, you don't even have a screwdriver. You have nothing. How can one build something with nothing? On top of that, ships can't transport constructed structures, it's just not effective. We knew we needed something compact and foldable.
The Disaster Relief Folding Pod becomes a building with a push of a button. In a way I guess you could say in this project we are not only the architects but also the inventors of a new idea. Everyone I talked to said it couldn't be done: "You can't make a building that collapses, unfolds and erects itself…" Well, we did!
Throughout this period of doubt, I thought often about the Wright Brothers who risked their lives because they so strongly believed that if a bird can fly, then we can too. Through so many failures and broken wings they were finally able to fly. This is how things develop and get invented. We will soon demonstrate how two sisters will save human lives by creating an affordable, foldable homes for those in urgent need.