IN CONVERSATION: JIN KURAMOTO, CRAFTSMAN OF THE SENSES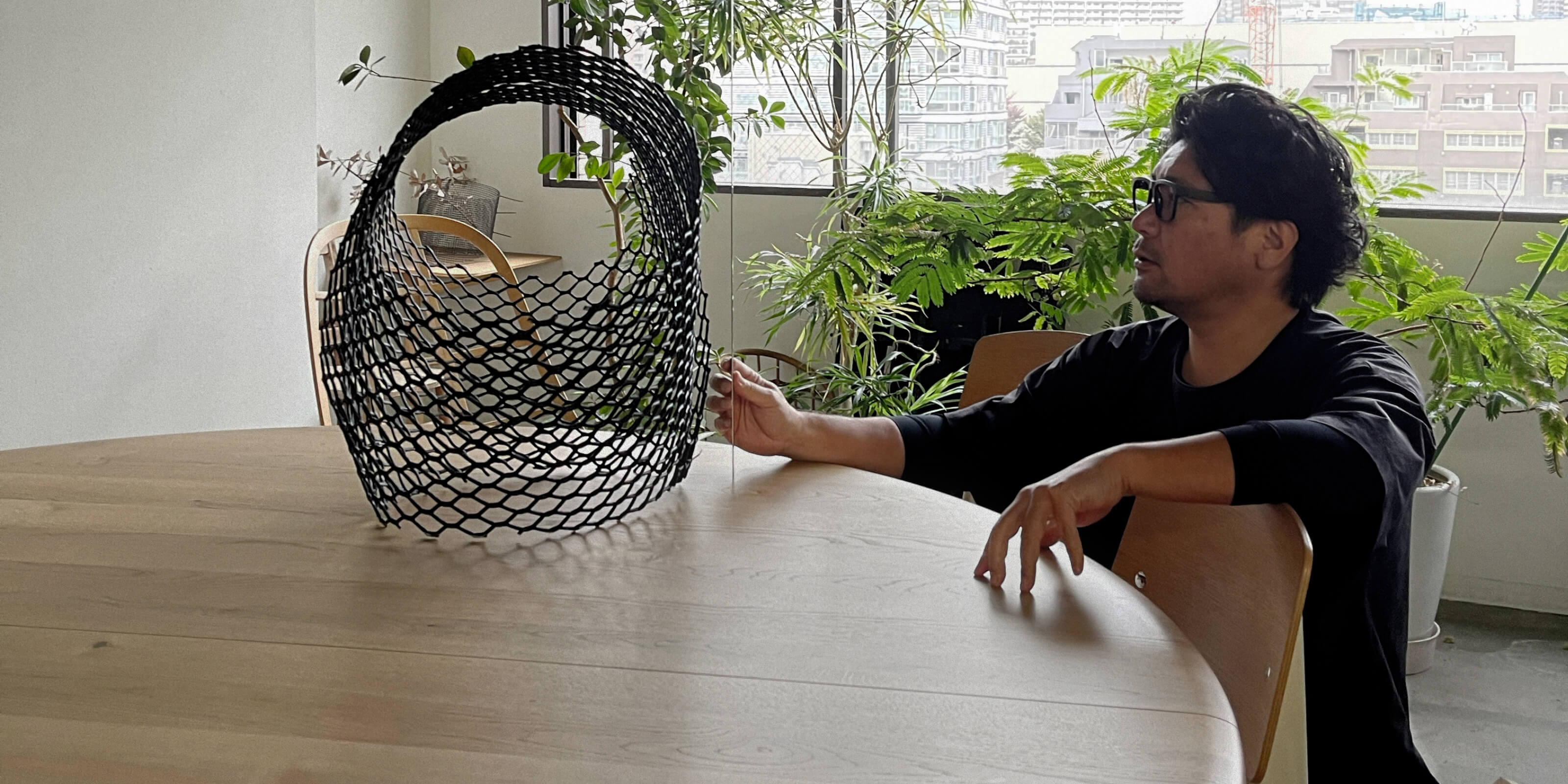 Jin Kuramoto wearing MYKITA MYLON archive model WAVE. Photo courtesy of Jin Kuramoto.
Based in Tokyo, Jin Kuramoto is a designer and founder of his eponymously named studio that he established in 2008. With the belief that the form of things each tell a different story, he designs all kinds of products, including furniture, home appliances, cars and even eyewear. Touching materials, listening to their voice, he values a hands-on design process of repeat trial and error, using prototypes and creating what he calls 'happy accidents' in his inspiration-filled studio. His work has been internationally recognised, receiving a number of design awards, including Red Dot Award, Good Design Award and the iF Product Design Award.

Connecting over a shared design ideology, Jin Kuramoto and MYKITA came together for the interior design of the MYKITA Shop Osaka, for which his studio created the centrepiece furniture referencing ancestral Japanese woodworking techniques. To mark the first year anniversary of the shop in Osaka, we caught up with designer to learn more about his senses-guided approach to the design process and passion for craftsmanship, plus how growing up on a remote island versus his contemporary life living in Tokyo influences his work.

How would you describe what you are doing at Jin Kuramoto Studio?
I work in the field of product design with several staff members in the district of Meguro, in Tokyo.
We work in a wide range of areas such as furniture and home appliances development, as well as eyewear and automotive design for domestic and overseas clients. We are also actively engaged in activities supporting the traditions of local manufacturing cultures and craftsmanship.
How did you decide to become designer and what is important for you when developing a product or design concept?
Since I was a child, I was good at drawing and modelling. At one point my dream was to become a carpenter. But I grew more attracted to studying design, so I went to an art university. When I create a design, I like to put my hands in motion while I think. By touching and processing the actual materials, I feel like I can hear their voices coming through. By listening carefully, I believe I can create a rational and eye-pleasing structure. The process of finding the shape that the material wants to have, and through that process finding its functionality, makes the material itself shine more beautifully rather than forcing a shape designed by someone's ego. We call this process "think with your hands, build with your heart" and it is the foundation of our daily production activities.
Jin Kuramoto Atelier. Photo courtesy of JIN KURAMOTO STUDIO.
Does the city of Tokyo have an influence on your design?
It does have an impact to a certain extent. Even though Tokyo is not as free-spirited as Berlin or New York, it offers a chaotic mixture of respect towards Japanese unique harmonious ideology and huge amounts of information. Growing up on a remote rural island and wanting to become a designer, I was thrilled to come across so much information and inspiration when I moved to Tokyo. All the data and the experiences related to nature, as well as the communication methods imprinted in me when I lived in a rural area, have been incorporated into my designs once I moved to Tokyo and I believe I managed to express them in a positive way.
You are passionate about fishing, right? Can you talk about what it means to you and how this pursuit influences the way you work, think, live?
For me, who grew up on an island, fishing was a livelihood. Even now, fishing allows me to be alone with myself, interact with nature, and have a peaceful time. But it also helps me understand the dangers of nature. It is an irreplaceable indicator for understanding the symbiosis between human beings and nature.

Nowadays, it is common for people to reconsider their stance on the environment and to try to be less greedy. But we must remain aware that the balance is kept because everything is intricately linked, from environmental measures to economic activity and climate change.
Working with MYKITA on the design of the wood furniture for the Osaka Shop, what were your initial thoughts when you started this project and how did you want to approach the design of the furniture?
I wanted to express both MYKITA's originality and Japan's specific characteristics. MYKITA is constantly innovating in the field of craftsmanship, this is MYKITA's most important brand value which is well known by the customers. The MYKITA HAUS represents the modern manufacturing industry. But I think the brand's respect towards the materials, together with its passion for development, are also the symbols of modern craftsmanship.

I work on my designs with the same ideology, but for the design of the MYKITA Osaka Shop I used engineered plastic to recreate the Japanese carpenters' ancestral technique of wood joinery, which I paired with wooden logs in their most natural state. In other words, I combined MYKITA's ideology with ancient Japanese woodworking techniques and Japanese natural wood.
What does 'strong vision' mean to you?
I think it is a simple impulse that moves people's hearts. Once you see it, you cannot forget it, and once you feel it, you cannot help remembering it. I think this is what it means.
Jin Kuramoto wearing MYKITA MYLON archive model WAVE. Photo courtesy of Jin Kuramoto.
What does craftsmanship mean to you in your work? Do you have a favourite craft?
For me it means "being respectful of the materials." A technique that makes good use of the characteristics of the material. A reasonable and well-balanced expression. It can be many different things, but my craftsmanship is to listen to the voices of the materials and bring out their merit.

There are so many different materials such as metal, plastic and fibre, but I may still like wood the most. Wood does not transform into a free shape like plastic, nor is it as strong as metal. However, I like its warmth and characteristics, and there are many different processing techniques for wood, so I consider wood as a good friend who stimulates my ingenuity.
Vannfall / Nedre Foss.. Photo courtesy of JIN KURAMOTO STUDIO.
Are hand techniques important to you in the design process and do you think they are still relevant in this modern age?
Yes, hand techniques are extremely important. They are the origin of everything. They are still relevant in the present day, when using computers for development and expression is so common. For example, our hands can feel and understand the material's characteristics in very high resolution. Our hands can feel temperature, weight, all the different textures such as smooth, silky, and rough.

Being able to feel these elements is a valuable experience that is impossible to communicate through a computer during a low-resolution remote meeting, and it is also directly related to the user's experience.
Is there anything specific you hope customers experience or consider about the furniture when visiting the MYKITA Shop Osaka?
I would like them to experience the craftsmanship found in both the designs of MYKITA eyewear and the furniture of the MYKITA Shop Osaka. We hope that people can feel that both the eyewear and the furniture come from the same ideology, even though they have different shapes and purposes.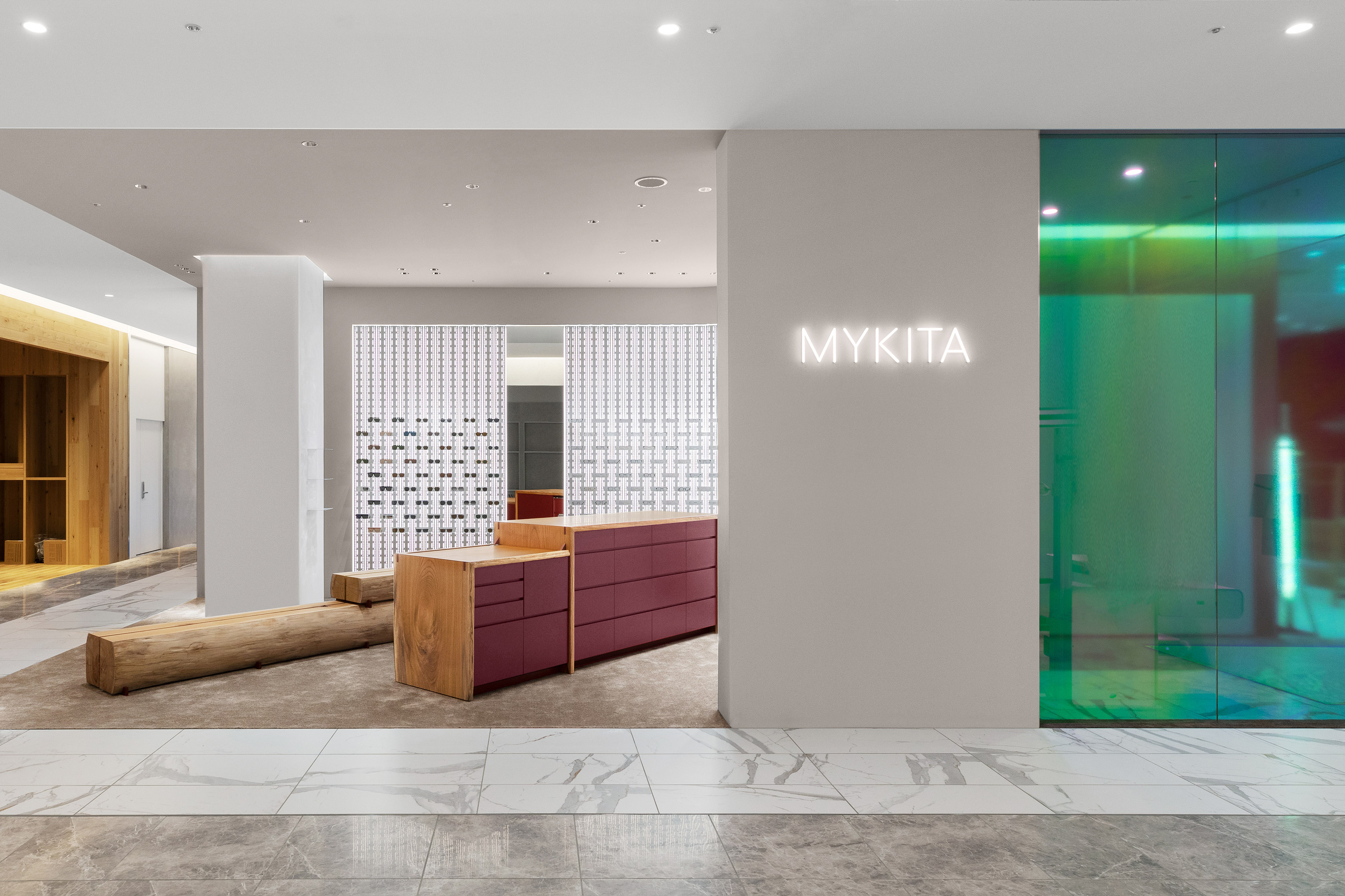 MYKITA Shop Osaka. Photo courtesy of MYKITA.
Is there anything you still want to accomplish with your designs – how do new trends/zeitgeist play into your work? 
There are several things I still wish to accomplish. One is to tackle modern craftsmanship and modern manufacturing. I would like to draw out the attractiveness of materials with a rational and innovative approach and present it to the world in the form of mass-produced items.

And of course, I would like to find ideal manufacturing processes which are respectful of the global environment. We, designers, create a lot of waste in the process of creating value. To make products that are environmentally friendly, we must strive to have a wide range of knowledge and approach manufacturing with sincerity.

Our generation is facing many challenges and these challenges are also a source of inspiration for designers. I wish to carry on my work seeking the beauty of objects and the wonders of future manufacturing environments and ideologies in a fun and positive way.

Thank you so much for your time!