IN CONVERSATION: JOHANNA DUMET, THE COURT JESTER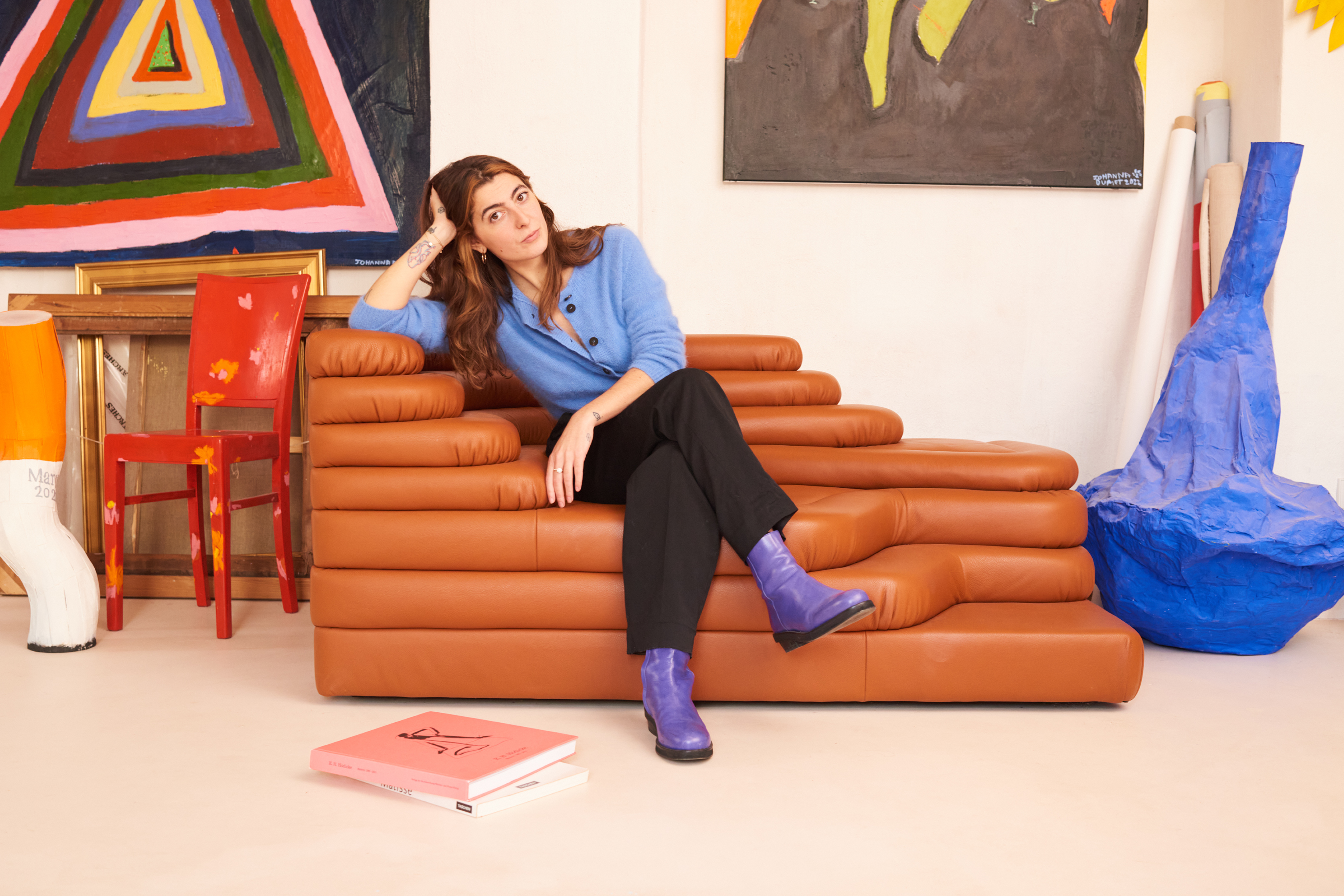 Johanna Dumet in her vibrant, light-filled studio in Berlin Reinickendorf.
Johanna Dumet is the self-taught painter and up-and-coming star of the German art scene whose expansive, vibrant works inspire a sense of joy and freedom while delivering wry perceptions of how we like to live. Originally from a small village in France, she settled in Berlin around nine years ago, determined to make her life as a painter. After holding an array of side jobs ranging from baker to telemarketer to theatre actor, she counts herself as a full-time artist for a good three years now, sharing a beautiful studio with partner and fellow artist/sculptor Manuel Wroblewski in a quiet area of northwest Berlin.

But the road to living this bohemian dream was not without great effort, detours and roadblocks. Speaking with unguarded enthusiasm and passion, Johanna shares the challenges and rewards of her chosen path from rebellious teenager to fashion student to Instagram sensation and established gallery artist with an uncanny ability to simultaneously connect with a wide audience and enrage an ever critical establishment.

Enjoy her frank thoughts about the pressures of capitalism and misogyny in the art scene and the great rewards of taking the occasional big risk:

(This conversation has been edited for length and clarity.)

Tell me about your childhood: What was it like growing up in the French countryside?
It was great. I couldn't have had a better childhood than I did, and the best thing is my memories are so clear; I was just so happy, so in the moment. My memories are mostly about being outside in the fields and nearby woods. I have a brother who is two years older than me and everyone else lived so far away, so it was always the two of us. I was busy painting trees, baking with mud in my toy kitchen.

What did your parents do?
My mum did many things, at that time she was making clothing. Then she went back to study and became a nurse. My father is a metal worker since he is 16, working on big machines in a factory and so on. My parents were working-class parents, very hands-on, always building things on the house and garden. We had enough to have a good life but not to buy the nicest things. So, they always said to my brother and I, if you want something you have to do it yourself. Quite early, at around five years old, I said to my parents that I would be a painter. It was clear to me. Partly thanks to my kindergarten teacher, she gave a name to the things that I like – being an artist.

What were you like as a teenager?
Really rebellious. I had no problem letting teachers know when I didn't agree with them, and I still have this now: I don't like to be pushed into things. I would wear the craziest outfits, self-painted T-shirts with a big A for Anarchy. At 15, I had dreadlocks, outfits consisting of a million layers and long things in my hair that reached the floor. I had these self-made giant bracelets – (laughs) I was over the top!

But, always very good in art. I eventually heard about a nearby school that focused on art and you needed good grades to get there, so then I had to get my shit back together. Once I knew that art was the path that I wanted to take, I really became more serious in my behaviour. It became a pleasure. That's the thing about being a teenager, you're only in the moment, but it's your future that you are already building. It really does have an impact, but it's hard to realise that in the moment. But I managed it, I got the good grades and went to study fashion design.

What originally drew you to study fashion design? And what made you eventually pursue painting?
I never wanted to be a fashion designer but at the time I was not really painting, I was expressing myself through fashion. It's a really basic and normal way of communicating – people see what you look like and it says so much about you. I was really interested in this – colour, materials, texture, and I was already using a sewing machine since I was a kid. So it was just a thing I wanted to know everything about and then move onto something else. But fashion is still really part of my painting. It is who I am.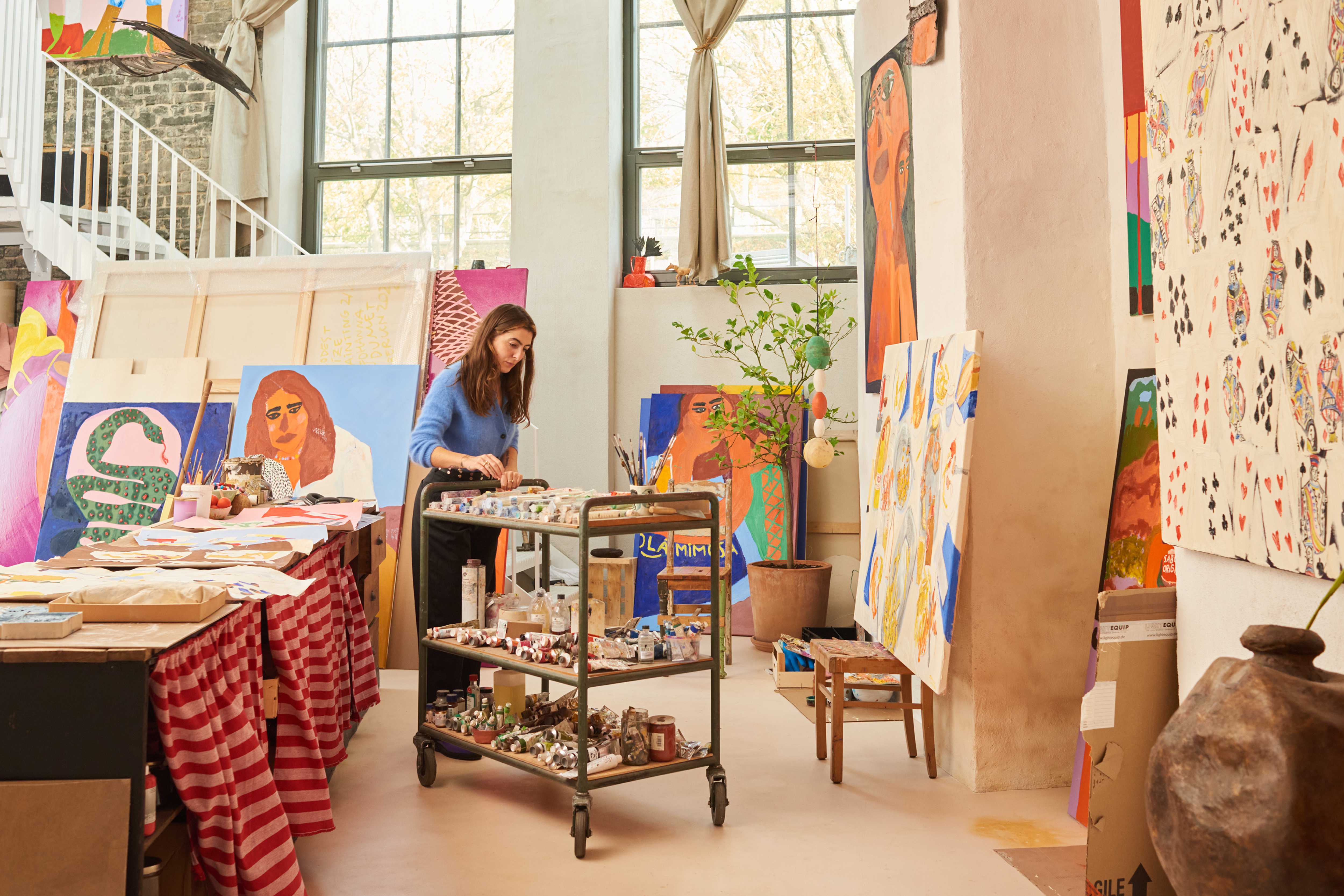 Surrounded by finished pieces and works in progress; the stairs lead to the second floor mostly dedicated to the work of partner and sculptor Manuel Wroblewski.
What is the connection to painting would you say?
I like to work with colours and I always try to have different textures. I also work a lot with fashion branding that I like. It's not only intended as criticism, it's also because I got to know the history of the brand and I think that a good fashion designer is an artist.

So when you include these symbols in your paintings – are they a kind of homage then to other 'artists'?
It is a homage, definitely, and I like to question this idea from magazines about the new must-have shoe this summer that you really need. This is fascinating, it's the power of words, and like every other woman, I really believe it would make me happier and I fall for it. And I am happy, for a little moment, until the next season (laughs). So, I find its fascinating, how we seem to need this. It's both absurd and beautiful that we think happiness can be found there. There's something so naive about it that I like.

How did you decide to pursue this passion – was there a moment where you decided to take the jump? Did you have something like a back-up plan?
I still have a back-up plan! When I went to high school to study art, my father said that 'no, no, being an artist is not a job, you will end up poor and homeless'. I told him that if he doesn't let me do this, I will just fuck up all the rest. Everything else is boring, it's the only way for me to survive. I will always paint. I'm just lucky that people like it and that I can make living from it.

At the start of the pandemic Manu and I decided to take a loan of 15,000 Euro to set up a proper artist studio. So that was a kind of jump and I would never have dared to do it alone – we took the jump together. But it worked out. Now, this amount can be the price of a painting. And, what really made my career take off was an article in the Tagesspiegel (Berlin daily newspaper). The journalist came to visit because she was interested in the work but also because of the place we were in. So it's interesting, you do somehow have to take a risk.


Impressions and artist tools in the studio: paints, books, collected seashells.
Does having a bigger audience influence the way you work now?
I know what people want – they want table scenes! I hear this from the gallery and I get messages like this every day on Instagram or email from people that would like to buy a painting. But because everyone wants it, I already lost my interest. I don't know what to say about that topic anymore; I don't want to repeat myself. And if people are not following me on my path and the new things I'm doing, it's okay. I will just do what I think is interesting, if I feel like painting tables again then I will do it, but there are so many other things in the world that I want to paint, that I want to explore. Again, it's like when people tell me what I have to do – it's like, I can't, I can't!

What would you say are the greatest challenges about your professional path?
To be a young woman. I never thought this would be such a challenge but it is. I've heard the most stupid things, like 'you didn't do the painting, you are just the face but there's somebody painting for you' or 'you had sex with that gallerist to get your work into the gallery' or 'you are just an influencer, you are not an artist, this is not art'. Many people still really struggle or are scared of the idea to be young, healthy, talented, and good-looking at the same time. It's too much, so there must be something wrong, so the answer is always 'she's probably fucking this guy'.

There was an article recently criticising me based on what the writer could see on my Instagram, focusing on a diamond ring, designer sofa, fancy clothes … So what? I paid for it all myself and that's what I like to spend money on. Many people only want art to be intellectual with tortured and suffering artists. They forget we are in the middle of this capitalism just like everybody else. The only way for me to keep on painting is to sell the paintings, so I don't understand this romantic idea that an artist should somehow be above or outside all this. We are a part of it, like everybody else.

So, what is your relationship to social media or to Instagram?
I start to get tired of it – everybody is happier than you, everyone is more successful than you, everybody looks better than you, everybody goes on better holidays than you. So why am I actually looking at this shit? You even know it's not true, that it's made up. What I choose to share on Instagram is not real life. These journalists who criticise me based on my Instagram presence, I can only say 'this is not real life, hellooo, it's staged'.

But it's a working tool and I still need it. I don't sell through Instagram anymore. I did that the first years, but now I only sell through the galleries. Still, I like when I have a show to be able to invite all the people, to include people who have nothing to do with the art world but who like my work. This is also the strength of my work, that it speaks to everybody. There's nothing pretentious, it's popular. Food speaks to everybody and that's important to me. I like to democratize the art world; I really wish things didn't have to be so elitist.

Okay, let's talk about the positives – what are the greatest rewards for you?
The greatest reward is to never have an alarm when I wake up in the morning. We just wake up naturally. I want my full sleep and then breakfast and coffee in bed. Always. Another reward is going to a restaurant and not looking at the price, which I did all my life until recently. Now I can just choose what I want. It's fun and a luxury to be careless.

The other luxury is to have a beautiful space and to come here every day and to work. We work on weekends, we are basically here all the time. To be alone in the studio – this is the best. This is where I'm back being a child. I get dirty, I play and experiment. I take a nap, I read a book. This room right here, it's where the rules of outside don't exist –here's it's my own rules and my own reason. I couldn't ask for more than this.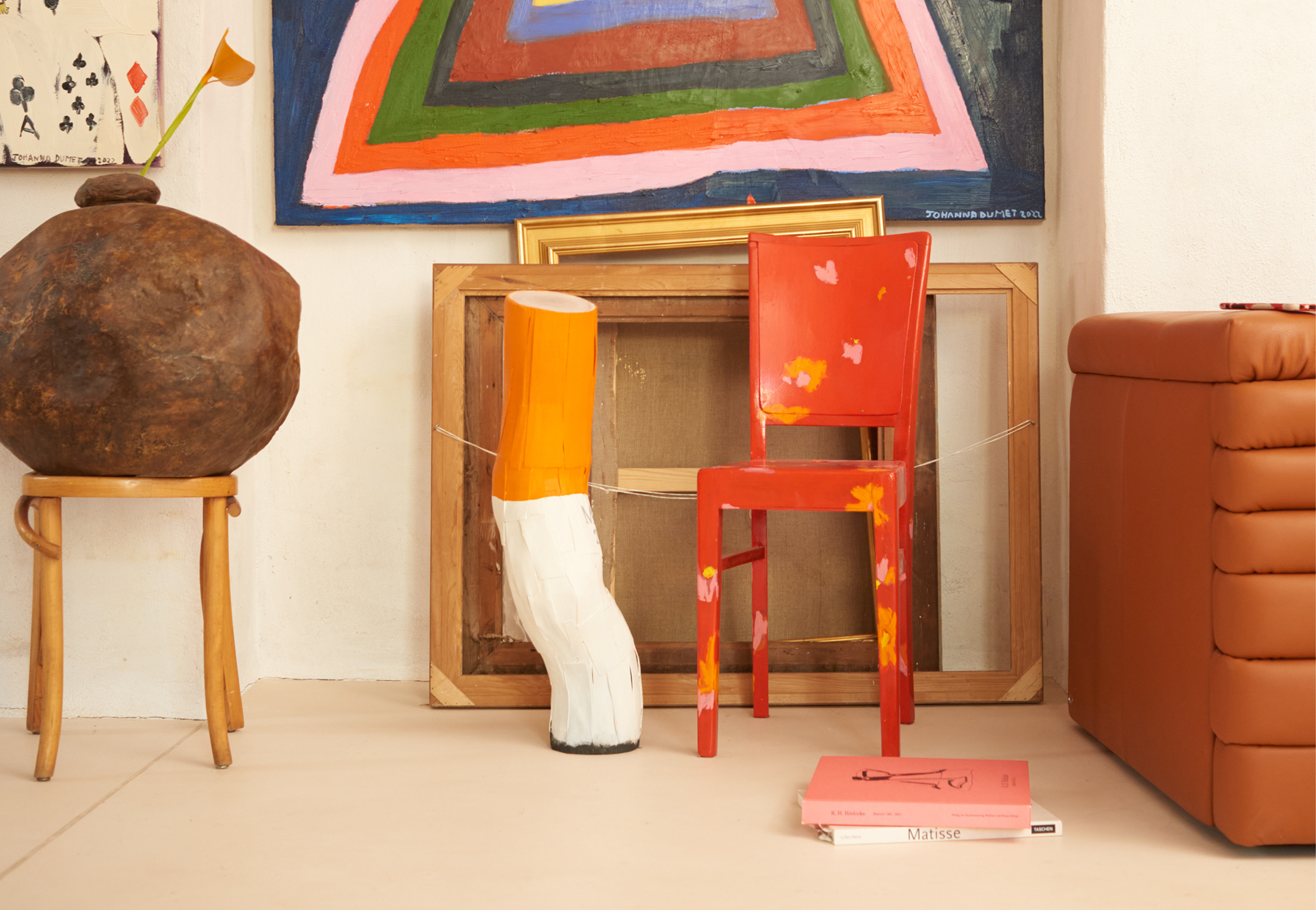 The handcrafted chairs and larger-than-life everyday items are mostly the work of fellow artist/sculptor Manuel Wroblewski.
How would you describe your paintings?
Colourful, tongue-in-cheek, personal – these are real moments, real memories, real feelings that I have. This is my way of communicating now. Like my wardrobe, I realise everything I wear, I look like a clown. Since childhood, I play the clown, being the funny one– not the pretty one, the smart one, or the bitch. I was just the funny one, and that's still who I am.

Your still life paintings often capture table scenes right at the moment during or after eating – what does eating mean to you? Why do you like to capture exactly this moment?
I love still life and I love the mess after eating – when you see things that are eaten, the left over sauce, you don't need to paint the people, they were there, you can hear the noises of people clinking their glasses, talking, drinking and eating and so on.

I like this and it's part of my culture. My mum comes from a big family of nine siblings, so we always had cousins, big gatherings, friends of my family and so on. This is how you get close to people, what brings people together. Sharing a meal is the oldest thing, it has been painted five million times, but you can still paint it like it's new, I mean it never gets old. I for example never paint a smartphone or objects of modern daily life. I'm more interested in creating something timeless, because I like this feeling when you can't say when the painting was made. Food has been eaten, coffee has been drunk and wine has been spilled since forever, and always will be. I like these moments that will always exist.

While reading about you, the other artists including Andy Warhol, Matisse and even Frida Kahlo were mentioned – do you personally have any role models in art?
Yes, I love to admire other people. Matisse feels sort of like my grandfather – my real-life grandfather is even called Henri – our styles our different of course, but I feel he really opened doors to the generations after him. Matisse simplified everything until it became an abstraction. It took him so many years to get there and in a way he provided a shortcut for us to understand how it can be done. So we can move further.

There's also Hödicke, who is now 85. We are planning an exhibition together in Korea next year with König Galerie. What I love again is the abstraction, when there's so little on the canvas that it really opens your mind wide and everybody can have a different story to it. It's where I want to go but I feel like it will take me years to get there, because to reduce so much ... I think you need to have a lot of courage and 'balls' to say 'Ah, that's it – it's enough!'. I want to get there, but I have a way to go. I still enjoy to put so much colour and so much information into everything.

What about other artists of any discipline that inspire you – from music, literature, film, cooking etc?
I find my inspiration everywhere, sometimes it's a song and the lyrics could become the title of a painting. A nicely coloured outfit I saw somewhere could wander into a painting. I really absorb everything. I think it's good not to find all your inspiration in other art, because it's easy to end up copying. Also, after going to exhibitions, you are overwhelmed by how beautiful and unique and well-crafted everything is and you end up thinking, what can I possibly do? It can give you motivation but it can also get you down a bit.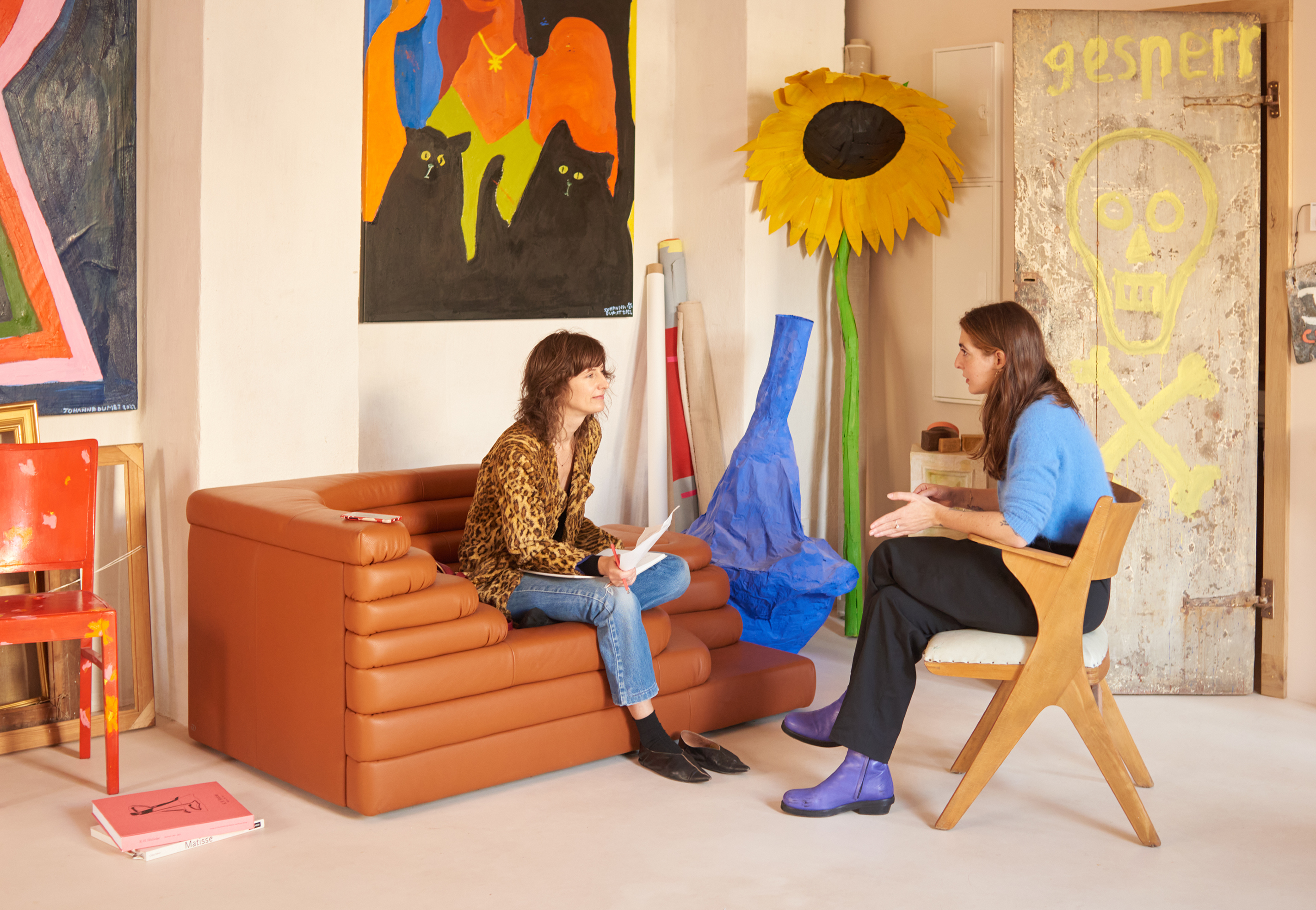 Her immersive studio and presence feels like stepping into one of her vibrant works – filled with passion, colour, and irreverent expression.
You have been doing many interviews lately – what question do you most dread?
Describe your paintings! I've been asked this 27 million times and I still just don't know!

Haha, well, I think we covered that one – how about a question no one asks but you wish they would?
Where do you see yourself in five or ten years!

So, where do you see yourself in five or ten years?
In a castle by the sea with a lot of hectares, and donkeys I hope, and I'm thinking even to have one or two cows and cats and a greenhouse with a collection of orange and lemon trees and a huge studio and just be there looking like a clown more than ever, painting, inside outside, baking huge things and talking to my boyfriend and animals.

Beautiful!

Johanna, thank you so much for your time – it was so lovely speaking with you.
The Galerie Mehdi Chouakri in Berlin is currently presenting the exhibition "Intérieur Rose" by Johanna Dumet, until Saturday, 25 February 2023.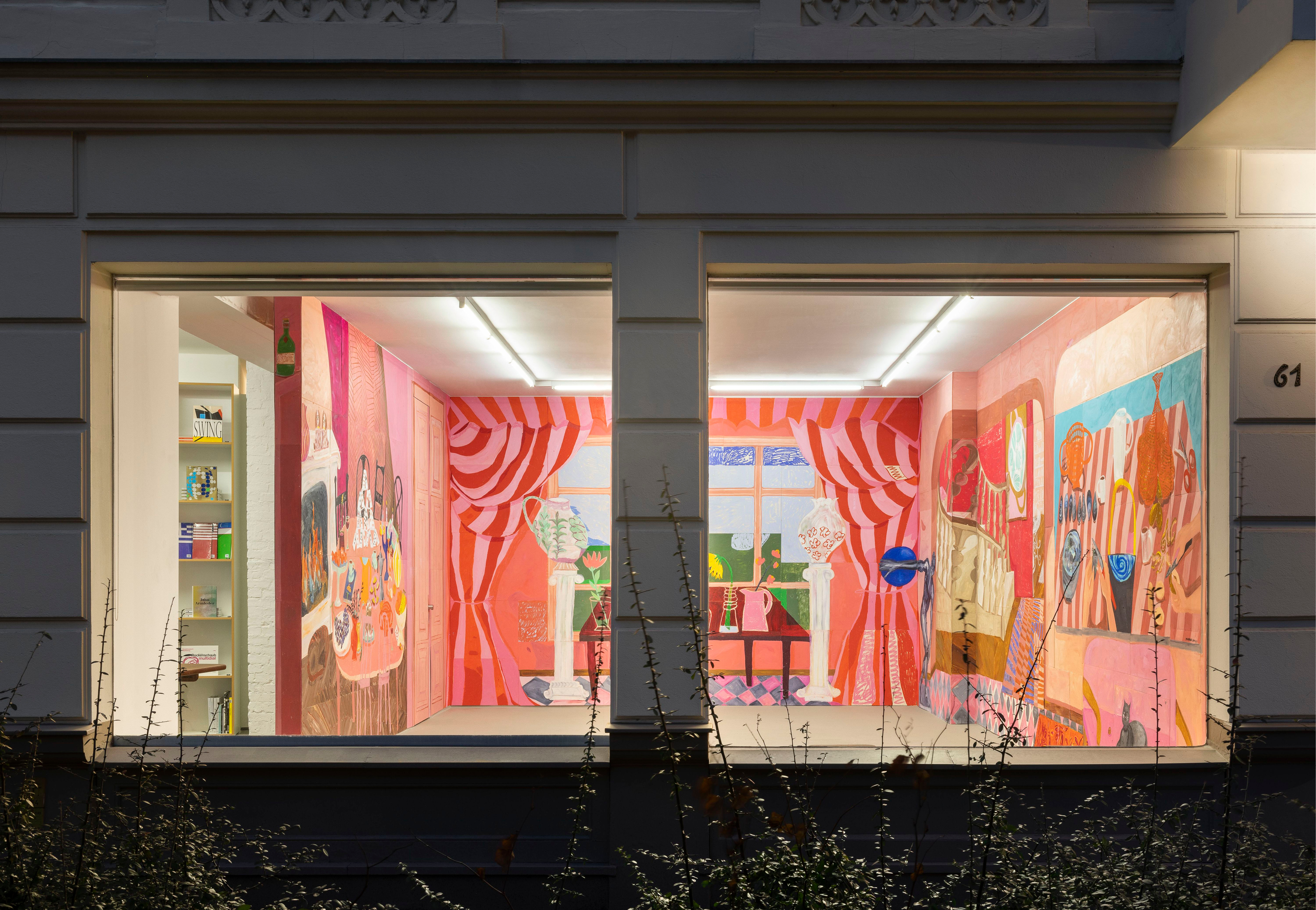 A view into the artist's current exhibition "Intérieur Rose" at the Galerie Mehdi Chouakri in Berlin.