IN CONVERSATION: MOLLY ROGERS & JOANNA LEAVENS, IN THE WARDROBE OF "AND JUST LIKE THAT..."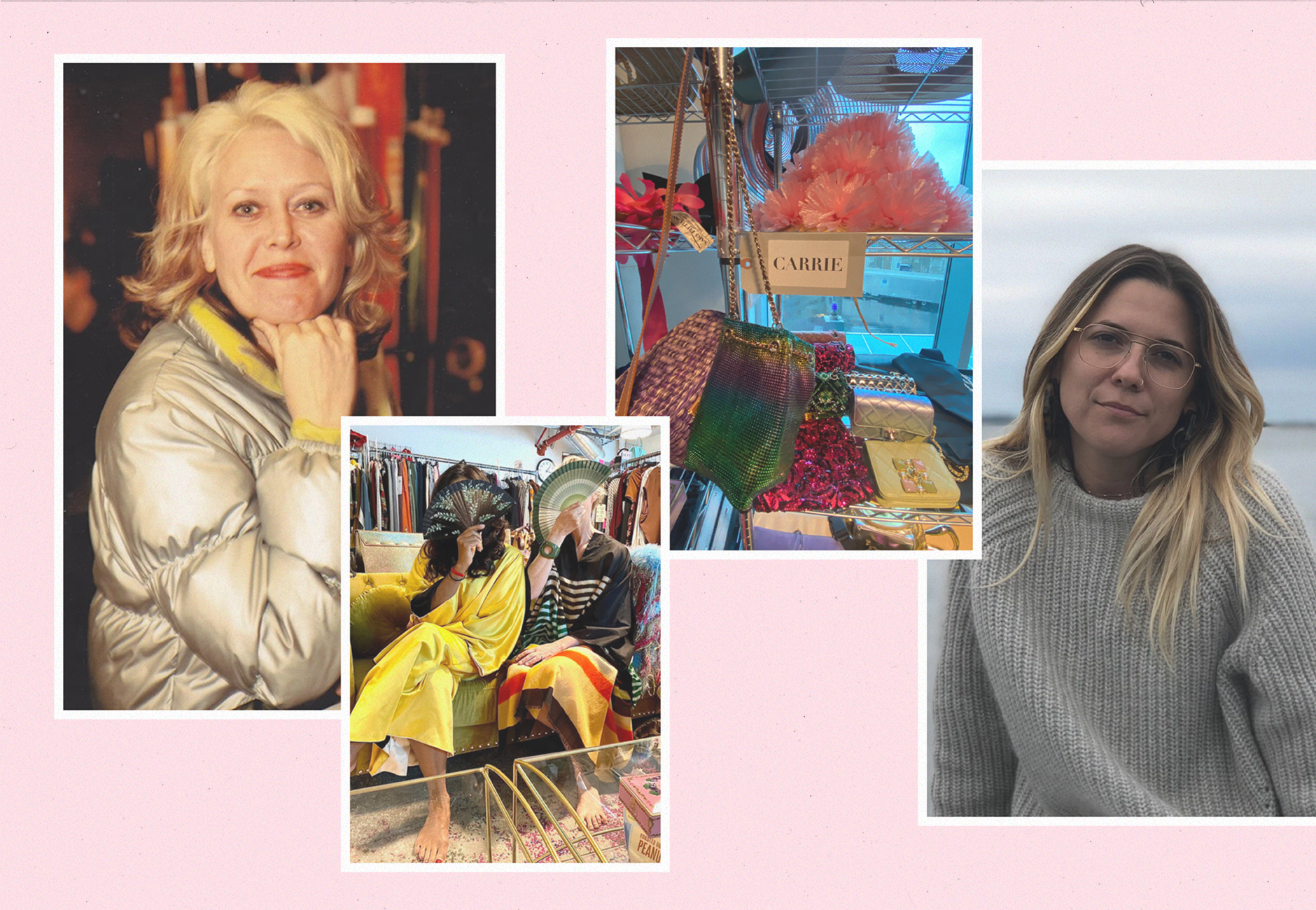 Costume Designer Molly Rogers and assistant prop master Joanna Leavens. Molly portrait: Craig Blankenhorn,Joanna portrait: Theo Sena. All else courtesy of Molly Rogers and Joanna Leavens.
The fashion and style in the highly anticipated sequel of the cult television series "Sex And The City" is as vibrant and risk-taking as its content. We caught up with the show's costume and prop designers, Molly Rogers and Joanna Leavens, to talk about changes in the industry, how the fashion in the series has evolved, the viral looks, and their own favourite spots for style and people watching in NYC.
Hello there! Many people might not know, but MYKITA made its first appearance in the second Sex and The City movie so we're so excited to be continuing this relationship 11 years later!
MOLLY: I am so happy to be talking to you because we are big fans of the brand. I also want to share more because the fans of the show want to know where the glasses came from! I know they first came from props through Joanna, so it wasn't written in my costume bible. It's really a huge question from the fans. And yes! I remember I first encountered MYKITA when I was in Paris with Pat (Patricia Fields) at the showroom, and we saw those amazing gold frames from the Bernhard Willhelm collaboration which were featured in the second movie. They were great. The shape, the colour, the style – everything!
Now that the show is finally out, what have you been up to? Are you still in New York?
MOLLY: I'm currently in Miami and the weather is gorgeous. I go back and forth between the two cities so much. There's not a lot of filming here but it's a place where I go to relax. All my work is in the city, and I just wait here for the phone to ring. It's a great place to do that. I was actually going to do the zoom outside, but I can't do that to you guys…haha!
JOANNA: I've been working a lot but currently I'm home sick with Covid, but I'm OK! I was supposed to be on a shoot, and they sent me home from set, so I'm quarantined with my husband and my two-year-old.
MOLLY: Well, that's not a vacation!
JOANNA: No, it's not, haha!
How do the costume department and the props department work together? What has your experience been like working together on the show?
MOLLY: I'll speak for myself. There's nothing like working with a props department that has great taste. It's not often that you get that. Prop people aren't usually fashion people. Joanna and the props department was so determined to bring everything into the closet, like everything they could that the cast wanted. When you walk into the fitting room, you find an incredible selection. Joanna really brought everything, and the cast tried it all on. We, as the costume department, just try to guide them.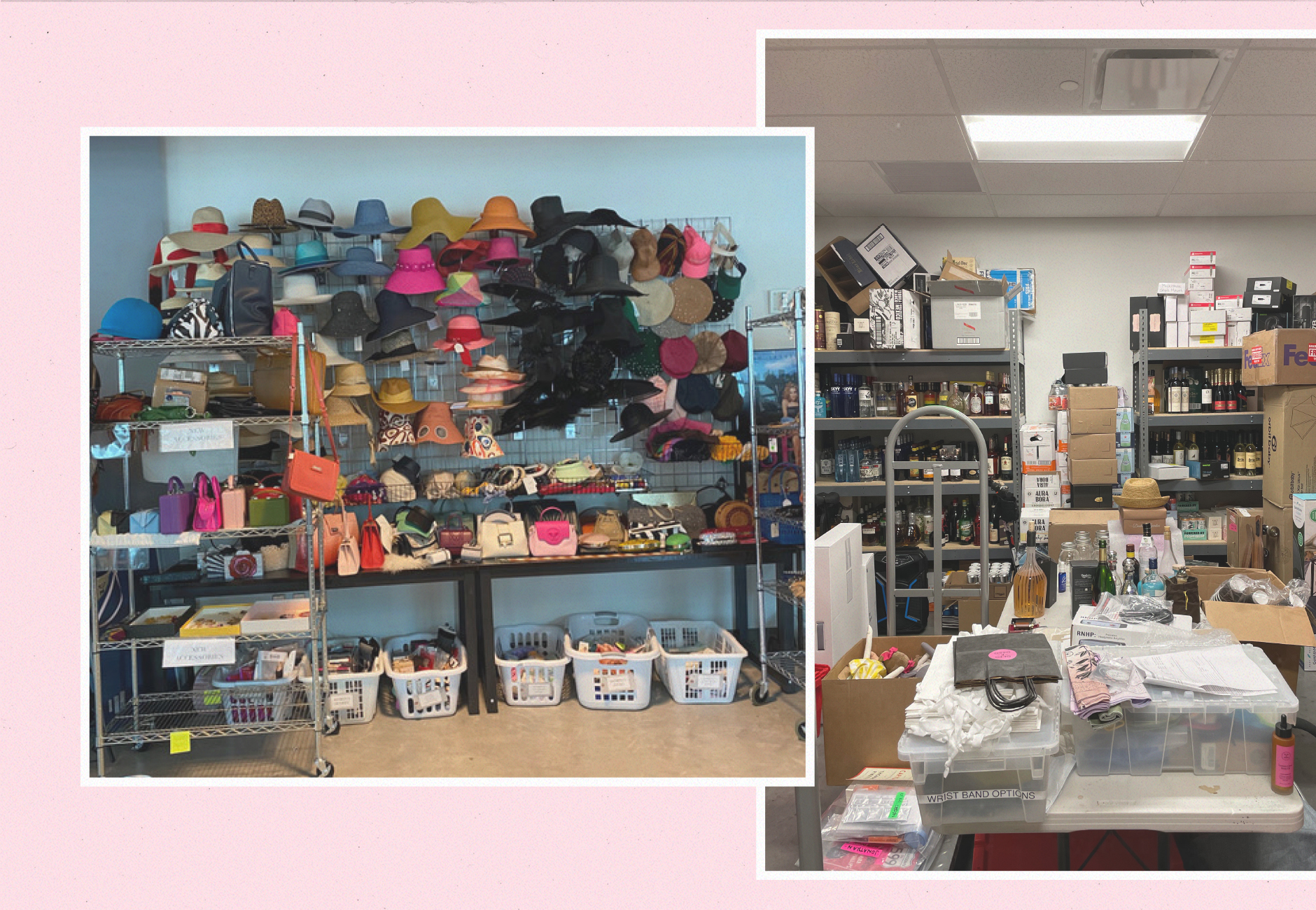 Behind the scene "And Just Like That". Photo courtesy of Molly Rogers.
Joanna, how did you select everything? It must have been very overwhelming working on such a big show, especially one that is so fashion focused.
JOANNA: We had to dig into the archives and find some oldies but goodies. It's important to mix the high and the low to make something new. It means you have taste and style. That's what makes it cool. It's very helpful to have such a stylish cast of actors who know what they want. A lot of times there's nothing worse than an actor who doesn't know what they want to wear – like you need something to work with. It's always fun. I loved when Cynthia Nixon, who plays Miranda Hobbs, asked me to go through her backpack and be inspired by what's in there. It was like bundled up headphones and candy wrappers – nothing glamourous, but it was real.
MOLLY: Mixing high and low made it a lot more exciting. These days you want to be greener than you were. Sometimes you must make something look old intentionally and distress the fabric and go back in time, but maybe not so much on this show. I love when reporters ask where Sarah Jessica Parker's earrings are from, and I look inside my costume bible, and I tell them it's from Claire's! But then sometimes she would wear a watch from a thrift store. We like to have things with character.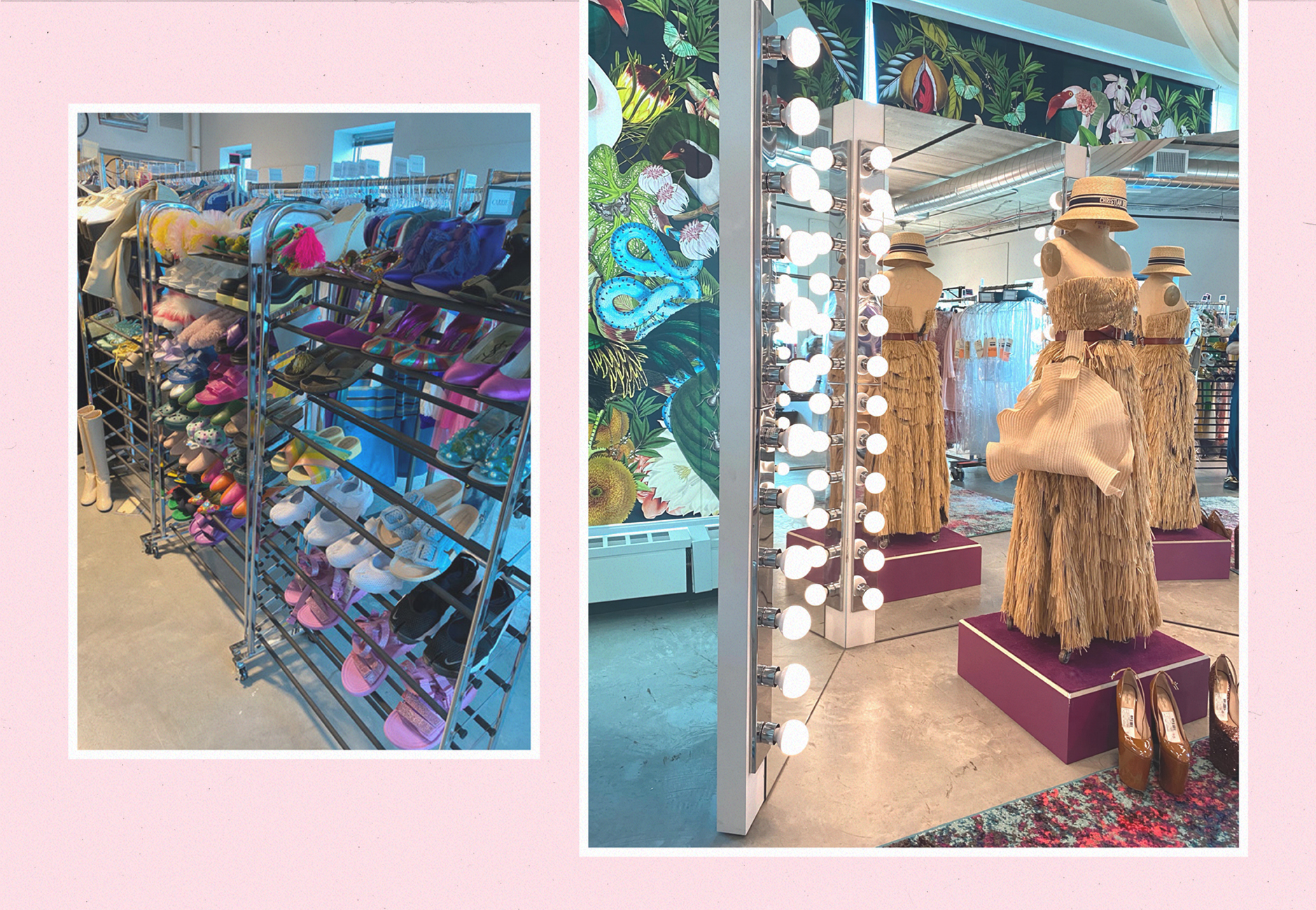 Behind the scene "And Just Like That". Photo courtesy of Molly Rogers.
And what about eyewear?
JOANNA: Eyewear is really hard to pull. But when we got asked to do the show, I immediately thought of MYKITA because I am personally a big fan of the brand. When you're searching for eyewear for shows, you must think about the face shapes. They may say they want something but not everything looks good. I just knew specifically that MYKITA was going to look great on Sarah Jessica Parker, as she's worn it a lot before.
MOLLY: Yes, eyewear is really hard. You must see it on the talent. It's not like picking a coat from an image and knowing it will look good, eyewear really needs to be tried on. Every selection Joanna brought was great. Everyone wanted to get what she (Sarah Jessica Parker) was wearing.
MYKITA LITE model CLAAS and MYKITA DECADES model MERYL. Photo courtesy of MYKITA.
What was the selection process like?
JOANNA: We knew that Sarah Jessica Parker wanted to reference Sophia Loren and it was about bringing the old school glamour to the show in a Carrie Bradshaw way. I first came upon MYKITA in 2006 while on a trip to Mexico City, at a small optical boutique in Roma Norte. I purchased my beloved CLAAS frames shortly thereafter – a frame that can also be seen on Carrie this season with purple lenses. We looked at the clothing that they lined up and the colour palette. That's why we wanted to go for that specific shade of purple.
We brought in a lot of vintage items for her – watches, bags, umbrellas – but it can be hard to pull off actual vintage eyewear without it looking too much like costume. I knew MYKITA would be perfect because their designs often pay homage to decades past. It's all in the details.
How many styles did Sarah Jessica Parker wear on the show?
JOANNA: Three pairs but she had a fourth frame. I'm not sure if it made it on! She also wore a vintage frame with customised lenses by MYKITA.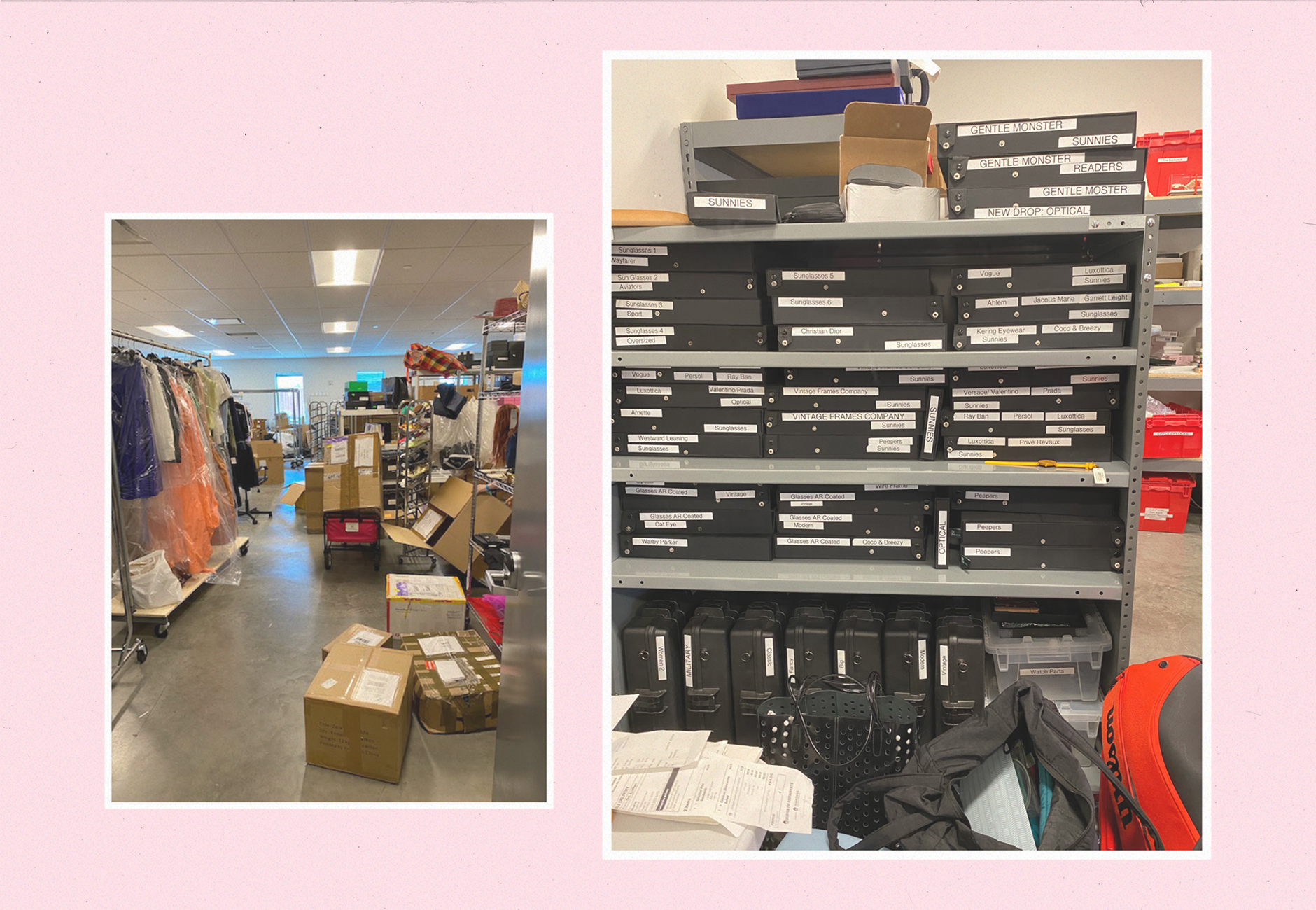 Behind the scene "And Just Like That". Photo courtesy of Molly Rogers.
How did you both get into your field of work?
JOANNA: I went to school for film, and I always thought I would be a production designer. I studied art history and lived abroad for a while to soak it up. I guess that's where I get my eye for the details and colour theory. But then I found myself as the art PA (production assistant) on a couple of big movies and I helped the art department on some projects. I thought it was kind of fun. And Just Like That… was such a fun project for me because much of the time the props department doesn't get to do all the fashion-y stuff. Sometimes costume designers don't want our input, but Molly really welcomed us into the fittings.
MOLLY: We needed your help. It's an overwhelming process, especially with glasses and sunglasses. Oftentimes you don't work with a props department with fashion contacts, so it's really special when you do come across people like Joanna, especially for a show like this!
I didn't study fashion. I went to London fresh out of college and I was really into music. Then I moved to New York and started working for Pat on 8th street. She had her own shop in the East Village, and I just started to work there. I go a long way back with her. When the show was being put together, the producers reached out to Pat, but she was busy with Emily in Paris. So, she told them to come to me because I had worked so closely with her and the cast years ago! It was a fantastic experience and I had so much fun.
JOANNA: I appreciate fashion so much, so it was a fantasy for me.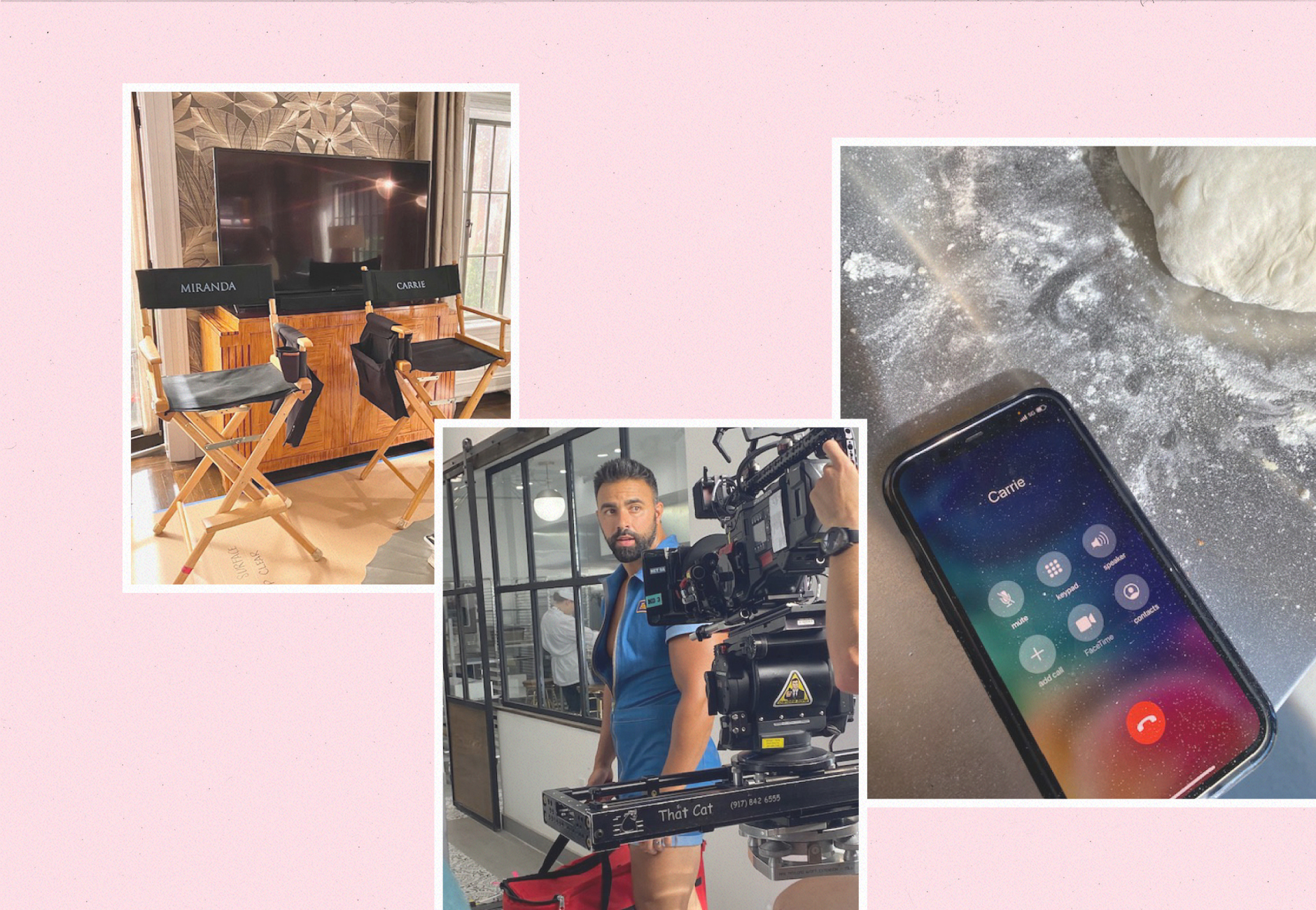 Behind the scene "And Just Like That". Photo courtesy of Molly Rogers.
How has the new show changed from Sex and The City in terms of costume design?
MOLLY: Oh, it's like we're on Mars now. Season 1 of SATC, we would go to Bloomingdales and Century 21, and we'd bring everything to the office and check it out and bill it out. It was tough in the beginning, but we had more and more help as the show got more popular. By Season 3, people realized it was like a moving magazine and people wanted to send us everything. And now it's interesting. Coming out of the pandemic but not really, it changed everything. I met so many people through Instagram for Season – you could never have imagined talking to someone in South Africa. It has opened and closed the world. Century 21 is no longer, and it was one-stop shopping. Barneys, bye-bye. It's narrowed but also opened up and now you can shop at 3.00 in the morning online. It was a different experience for sure.
As for the cast, I think Kristen is the steady one. She's an Upper East Side New York mom - that's her lane and she's not going to bust out in Balenciaga sweatpants and pick up the kids. She's still Charlotte. It wasn't so much that their style had changed. I mean Cynthia, her hair colour has changed. Carrie is still the whimsical risk-taker in her clothing choices – the high and the low. Their style evolved and the questions is how you bring the world to them. They are archetypes and you're not going to change them, no matter what age they are. When we got the job, in my mind I thought I'm going to explode the show in colour – especially after all the Zoom dressings in black and white – like in the Wizard of Oz.
Some of the looks really went viral. Were you aware of all the Instagram accounts dedicated to the show and all the memes? What was it like dealing with a different media landscape compared to 10 years ago?
MOLLY: Oh yes, the horrible viciousness of the judgments – people were angry and bitter! Everything was picked apart, but we had this glamourous fitting room with beautiful lighting, and I put blinders on because if I listened to how I was being judged, I don't think we would be as carefree. I don't think, except for one instance, did I ever censor myself. We really tried to do everything we wanted to do.
We can't speak about the show without speaking about New York City. What are some of your favorite museums, restaurants, and shops to visit in New York?
JOANNA: I've been in New York since 2008/2009, I think. I've mostly lived in Brooklyn, but not to say I didn't get into the city much – it's all a blur. Lots of late nights dancing in god knows where. New York is amazing – I mean all the museums are so good. The Guggenheim is my favorite, I could go there every day. It's so interactive, especially the act of walking up the spiral hall. It's a good place. On the weekends I love to load up with goodies from the Farmers Market in Brooklyn and watching people in the park – we actually shot at my local one on the show! My favourite restaurant is Frankies in Carroll Gardens in Brooklyn and then I love to take the ferry from Dumbo to Wall Street. It's so fun seeing your city from different angels. It gets me every time!
MOLLY: The Metropolitan Museum of Art (the MET) is my favourite museum. It's a classic. I think the best place to people-watch is at the restaurant at Bergdorf Goodman's but the best place to eat is at Indochine on Lafayette Street, a favourite since the Eighties. My favourite bookstore is Left Bank Books on 41 Perry Street and the best place for vintage shopping is Arcade in Brooklyn!
Miami is the place to rest and recuperate but New York for me is a place where I grew up. I mean I'm from North Carolina, but New York is a place where people go when they don't fit in, it's where they go to find themselves and push themselves. It's one of the most exciting places and of course it's a great place for the show as a backdrop, fascinating for the eyes and spirit. I love to drive in New York City, especially when you catch all the green traffic lights from 57th street to 14th street! And though I'm a Southerner, I'm definitely down with the Yankees.