MY CITY | LOS ANGELES BY NATALIA PEREIRA
As the MYKITA Shop Los Angeles settles into the Eastern Columbia Building in historic Downtown, MYKITA JOURNAL plays the new kid in town and gets some insider tips from our favourite foodie neighbour. Natalia Pereira is the chef and owner of Woodspoon: a small Brazilian restaurant in the heart of Downtown Los Angeles. Opening her restaurant in 2006 while this part of town was still sleeping, she couldn't imagine the developments that would come. In this instalment of MY CITY, Natalia shares her inspiring story, passion for food and cooking, as well as her personal recommendations for Downtown and around L.A.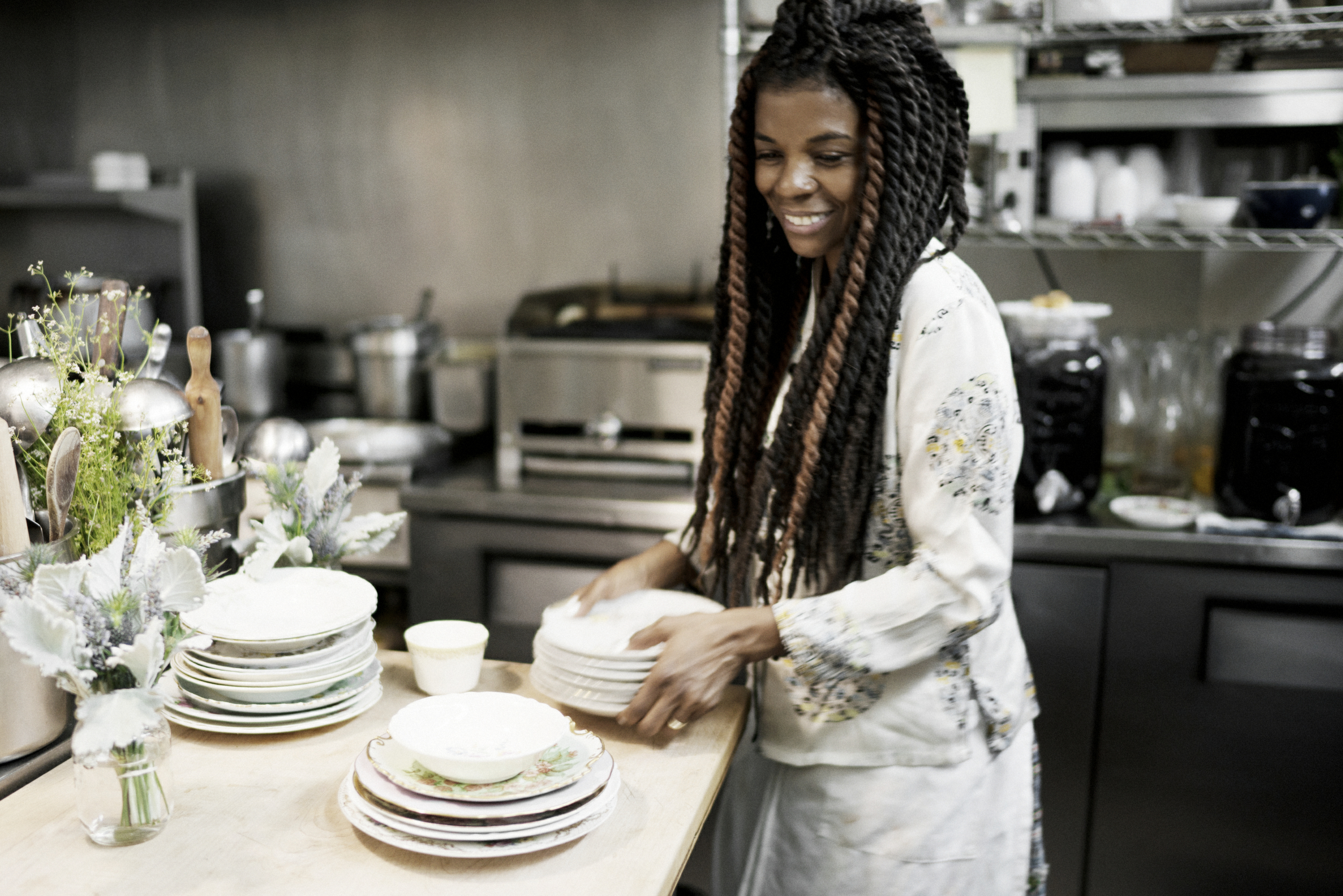 Natalia in the kitchen at Woodspoon. Photo courtesy of @metabola

FROM BRAZIL TO L.A.
I was born and raised in Brazil, in Vianopolis, a very small country town in Minas Gerais, a state known for the best cuisine of the country. I remember sitting on the stove of our kitchen overlooking every move my mom made. On Sundays she used to make Chicken Pot Pie, a traditional dish that has become one of the cornerstones of Woodspoon. I moved to L.A. without knowing a word of English, finding my way by cooking my special meals for several families around the city. Eventually a client that had become one of my best friends, and that believed in my aura, helped me open Woodspoon. This year I have started a movement called A Bite For Peace; a travelling dinner experience where diversity is the main ingredient, where everybody's voice is heard, using food as the main bond, breaking bread together, building bridges that would perhaps facilitate a future generation. I would like for people to have a sense of equality because the world needs this empathy, being so divided as it is today. Starting in downtown LA this movement has travelled to San Francisco, Portland, France and Italy. The goal is to bring it all around the world.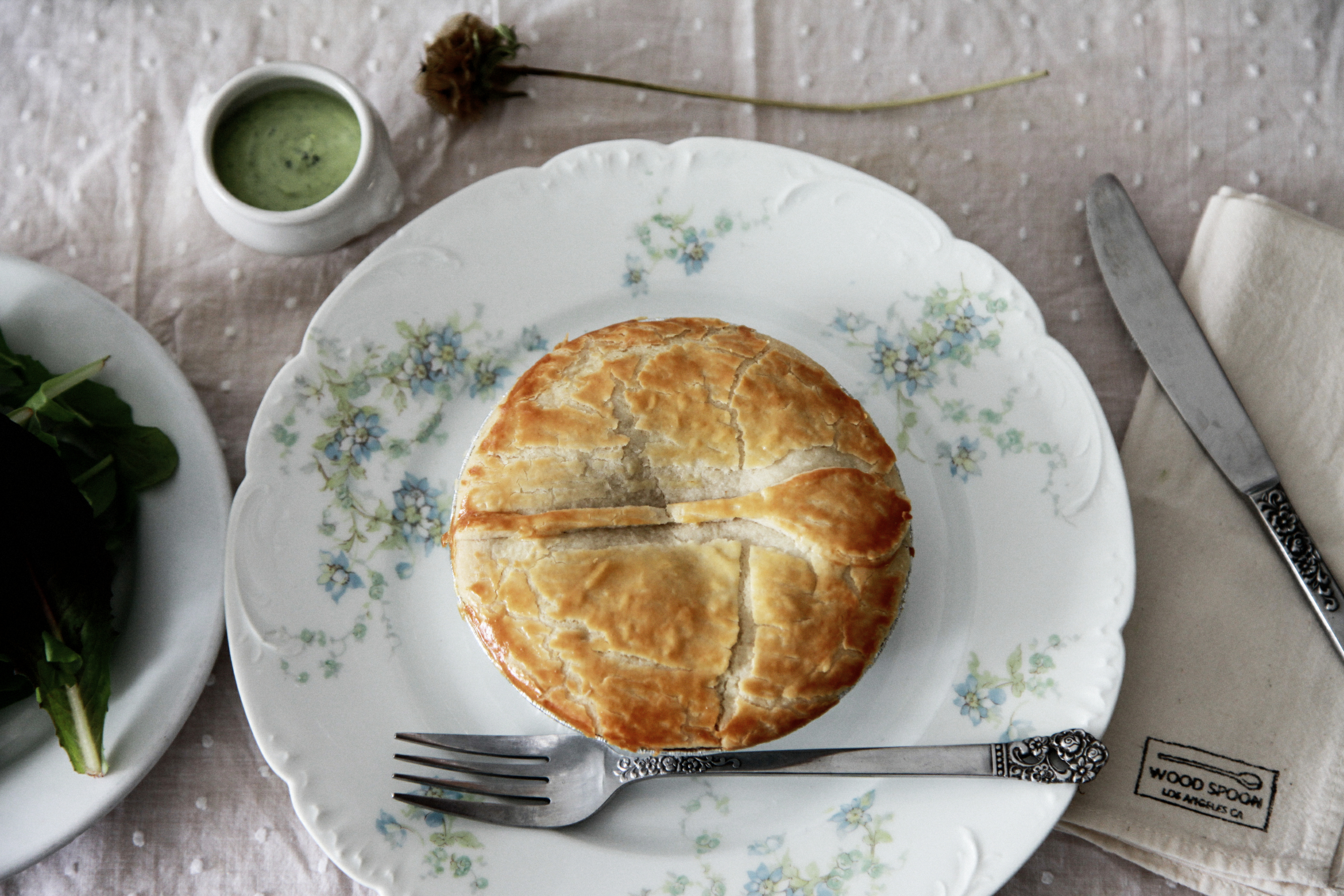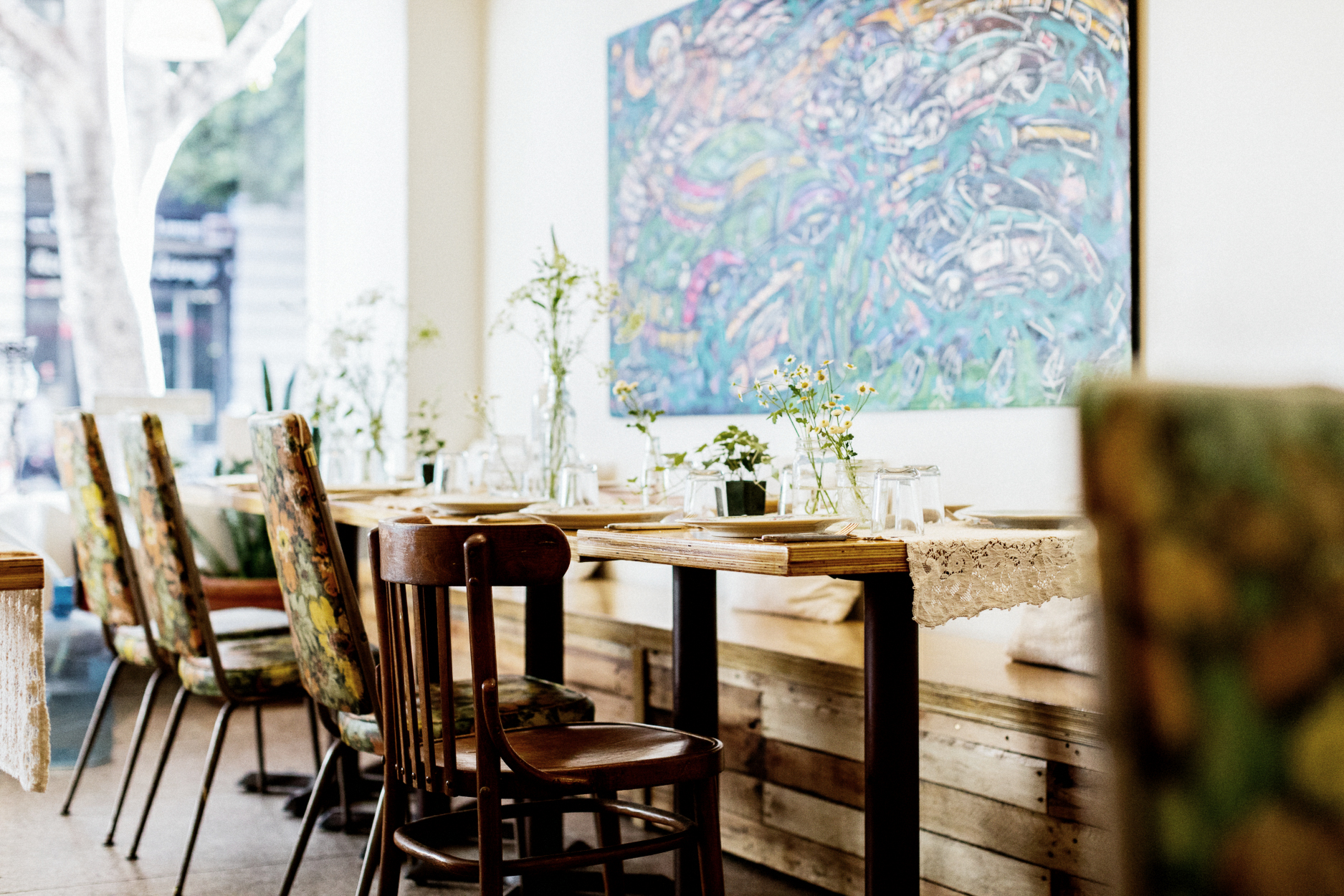 Natalia's chicken pot pie and A Bite for Peace in L.A at Woodspoon. Photos courtesy of @metabola
ALL IMPORTANT COFFEE & BRUNCH
We usually make our espresso at home but if I go out I will get a cortado at Spring for Coffee, a very informal spot. They pick their own roasts and the quality of coffee making is at its best. It opened long time before the new wave of independent coffee roasters took over the city. For a perfect brunch snack we usually indulge on a Fairfax Sandwich at Eggslut, with scrambled eggs and melted cheddar. Everything at Eggslut makes flawless sense: the brioche bun they use, the texture, the temperature and the flavour.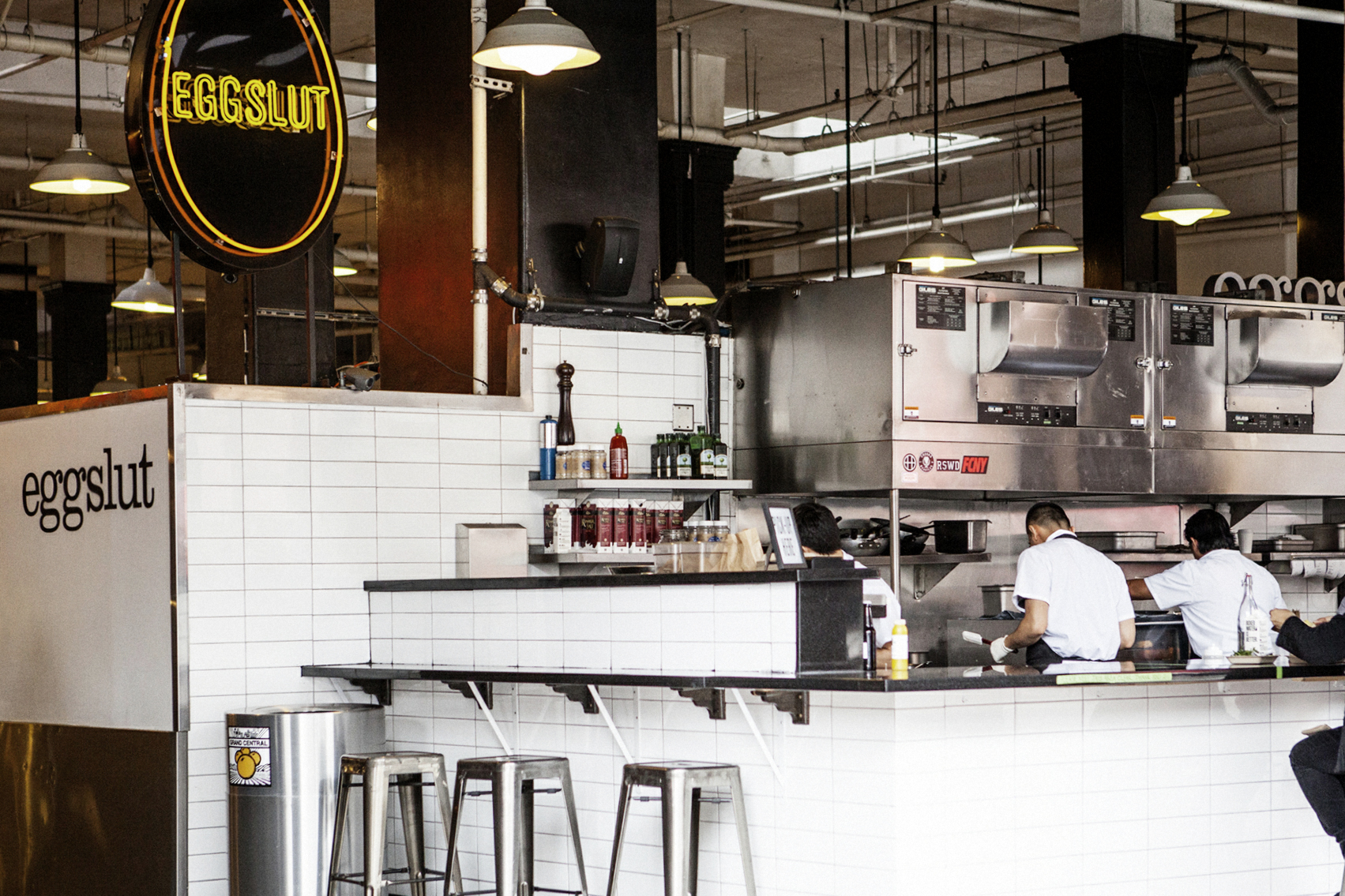 Eggslut at Grand Central Market in Downtown Los Angeles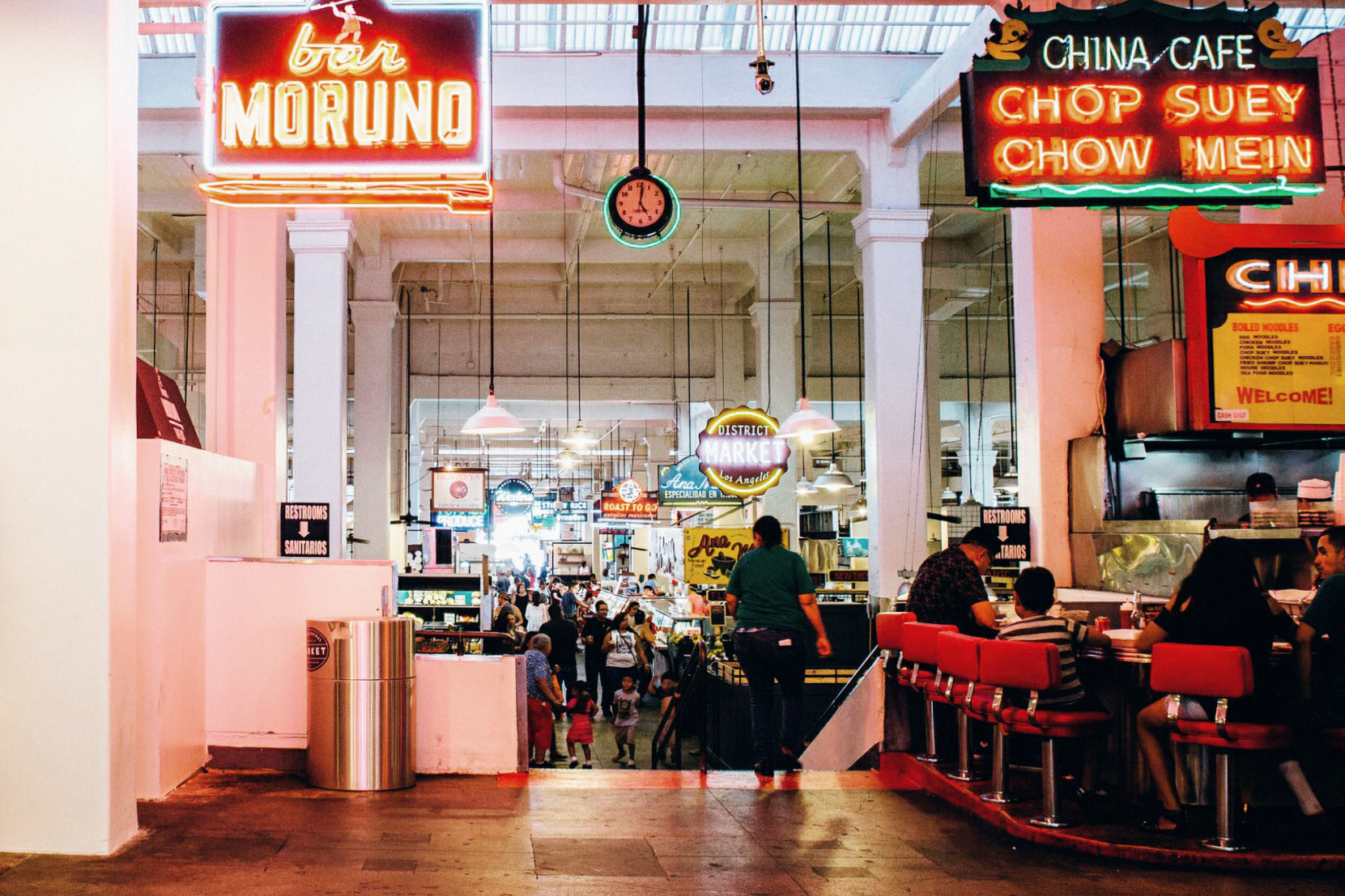 Grand Central Market in Downtown Los Angeles
VINTAGE, FOOD AND FLOWER MARKETS
We then like to walk around the Grand Central Market and maybe buy some great cheese or some produce for the house. I used to go there way before the hip revolution the market underwent, but you can still feel a beautiful folklore vibe peeking into the different cooking realities of L.A., all under one roof. I totally enjoy buying vintage dishes and cups for my restaurant, plus one of my deepest pleasures is buying vintage clothing: on the second Sunday of the month I love to get lost in the labyrinthine paths of stands at the Rose Bowl, where the fun is not only buying but discovering very special people to talk, drink and haggle with until sunset! The flower market is not far from here. Opening at 6 a.m., this is where L.A. can come to smell the flowers seven days a week. The Last Bookstore is a one-of-a-kind coffee place, a must-see! After traveling through many pages if you decide to grab a cookbook, the farmers market will be your next stop. L.A. provides a daily farmers market from Santa Monica to DTLA as an incentive to the city to eat fresh, healthy, and organic.
The Last Bookstore. Photos by James Garcia and Jordan Nakamura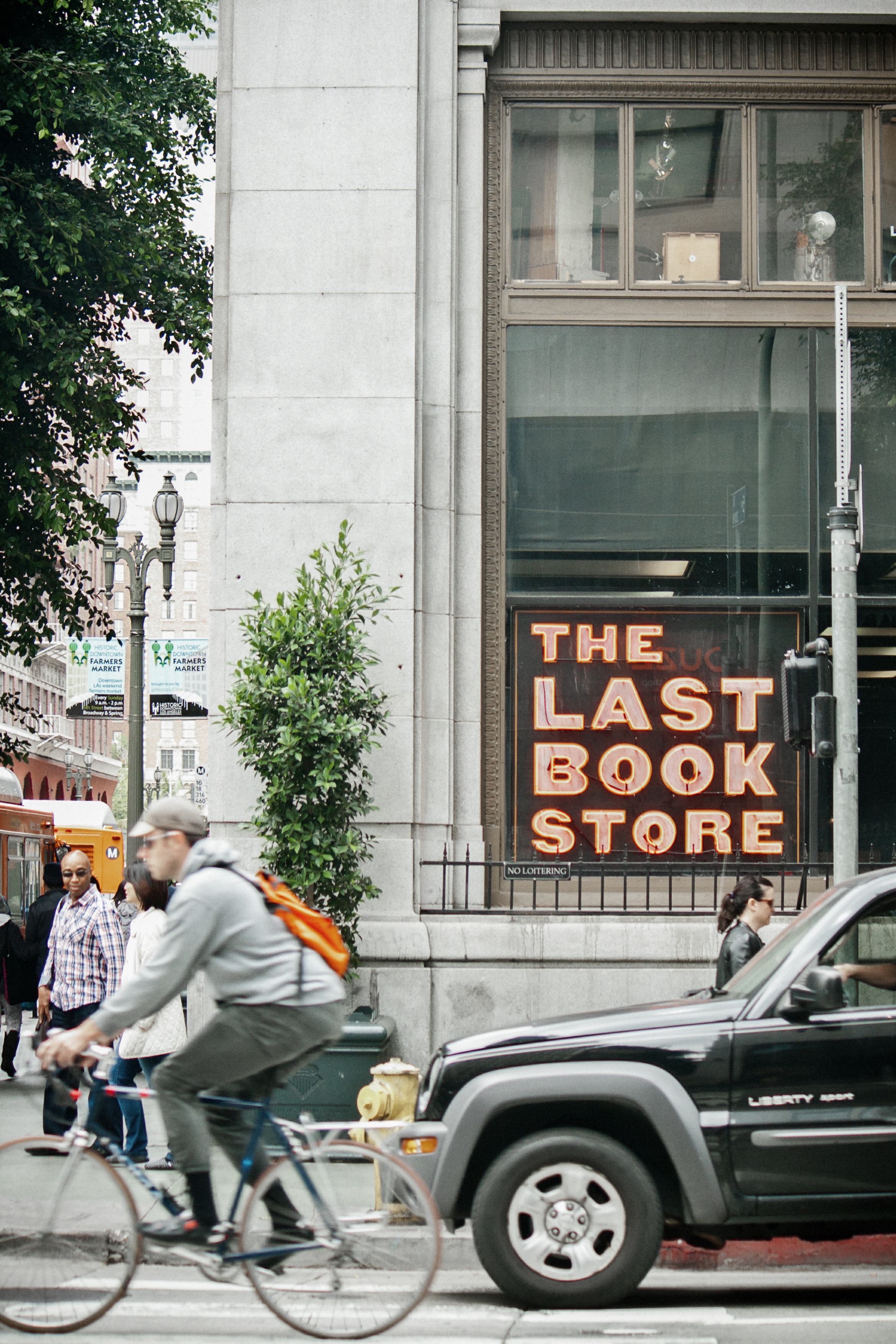 The Last Bookstore. Photo by Kim Garcia
HIKES AND ARCHITECTURE
On other Sundays a close hike that I love is Temescal Canyon. For even more visual inspiration I like to walk in the Rustic Canyon and admire the beautifully designed homes. It feels like walking through an architecture book. If it's too hot or rainy for a hike the Getty Villa is a visual treat; a mix of European and Californian taste located right on the edge of the Pacific.
A DOWNTOWN OASIS AND THE ARTS DISTRICT
For a moment of quiet right in Downtown, I take a walk to the Last Bookstore which to me feels very intimate, and after that go for a glass of Magic of Juju at Les Garçons de Café; my favourite wine in my favourite bar. The care for detail nonetheless done with such simplicity of that place makes me feel like at one of the famous 'botequims' I can only find in Brazil or France. I love fashion and Carl, a great friend of mine, created a uniquely beautiful selection in his Guerrilla Atelier in the art district. I go there to breathe some of that perfection and always discover some cutting-edge piece. Art feeds my passion and curiosity. When I first walked into Corey Helford Gallery, its selection of new young and edgy artists opened up a new world of art. I connect that with the intrigue of the graffiti found on the backstreets of the arts district.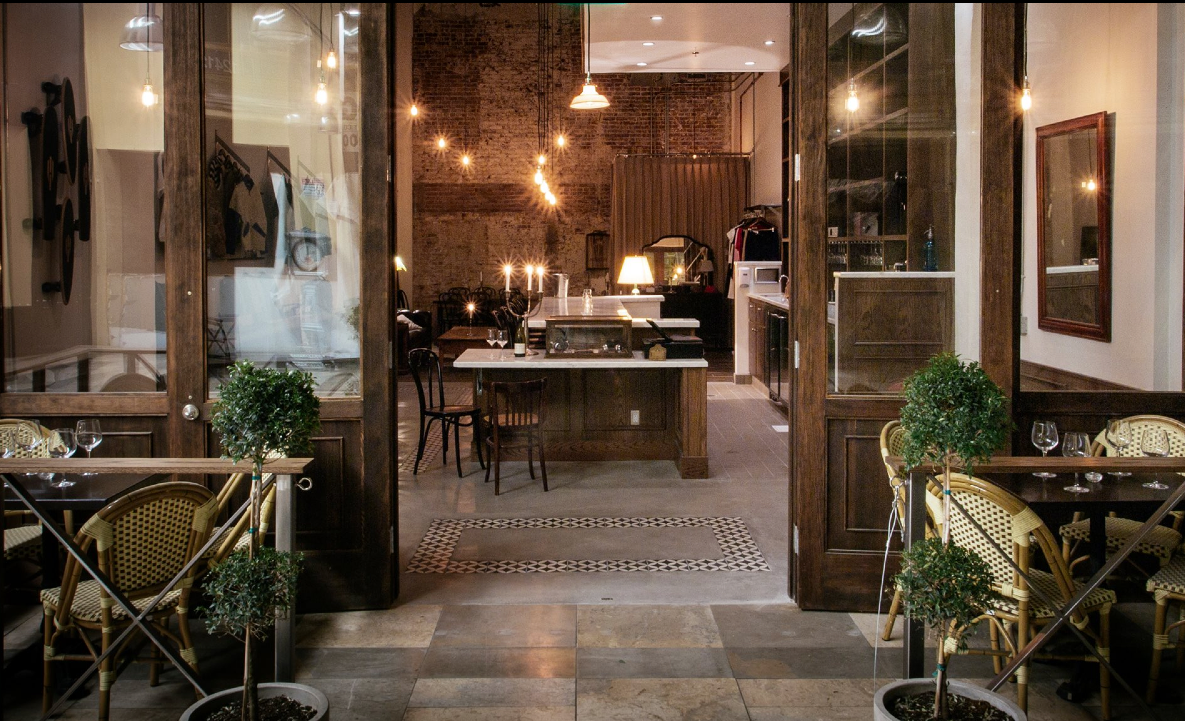 Les Garçons de Café. Photo courtesy of Historic Core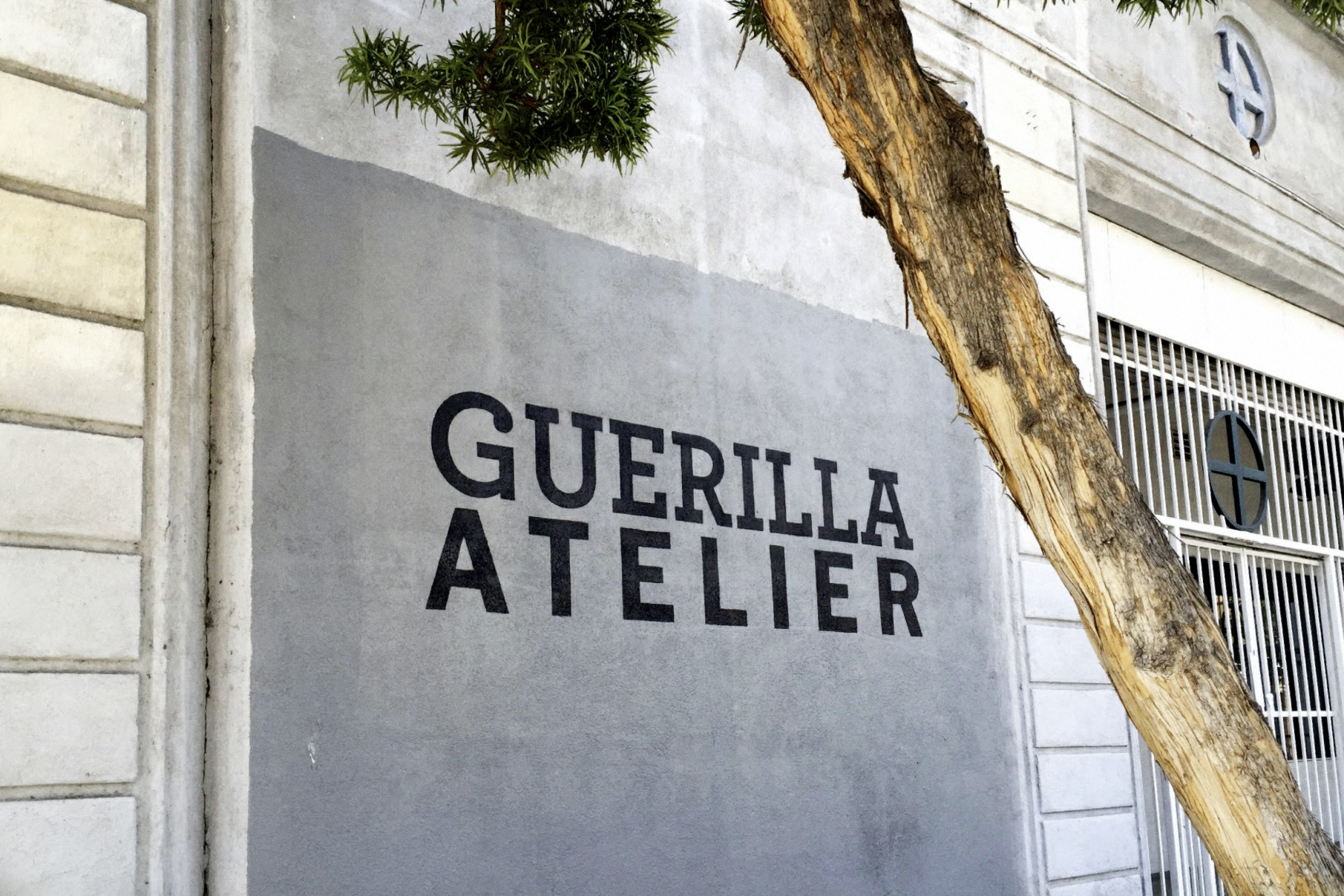 Guerilla Atelier
MIDNIGHT EATS AND DANCING
For years I've been going at late hours to Koreatown to have super hot egg stew in small hidden spots. It's something like a healing process after the long days of work at the restaurant. Korea town has one of the biggest and most developed subcultures in the city of LA: there you can find thousands of eateries that will blow your mind. Lately, Parks has become my favourite and you can find me there at least once a week; their BBQ and bibimbap are to die for. A midnight taco at Tacos Mexico, next to the Ace Hotel in DTLA, has become another therapeutic after-work ritual – this will never disappoint! DTLA provides some special drink boutiques where you can have a local beer, all the way to a hand crafted jalapeño margarita at Las Perlas. If I have to pick a bar to go for a dance, I'd go for La Descarga on a Wednesday night; its Cuban salsa live band plays with irresistible energy!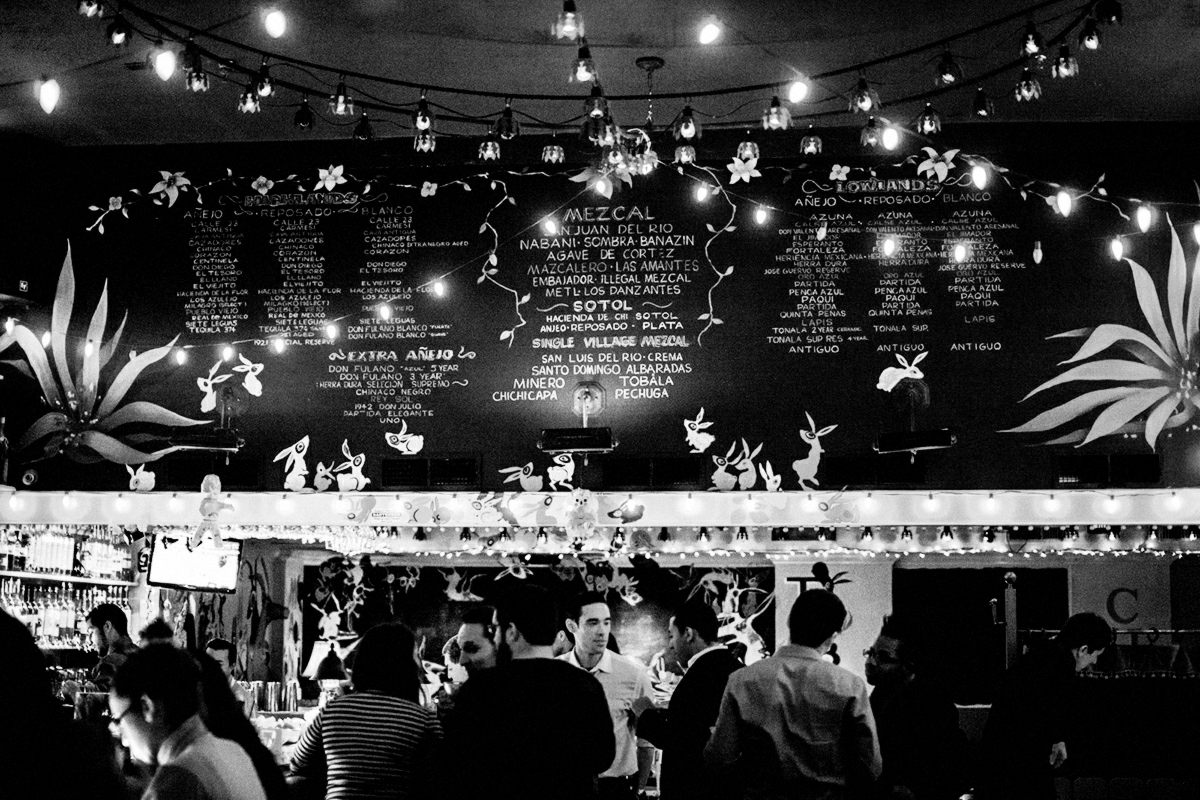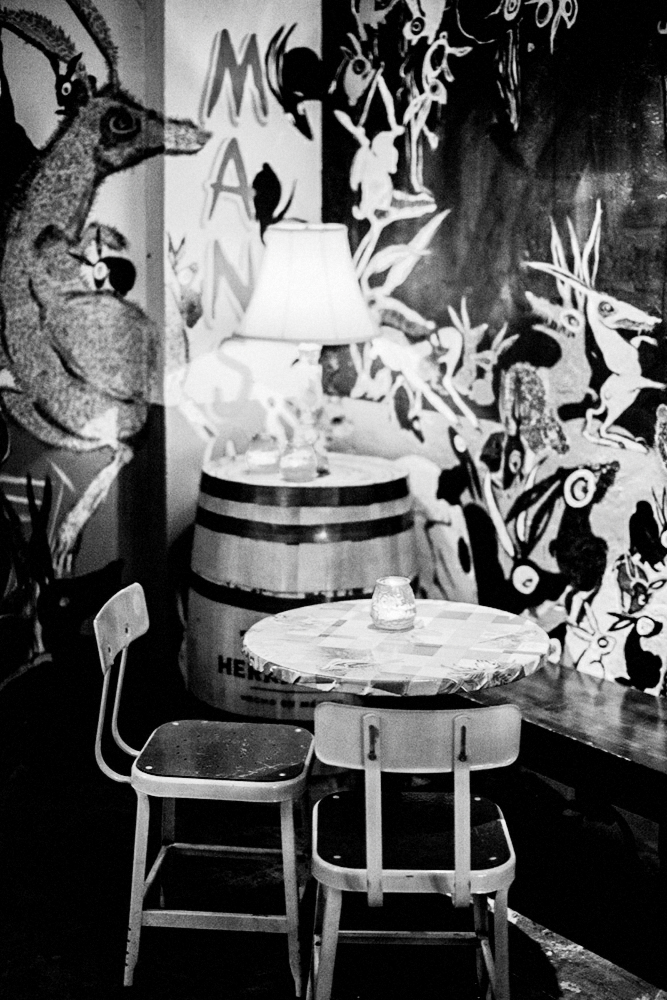 La Descarga. Photos by Andy Keilen
HISTORIC DOWNTOWN
After being in downtown L.A. for 10 years, it is such a celebration to witness the revival of this part of the city. It's such a diverse place full of street art, music, food, culture, academia, fashion and much more. The fashion district is not only about fabric and design; you'll also find incredible historic buildings. The Eastern Columbia Building for instance is an Art Deco building built in 1930 that now is a home to many well-respected fashion brands, including the MYKITA Shop. For a night out in town you can always catch a show at The Orpheum Theatre, holding events such as concerts, comedy shows, etc. Be sure to notice the beautiful carvings of winged dragons that make up the décor on the inside of the Orpheum. And there is of course the Ace Hotel – also known as the United Artist Building that was built in 1927.
MYKITA Shop Los Angeles at Eastern Columbia Building in Downtown Los Angeles
MYKITA SHOP LOS ANGELES
847 South Broadway
90014 Los Angeles, USA
Tel: +1 213 3355815