MY GUARD ONE WITH ANDREW VOTTERO – DAFT PUNK LIKE COOL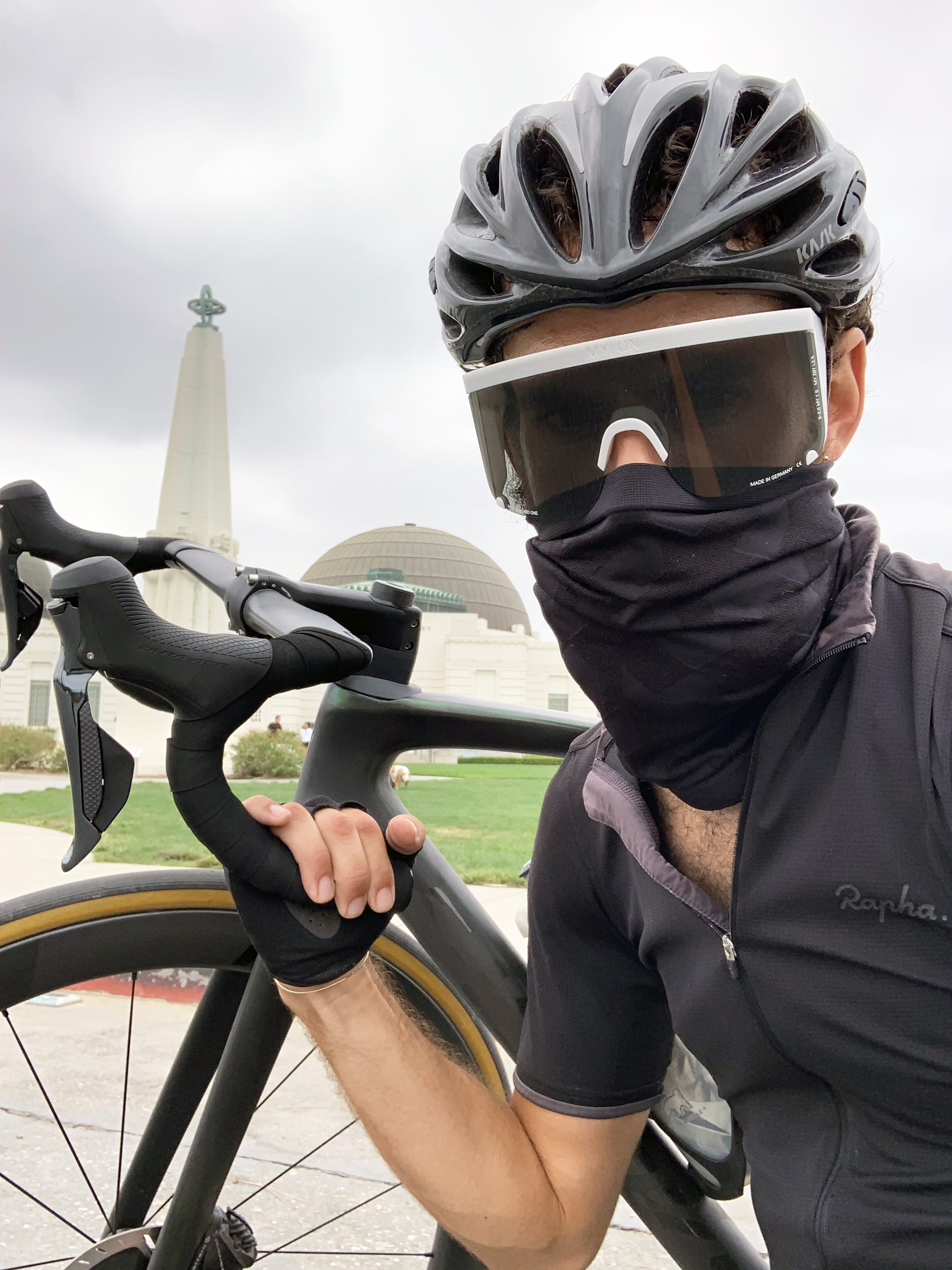 Andrew Vottero, stylist and avid cyclist.
Proud Los Angeles citizen Andrew Vottero is the secret bullet behind Jeff Goldblum's celebrated style, longtime stylist for Fantastic Man and GQ, a long-distance cyclist… and a self-described "Leo Sun, but Scorpio Moon in the First House." Originally a hardcore East Coaster from Wilbraham, Massachusetts, 34-year-old Vottero established his fashion career first in New York, continued in London, and somewhat surprisingly, now finds himself in LA.
In true LA fashion, Vottero spoke with MYKITA JOURNAL on headset from his car, taking a break from Elephant Seal-watching by the beach. Vottero is the first Angeleno to test-drive the MYLON GUARD ONE on his long-haul cycling routes from city to canyons to sea. In this lighthearted conversation, Vottero also shares his views on the stylist life and how Los Angeles life has gradually shaped his creative vision and career into a more 'holistic union'.
Wow Andrew – holding interviews with LA people when they're in their car, is just "so LA"!
My car is my office!
So. what made you decide to move to LA? As 'East Coast Andrew' this seemed impossible!
Originally I had no plans to live in LA; I had no concept of LA — It wasn't even on my radar. I honestly didn't even have any interest to visit LA. But when I got here I was just stunned by how magical it is. It's such an unexpected place, and constantly surprising. Even after seven years, it feels like I'm just starting to get to know the city.
I feel like I'm in a long-term relationship with Los Angeles. I think it has a lot to do with the natural world here, the way people organize their lives. After being in New York, it was a really refreshing change - something I didn't expect or know that I wanted - but once it found me I realized how necessary it was. It opened my mind in terms of what's possible. Truly.
OK, 'California Mystic Andrew' is speaking now…
Totally. The California landscape itself is really special, especially through the LA canyons. When I cycle it feels powerful and the scenery is amazing. One day I came around a corner and saw four vultures tearing a carcass apart. California is so metal in that way.
Everywhere else I've lived, the path of life is pretty clearly defined, especially in terms of goals. In LA I feel like there are no rules and you can make up whatever life you want. My approach here is more holistic and my work no longer defines me. New York City is so relentless and focused which in one way strengthens you, but at the same time NY made my focus so narrow and I felt I was missing out on the bigger picture. Moving to LA was a shift in my vision-perception.
So, how did LA change how you work as a stylist and your views on fashion? What is this "shift in vision-perception" as you say?
My relationship to fashion has changed a lot over time. Fashion is the only industry that I've ever worked in professionally, starting as an intern at Vogue way back when. I would consider myself a lover of fashion and fashion history, and still want to think of it as a form of art and a form of creative expression. I still want to be moved by the work I'm seeing.
But over the years the industry has changed a lot and I find it harder and harder to speak positively about fashion as a concept right now. I've come to view fashion as a system of exploitation - nothing is ever enough, it's offering a dream which is a false promise of future happiness. At its core I'm afraid it's a structure of capitalism, classism, consumerism.
When I came to LA, I started to look at fashion with less reverence, which turned out to be really positive. I became less concerned with the runway and started to pay more attention to what was happening in an individual when they wake up and start their day, how they feel, what decisions they make. It became a more practical approach to fashion, or perhaps more accurately, to clothing. In LA, I felt like my life became more complete and integrated. I felt more free, as opposed to my life in NY and in London when everything was so heavily focused on work and the fashion world. This wider perspective translated to my approach to styling and work projects. I like using a subject's own personal clothing most of all. I don't like it when a shoot feels super styled, or is just a head-to-toe runway look.
I feel like I'm doing my best work when I'm helping someone access and display their true self - Jeff Goldblum is a great example of that. Jeff was always interested in clothes and style – buying Yohji Yamamoto in the Eighties – but he never found his rhythm with it. He needed a little help translating himself through the clothing. Fashion's greatest power is when it's able to help somebody be the best version of themselves.
That is very LA to say, keep it coming! And was meeting Jeff Goldblum part of your LA life move? How did you meet?
I met Jeff on set for a GQ shoot I was working on. We hit it off right away and he said he wished he could find someone who could go through his closet with him to tell him which jeans to keep, what to throw away. I was like "Hey why not? I've got some ideas, I think we should go shopping!" He had some sick things in his closet, and he had such curiosity and potential, but he just didn't have the things doing the most for him. I've worked with him for six years now and he's one of my best friends and a true mentor: the way he lives his life, treats people, the things he chooses to put his energy towards. And when it comes to fashion, he's like my fashion…dolphin? What's the smart word…proxy?
Can we please keep it "fashion dolphin" which sounds so fun?! Or try to describe it a bit…
It's like I'm channeling my own fashion desires through Jeff. I literally wear running or yoga shorts and my Asics 365 days a year. On set, to work meetings at the Château, everything, you name it. So I don't really buy fashion things for myself these days. But if I see something fantastic that I love the idea of wearing - then I just get it for Jeff, see what I mean? Hmm… "Medium" might be the word I was looking for: Jeff is my Fashion Medium! I shop through him; I see fashion through Jeff.
Then how does a fashion person start biking? I've been tracking your rides on IG and it seems so hardcore, so surprising.
I got into spinning when I moved to LA, and I was actually an instructor for a while. At the time, I wasn't sure I was going to continue in fashion. Somebody told me to get a real bike and ride outside, which I did and I fell in love immediately. Gave up spinning there and then.
But when it really started to get crazy for me was in 2015, when I did my first AIDS Lifecycle Ride, which was my first experience with long-distance cycling. That event is 80-90 mile days, and 545 miles over a week. That gave me a hankering for longer rides. I started leaving my house in Highland Park at 6AM to ride through Calabasas to Westlake Village, Thousand Oaks, cut through Decker Canyon, take the Pacific Coast Highway to Venice and so on.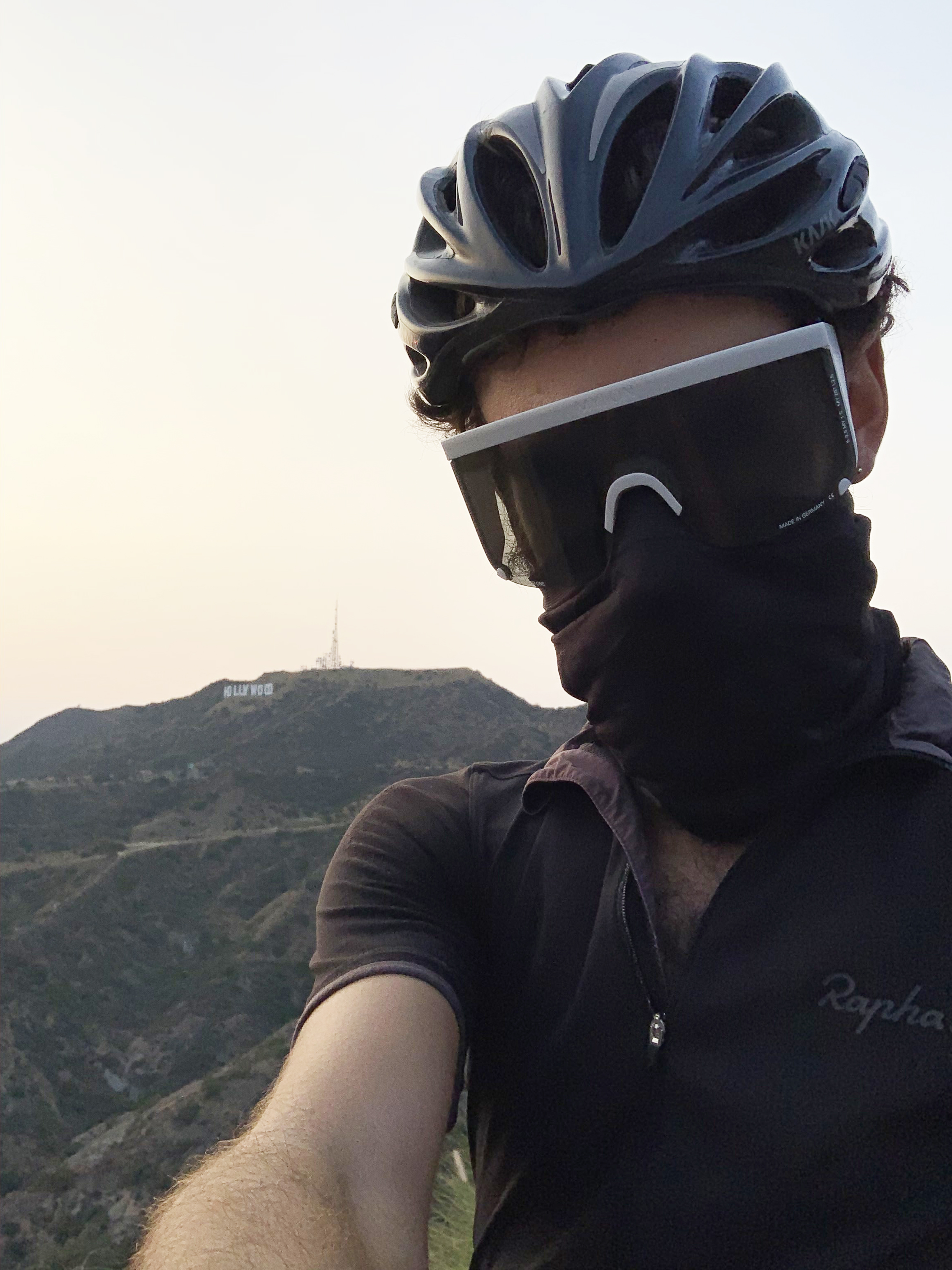 Andrew wears MYLON GUARD ONE with the Medi Grey lens shield.
And what's the pull of cycling, what does it do for you as part of your daily vision-shift?
Cycling helps me be out in the world. I have a daily ride that's not super long - 30 miles or so. In a week I normally average between 150-250 miles. It becomes like a meditation, the way you're using your body and how it starts to feel like a machine. You're on the bike for miles and miles and miles. When you get off the bike after those really long, 100-mile days, you're vibrating. You feel high.
So, how has the fashion-cyclist been test-driving MYLON GUARD ONE – how have you used this bad boy?
I used it with the sunshield on my daily rides this week and they are kind of incredible! Since the lens is so big and one piece they're perfect for a cyclist. I don't know why I haven't used a frame like this before. It gives you unobstructed vision entirely! You can barely see the edges of the frame, and it makes you feel so connected with your environment. It's almost like watching Virtual Reality, like a VR flat screen TV in front of your eyeballs…
I'm not surprised it's certified because when I'm riding, I'm getting no wind [in my eyes] whatsoever. For a cyclist, this is a big deal - not even my Oakley cycling glasses offers this good protection to wind and dust. Also, when cycling, you sweat a lot and when I wear normal glasses the sweat goes on the frame and drips down, but the way GUARD ONE sits on your face and nose, the sweat just goes straight down and it helps keep my vision clear. They do not fog at all, with or without a face mask.
Andrew wears MYLON GUARD ONE with the Medi Grey lens shield. Photo courtesy of Andrew Vottero.
And do you wear the clear shield when you're on fashion shoots?
We're going to do some magical realism right now — I haven't tested the clear lens yet but I have shoots coming up and I'm excited to wear them then. I'm wearing sunglasses all the time in LA, but I can also see using the clear when I'm pulling vintage pieces for my shoots and switching between outdoor/indoor will come in handy.
My favorite vintage place is called Palace Costume (on Fairfax). It's always super dusty and dark in there and nowadays you have to wear a face mask when visiting, so the clear shield will be perfect for going through the racks. The fact that you can so easily and quickly change GUARD ONE between a sun and a clear shield is great and feels safe.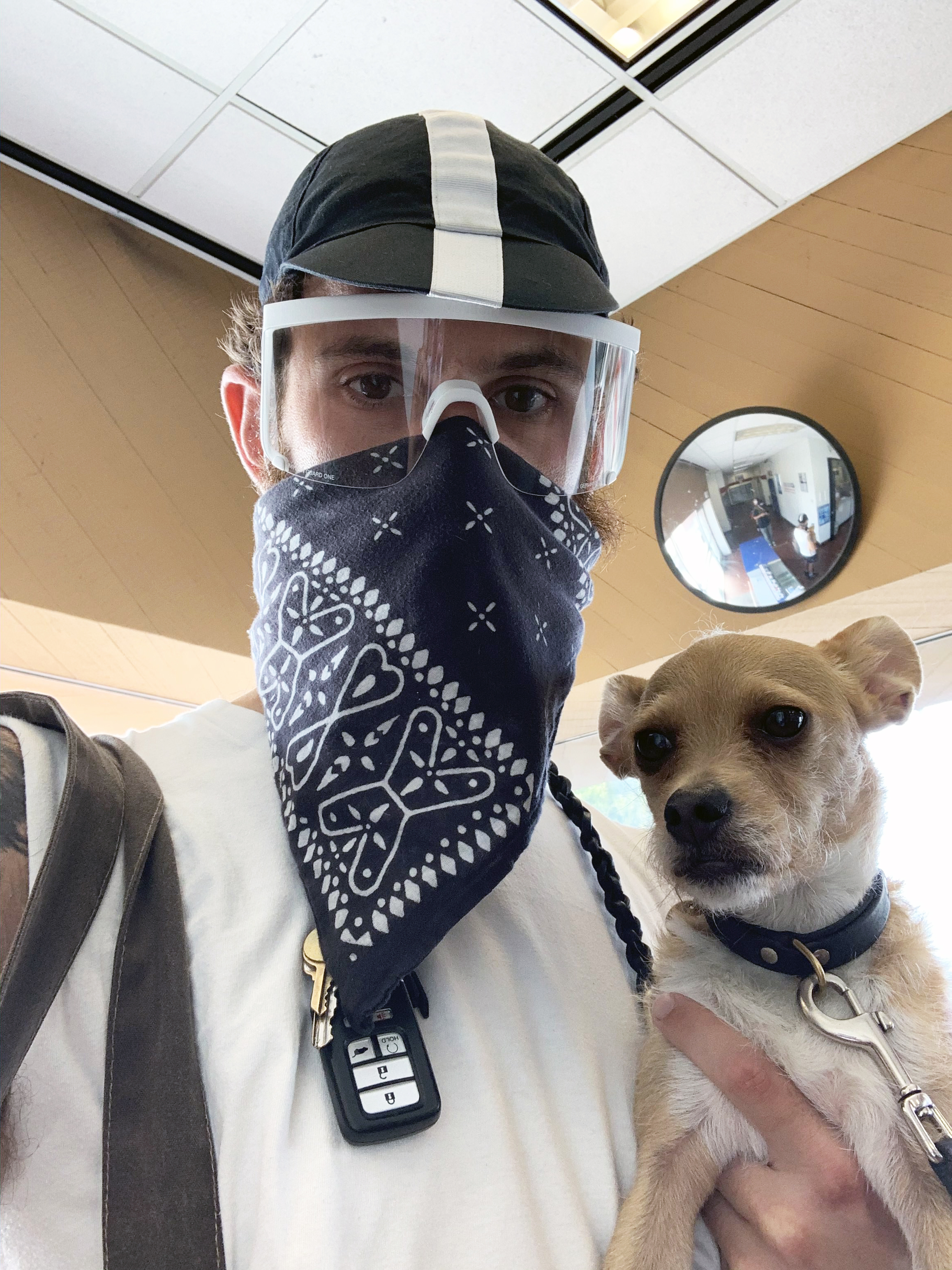 Andrew wears MYLON GUARD ONE with the Clear lens shield.
How do they make you feel when you're biking?
This is cheesy… but they make me feel "really cool." Like one of the Daft Punk guys cool. Like, "please don't talk to me, please don't give me the Corona virus", and yet still looking cool!
That's the pull quote right there! That is the vibe! We are done here! Best line ever! Hahaha… But wait… We need to ask who would you recommend GUARD ONE to?
They are better than all other cycling glasses I've tried so I would honestly recommend them to all my cycling friends. Even if they weren't designed for cyclists, they are performance glasses that are well constructed and super light. Even if I'm not a doctor interacting with patients, I can feel that they're medical grade. I appreciate the level of protection and craftsmanship: if they're protecting me on a bike, they'll definitely give protection to many types of people.

And for sure they are performance wear in the FASHION context too, right?
LOL – make sure you edit this conversation so I said that line!