CHANGING THE FACE OF SUSTAINABLE EYEWEAR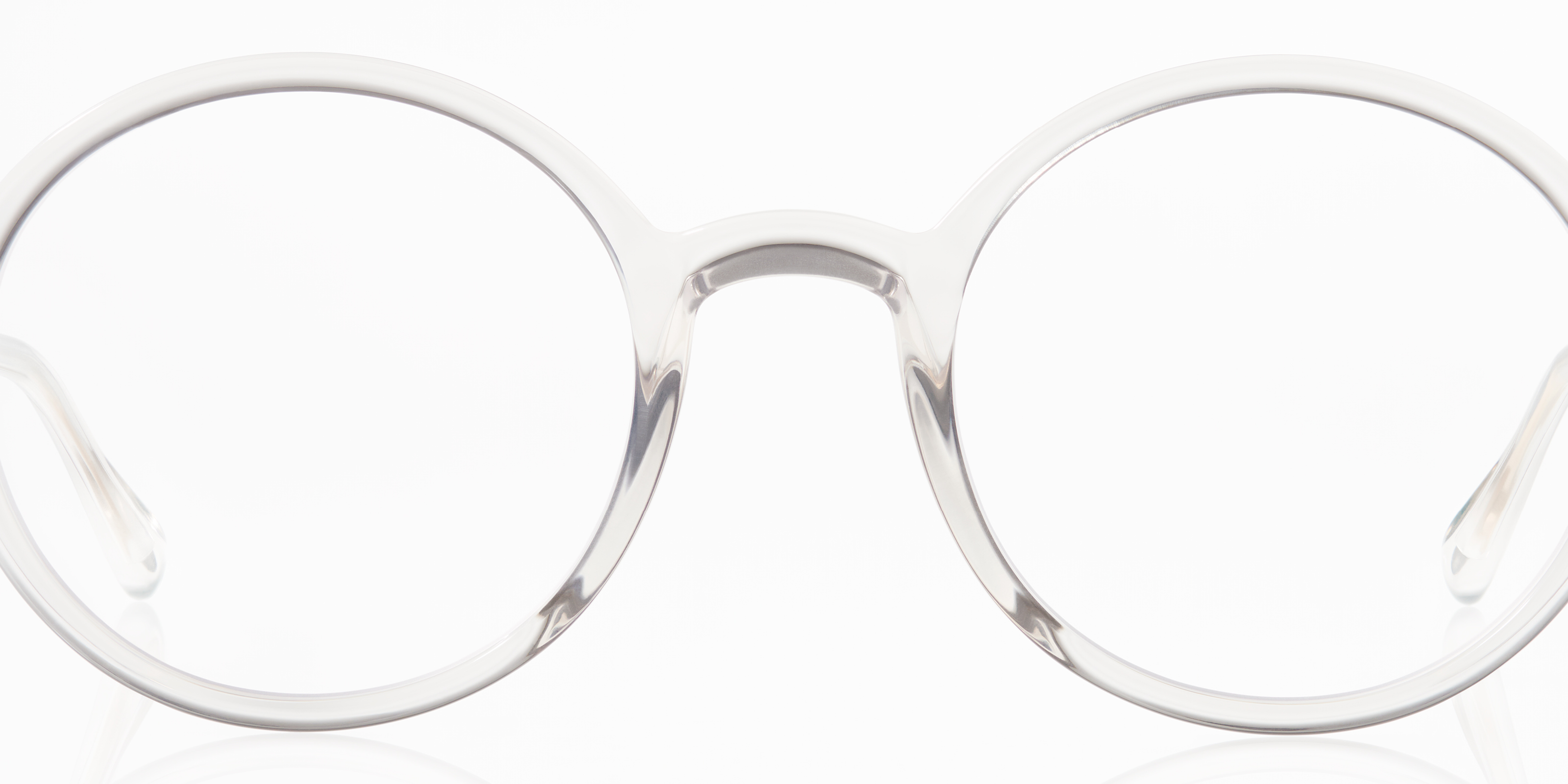 Acetate Renew: "Just as durable, just as comfortable, just as beautiful, but better for the environment."
Under the banner 'Advancing Design with Circular Technology' MYKITA announces its partnership with global specialty materials provider Eastman and its bold move to switch 100% of its acetate supply to the sustainable alternative Eastman Acetate Renew – the first complete pivot of its kind in the eyewear industry. For customers, the switch will be seamless due to the quality of Acetate Renew, which is truly indistinguishable from traditional acetate in look, feel and performance. To understand more about the possibilities of Acetate Renew and molecular recycling technology, MYKITA JOURNAL reached out to industry expert, Rachel Oakley.

Can you give us some insight into what makes Acetate Renew such an exciting prospect for the eyewear industry?

When I started working in the eyewear industry, I was blown away by the beautiful designs and incredible craftsmanship that went into frames. However, the plastic is partially made from fossil materials, meaning this beauty comes at an environmental cost.

In clothing, sustainable fabrics are now commonplace, but for eyewear the options have been limited. The available sustainable materials often placed limitations on the frame design or didn't have the wearer comfort that you get from acetate.

The most exciting part of Acetate Renew is that companies such as MYKITA can still make their stunning designs but know that they are doing the right thing for the environment at the same time.
The quality of Acetate Renew shown to best effect in the new MYKITA ACETATE collection.
What are the main benefits of Acetate Renew from a sustainability perspective?

For me, the biggest benefit is that Eastman Acetate Renew helps reduce the amount of plastic that goes into landfill and keeps fossil materials in the ground. In Europe we're pretty good at recycling and about a third of our plastic is recycled, but globally that number is only around 12%, meaning an awful lot of plastic ends up in landfills or worse. Since Acetate Renew is made from plastics that can't be recycled by conventional methods, it can have a big impact on reducing our plastic-waste problem.
Making Acetate Renew also produces about half the greenhouse gas compared to traditional Acetate. The exact calculation is quite complicated, but for every pair of Acetate Renew frames around 100g of CO2 is saved. To give you an idea that's enough CO2 to fill 3 party balloons.


How does Acetate Renew compare in performance to traditional acetate?
This has to be the biggest advantage of Acetate Renew. It has exactly the same performance as regular acetate. Just as durable, just as comfortable, just as beautiful, but better for the environment.

Acetate Renew is made of 60 percent renewable wood cellulose and 40 percent certified recycled plastics – where does the recycled content come from, what does it consist of?

All acetate is partly made from bio-based content and at Eastman this comes from wood pulp. We hold FSC and PEFC chain of custody certification so we can ensure that the wood pulp comes from forests that are managed responsibly to strict economic, ecological, and social requirements.

The recycled content comes from plastics that can't be recycled by usual methods, that way we know that we're making a real impact on reducing landfill. The variety of materials we recycle is quite wide and includes items such as carpets, containers, and clothing.

What can you tell us about the molecular recycling process?

Molecular recycling is the process we use to make Acetate Renew. It breaks down waste plastic into molecules, the fundamental building blocks of plastics, which we then reassemble into new plastic. This process ensures that the properties of Acetate Renew are the same as traditional acetate.

In the past, recycled used to mean inferior quality but if you look at the new MYKITA ACETATE frames in clear Limpid for example, you can see this is no longer true. I think MYKITA is changing the paradigm of what sustainable eyewear means.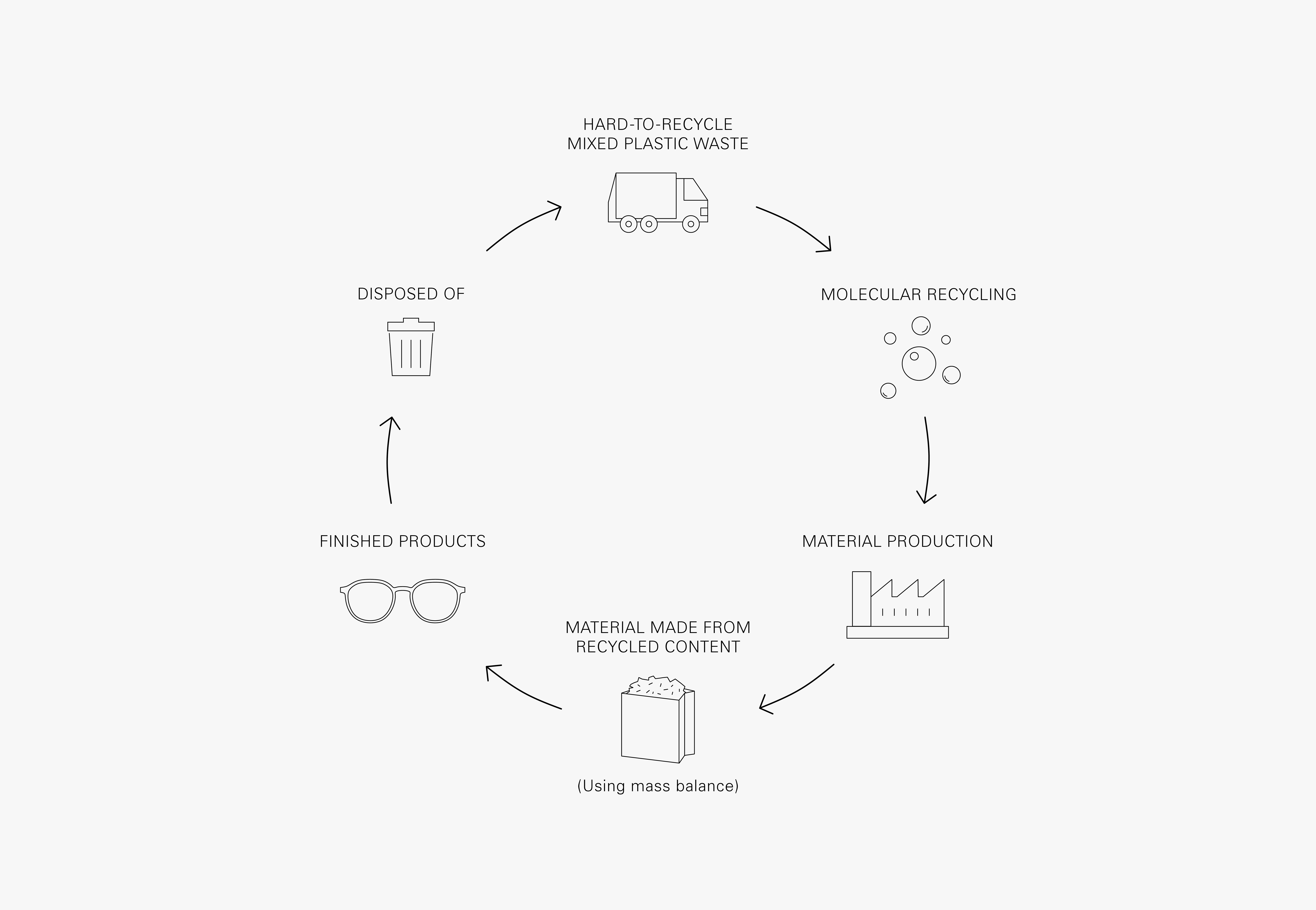 Carbon Renewal Technology (CRT) by Eastman: The conversion of hard-to-recycle waste into its original molecules.
Can the processes surrounding Acetate Renew still be developed to further lessen the environmental impact?

Eastman first developed the molecular recycling process over 30 years ago. We continue to fine tune the process to make it more efficient and we're now using renewable energy as well to further to reduce the environmental impact.

Conventional recycling is more energy efficient than molecular recycling, and I would always recommend that where available. However, many plastics, including acetate, can't be recycled by traditional methods, so this is where molecular recycling really comes into its own – giving a new life to materials that couldn't be re-used otherwise.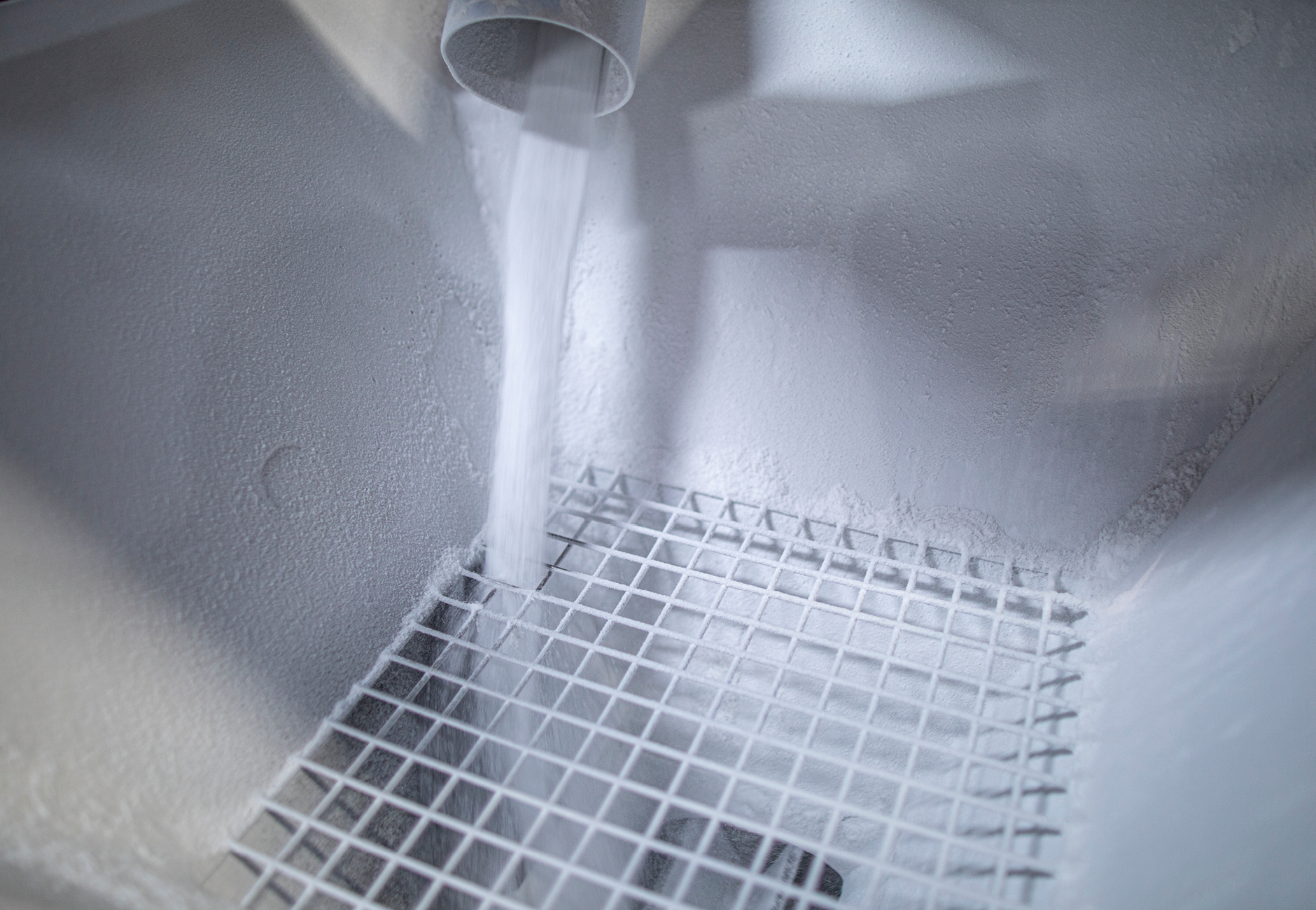 Waste treatment before entering the CRT process.
MYKITA recently announced it was the first in the eyewear industry to completely switch its acetate production to Eastman Acetate Renew – can you tell us a bit more about this partnership and what makes it different from other brands launching products made from the material?

As soon as I entered MYKITA HAUS it was obvious that they weren't afraid to do things differently. Other brands have launched individual collections with Acetate Renew, but the team at MYKITA decided that if using sustainable acetate was the right thing to do, they should do it for every frame, not just a new collection. They wanted to have the maximum impact possible, and they didn't want their customers having to choose between their preferred style and sustainability.

It has been really great working with the MYKITA team. I've been impressed by their energy and determination to do the right thing. They have worked tirelessly to get all the details right, such as getting their ISCC Plus certification, to give their customers peace of mind on the sustainability claims.

What other exciting projects or news are on the horizon for Eastman at the moment?

Our goal is to make the whole eyewear industry more sustainable. As well as offering sustainable materials for eyewear, we're also looking at how to make the production process circular.

We've just announced our first pilot project to recycle the demo lenses that are used for transit, display and try-on of frames. Next, we're trying to find ways to collect the waste created in making the frames and recycle that too. The MYKITA team are already committed and we're looking forward to them joining the scheme once it is running.

Personally, I'm confident that in a few years' time, eyewear will be fully circular – with all the waste recycled and no need to use any fossil materials to create a new pair of glasses. It's an ambitious goal, but I think it is within sight.
Thank you for your time, Rachel.


Rachel Oakley is the global leader for eyewear at Eastman. She joined in 2019 and is leading the effort to transition the business from traditional materials to sustainable materials for high quality eyewear. As a global specialty materials company, Eastman has been a supplier to the eyewear industry for over 50 years. Faced with the reality of a global climate crisis, they have channelled their innovation power into creating industrial scale recycling processes. One of the outputs from this activity has been Eastman Acetate Renew, a sustainable version of their traditional Acetate.
The Eastman headquarters in Kingsport, Tennessee; Rachel Oakley, global leader for eyewear at Eastman.