FERIDE USLU: LIVING COLOUR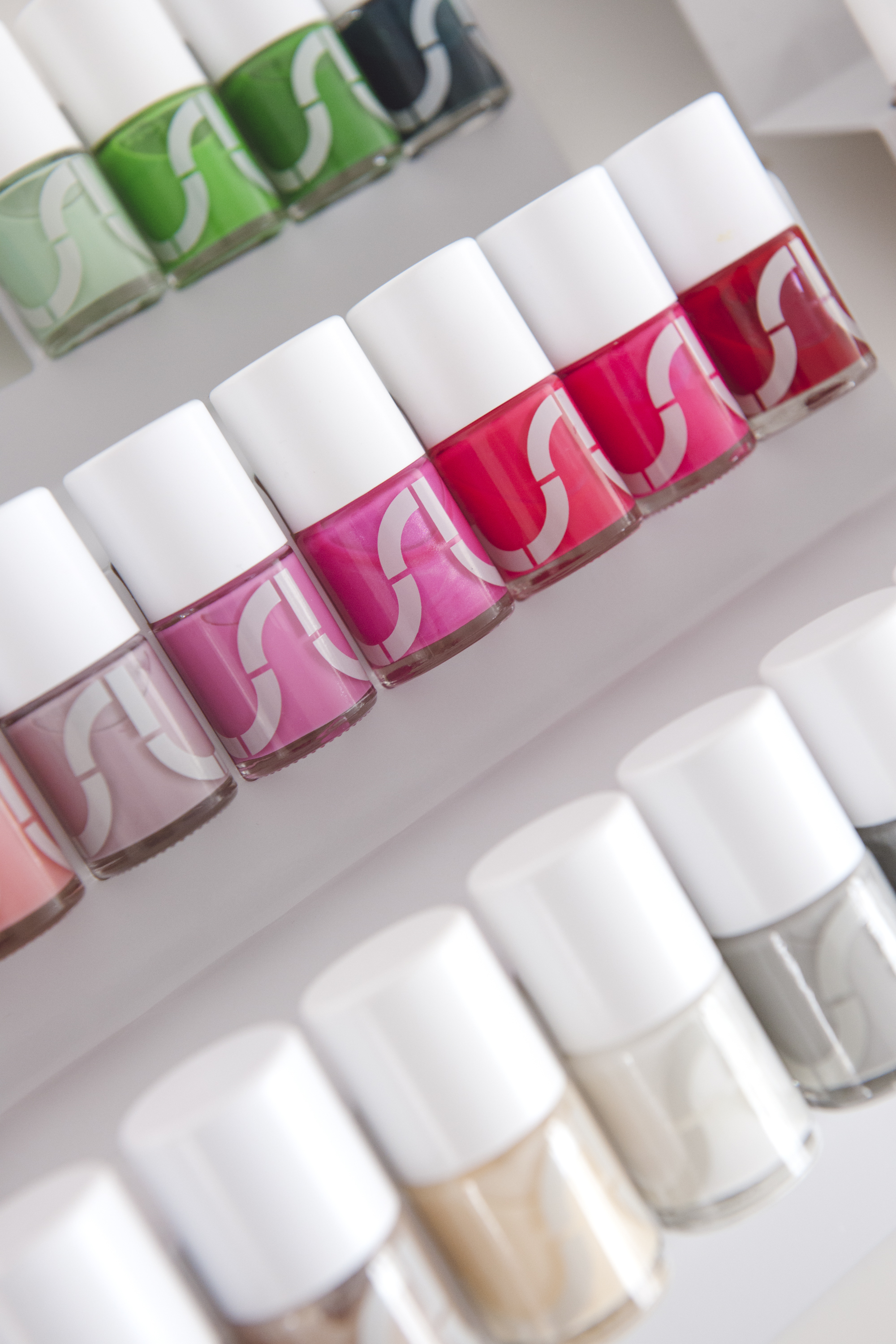 The renowned nailpolish range by Uslu Airlines.
Makeup artist Feride Uslu turned her original approach to makeup into a cosmetics brand, pioneering airbrush technology for home use. The self-professed colour maximalist talks about her affinity for technology and on-going obsession with how things feel.
Five words that best describe you and what you do?
Light, playful, visual, natural, and colourful.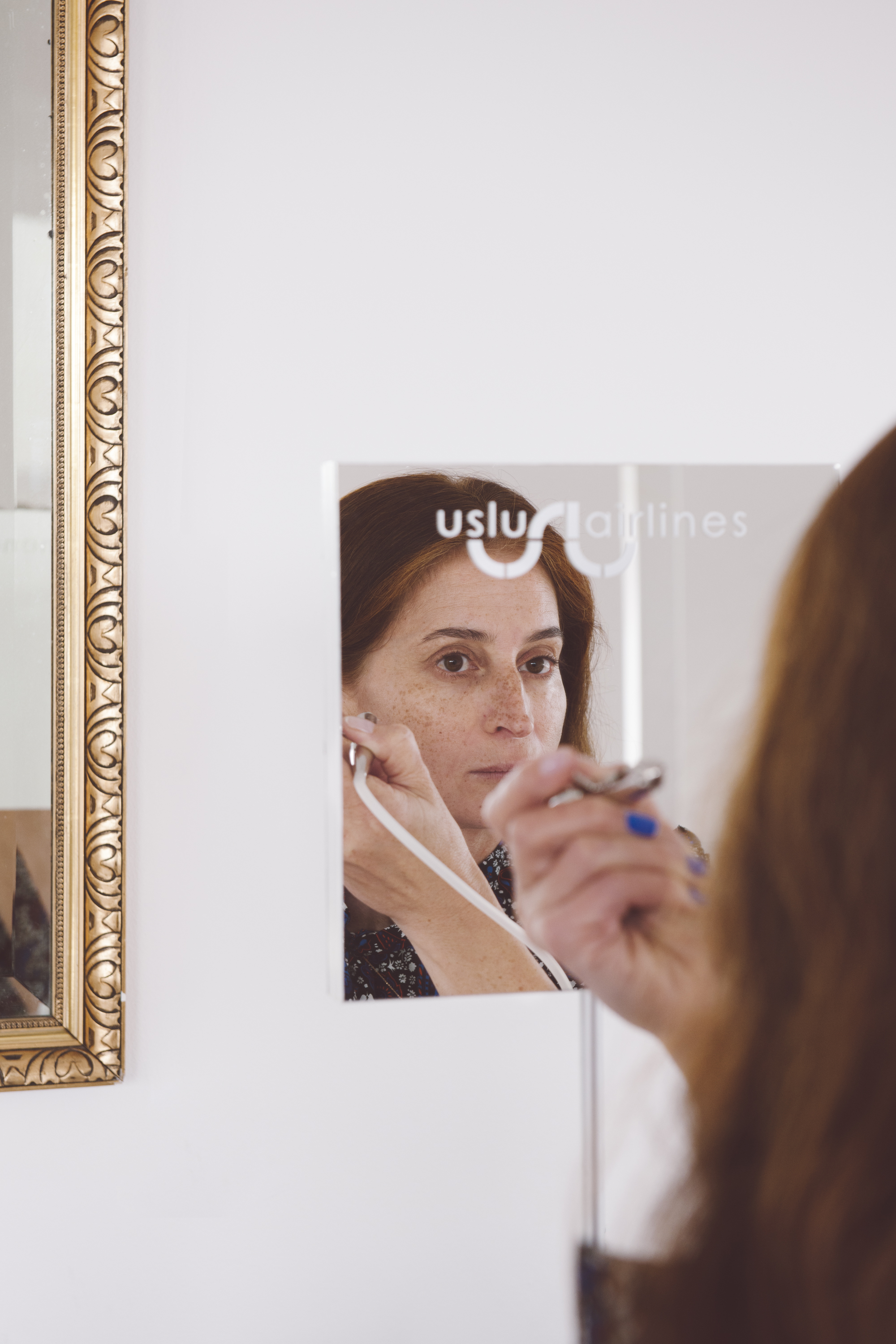 Feride Uslu gets ready using her airbrush system.
Is there common thread in the work that you do, topic or aesthetic that repeats itself?
My projects happen naturally through the people I meet. It is a process of cross-pollination. As a makeup artist I've always been a part of a group of people who are all multi-talented coming together to create an image. These people – I would call them visionaries on some level – from the worlds of fashion, design, music and art are all focused on the next new thing, not about being part of some trend. Also of course, all the things I do are tied together by colour.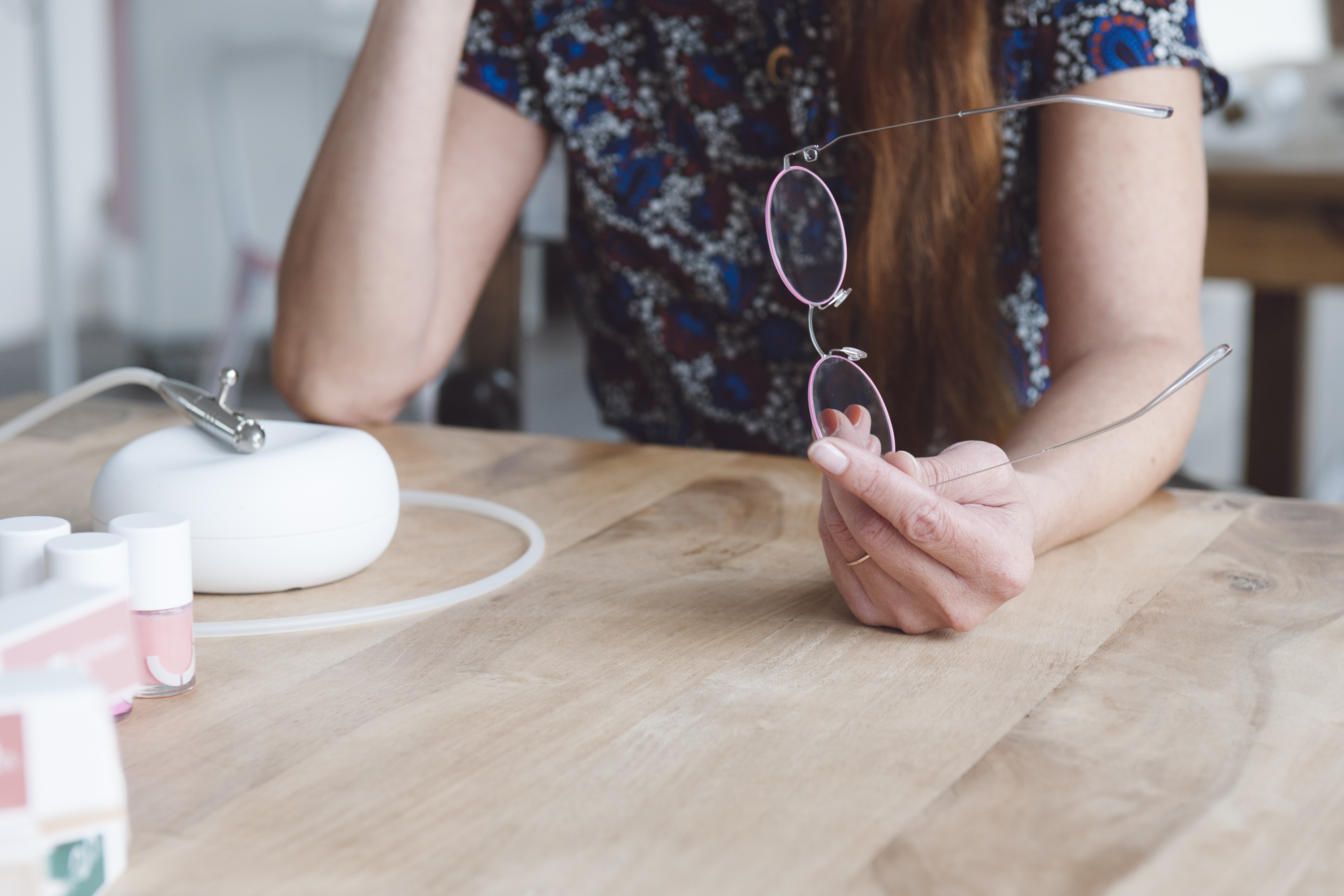 How important is handcraft in your work?
The way objects feel is important to me and I love to know where something comes from. I mean I really love minimalist designs, but I love to see the work that goes into something, such as old buildings and antique furniture. I actually made the original prototype for the airbrush system out of clay myself. The final casing of the product is a natural plastic made from bamboo and corn fibres. All the Uslu Airlines display surfaces are Corian, an engineered mineral stone – I just love how it feels. How things feel has always been important to me. It's a big part of how I make decisions, in everything from my work to shopping at the greengrocers.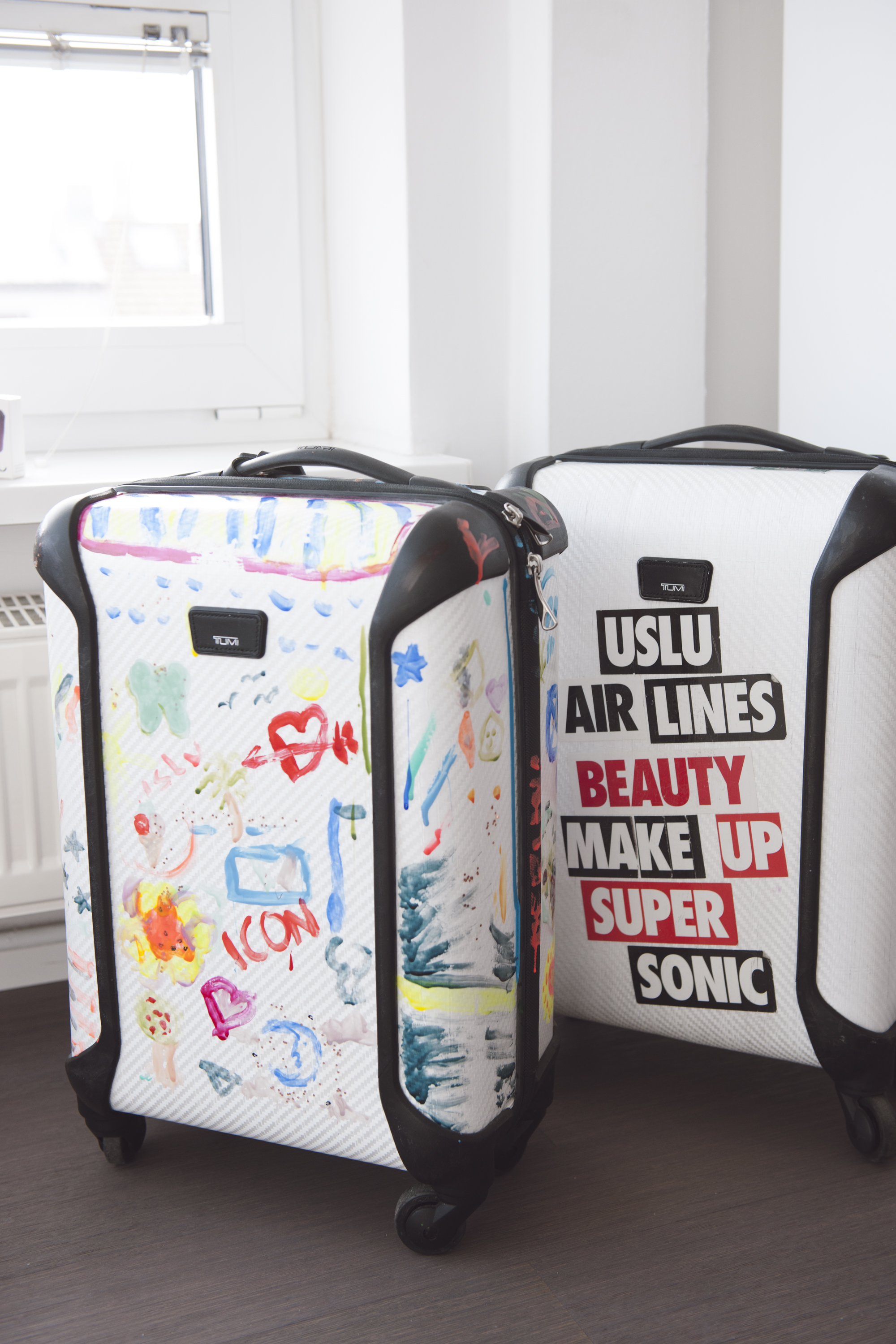 At Uslu Airlines: Feride-style customised luggage.
How important is technology in your work? Has it ever inspired something new in your work?
As a child living in rural Turkey, I grew up watching my mum doing the dishes and washing the clothes by hand. Later we moved to Germany with my family, but I'm happy that I know both worlds; maybe this is also how I developed my affinity for technology.
The technology behind the Uslu Airlines airbrush system you know from spraying a car. If you had a scratch on your car you wouldn't use a finger, brush or sponge – you would use an airbrush. It's the finest blend and graduation you can achieve. Airbrush makeup was used widely in Hollywood, films like Ben Hur with hundreds of naked men – they were all airbrushed. We modified the technology for home use and designed the product. The smallest compressor when I started out was 5kg – to schlepp that around is just impossible. The decision for Uslu Airlines came while I was pregnant and working as a freelance artist in New York; I feel like not many people in the fashion industry were having kids then so people thought I was handicapped and couldn't work anymore. I just thought – dammit, I have to do my own thing. The main reason I wanted to develop this business was that the right colour formulations didn't exist. Many were too thick for the skin. And I thought there must be a way to make the product look good. The Uslu Airlines airbrush is like a Mont Blanc pen – you want to have it!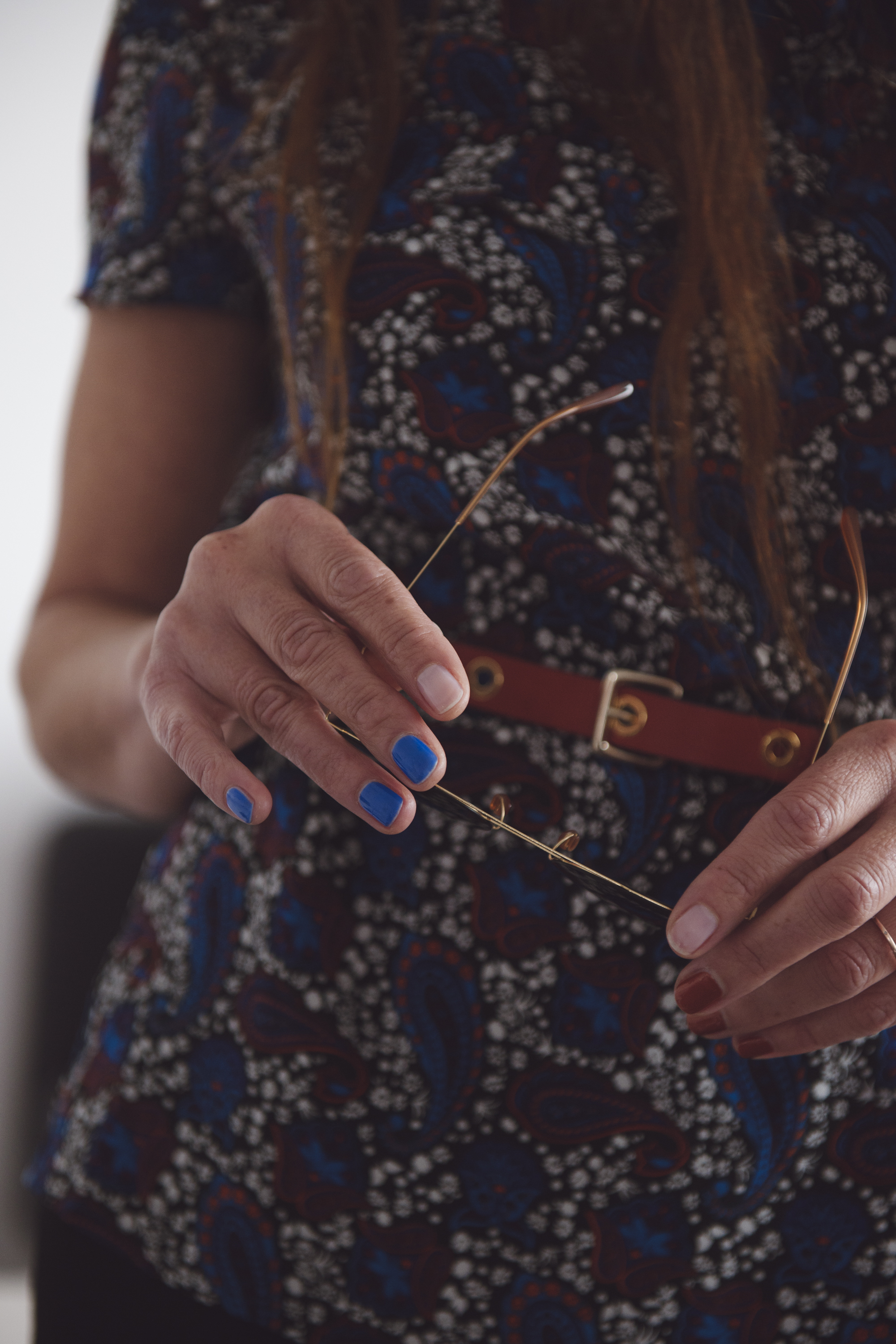 What does minimalism mean to you – would you describe your work as minimalist?
Minimalism starts with white for me. White is minimalism is calm and quiet and bright and light. And I need this as a place to start. Add one colour or eleven colours and it still looks clean and minimalist. When I started working in makeup the Nineties were all about super minimalism. For i-D and the Face Magazine it was all about no makeup and about skin. When it comes to makeup on myself I am definitely 'less is more'.
Is there anything in your life that is 'maximalist'?
Colours! I'm known for dressing colourfully but I don't look like a techno kid.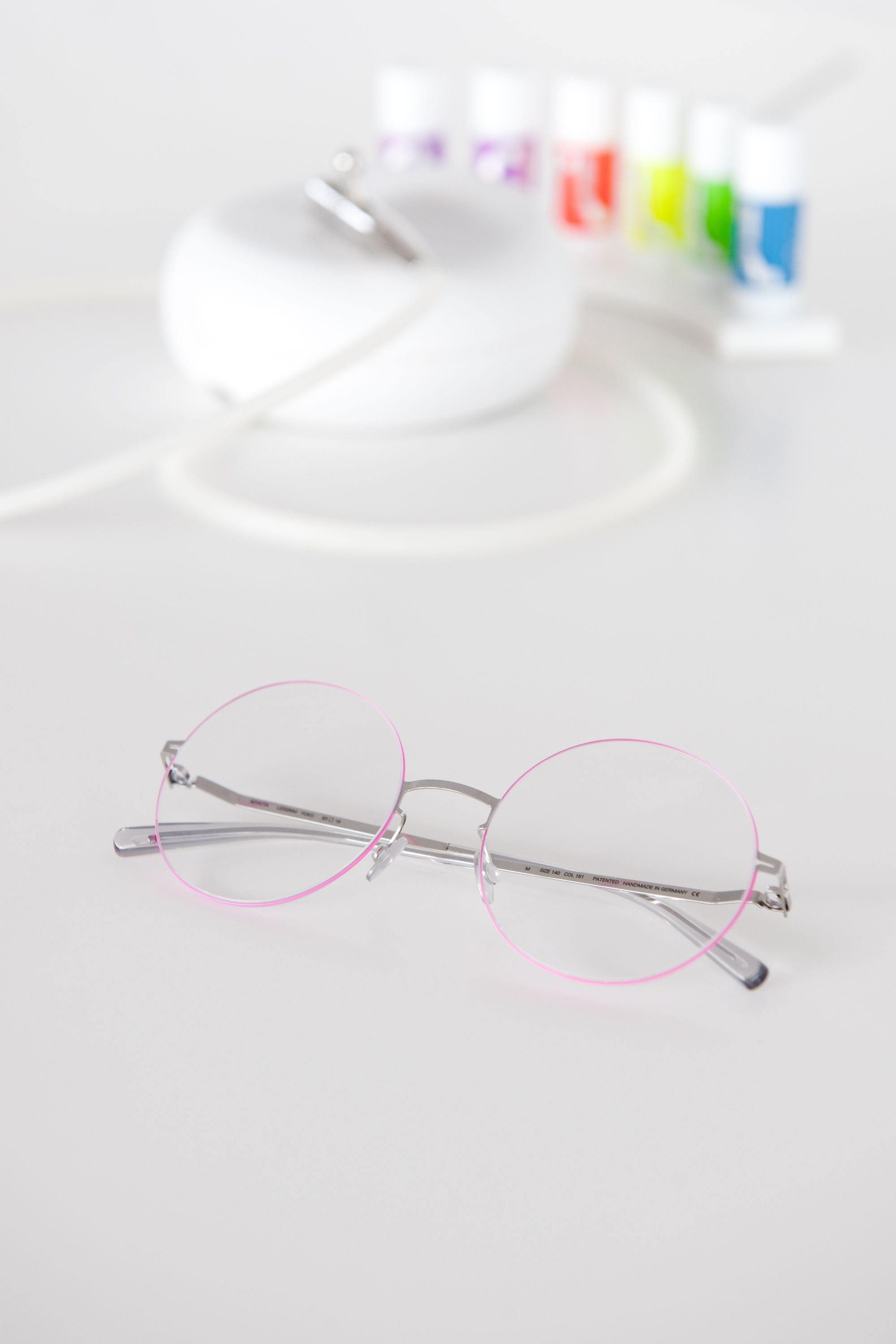 Do you have an impulse to 'reinvent' the things around you?
I'd love to design a car. Cars these days – something is missing! The backs of cars are not sexy anymore. As a child we would to road trips to Turkey and all we did was look at the back of the cars going by. Cars these days just don't have any personality. On the other hand some design, like many shoes for example, is simply trying too hard. Everyone trying to outdo each other. So many objects are really ugly. I sometimes get lost in trying to decide what is actually beautiful. Sometimes all you need to make something new is just a small thing – like here, just this pink outline. So pretty! And, as simple as that.
For more information about Feride Uslu, visit ferideuslu.com.