HAW-LIN: SURREAL PERSPECTIVES
Jacob Klein of Haw-lin Services.
Starting out as an online moodboard, design studio Haw-lin quickly gained acclaim for its consistently innovative visual style. The creative duo behind the airy LESSRIM campaign give insights to their approach and reveal the occasional transgressions in their pursuit of minimalism.
Five words that best describe you and what you do?
Abstract, reduced, mysterious, curious, and hyperreal.
Is there a common thread in the work that you do? A topic or aesthetic that repeats itself?
Jacob: I would say abstraction. Playing with what you expect to see. Playing with expectations. Playing with reality. You don't really know if what you are looking at is maybe rendered, maybe not. There is a surreal aspect.
Nathan: Instead of trying to find a new perspective, we try to change the perspective, to forcibly alter the reality. We want to compel people to look at an image a new way.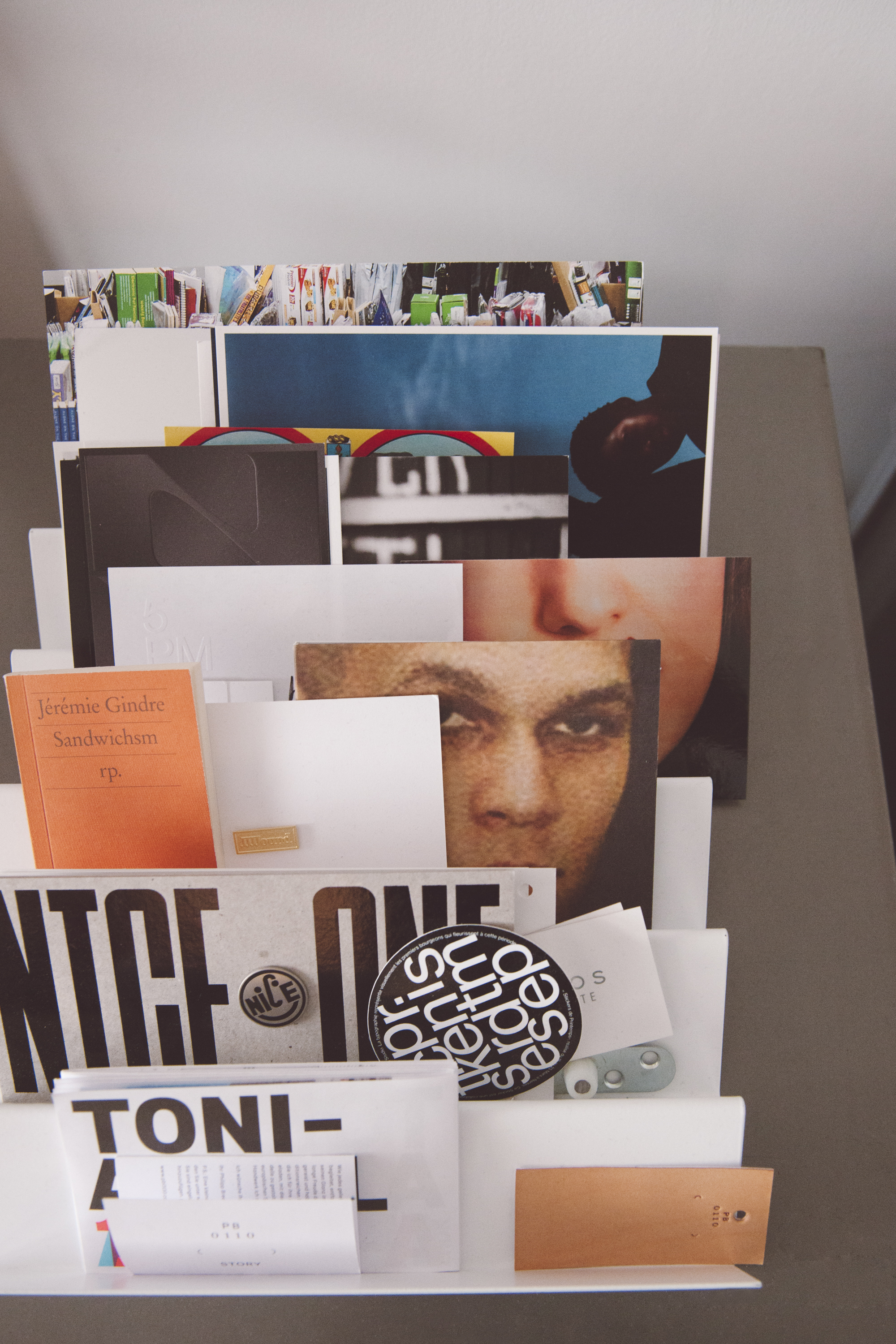 At the Haw-lin creative studio.
How important is handcraft in your work?
Jacob: We both have a graphic design background, but I did a carpenter apprenticeship before I started graphic design – another reason why we are so attracted to interiors maybe. In the end it really paid off to do this. It gives you an understanding for space and size. With still life photography craftsmanship really ties in with the set styling, you need to understand the object, how it behaves in relation to weight, space, how you can prop it up, how it reacts and so on. I mean I think we are both… neither of us have two left hands; we are hands on.
Nathan: Post-production is a lot like craftsmanship. I think the whole idea of 'truth is stranger than fiction' is quite spot on when it comes to image making. You sometimes have to do an enormous amount of retouching to produce an image that the human mind considers realistic. And on the other hand if you just photograph things with a certain kind of light you can easily create a very surreal look.
How important is technology in your work?
Jacob: A big change for us in photography was definitely working with medium format. The way we approached it opened up another dimension. We work a lot with cropping images, so you take the picture but you continue searching for the image within the image.
Nathan: I think technology influences us all the time. We're super up-to-date from the design perspective and we are both aware of the changes in software and hardware. Right now Jacob is testing out new sound equipment, which affects our approach to visual projects. We like to be aware of new things going on and just give them a try.
LESSRIM optical model MASAO at Haw-lin.
What does minimalism mean to you – would you describe your work as minimalist?
Nathan: Correct! It's the right way.
Jacob: I don't know if I would describe our work that way.
Nathan: We try to be.
Jacob: Yeah, I mean it's about getting rid of the things that distract or the things that are not necessary to communicate the same thing. How far can you reduce something down? Where is the point where the balance shifts? LESSRIM is a good example; it has been reduced as much as is possible. In the end the construction holds the lenses and that's it, nothing superfluous.
Nathan: Of course there are compromises in this minimal pursuit, especially within client-based work, there are different perceptions, and there are art directors involved.
Is there anything in your life that is 'maximalist'?
Nathan: Ebay – I'm notorious for having a big pile of Ebay things that didn't work out.
Jacob: I have a problem with sneakers; a little bit of sneaker addiction. I do admire people, who can reduce on everything that surrounds them, but I come from a family of collectors. My dad was collecting travel alarm clocks. For my grandpa it was stamps.
Nathan: I think I'm a product of my parents but in a different way: I was rarely given the things I wanted – even at Christmas – because I didn't "need" them. They even talked me out of buying things I'd saved up for myself using that reasoning. Now I think I overcompensate with too many random purchases. I also over-order at restaurants all the time. That's Chinese style – you always order more, especially when there are guests.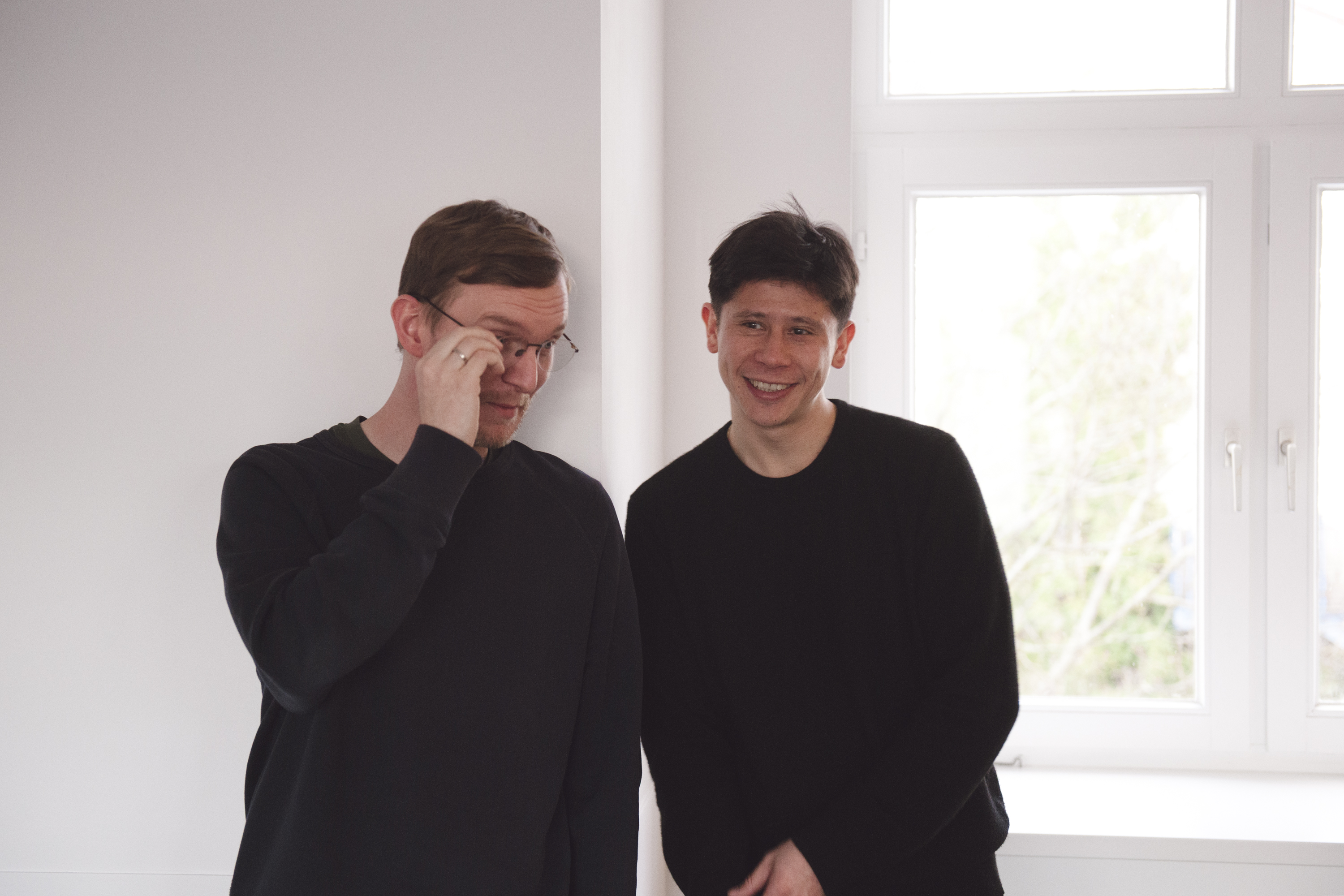 Jacob Klein and Nathan Cowen of Haw-lin Services. Jacob wears LESSRIM EITO.
Do you have an impulse to 'reinvent' the things around you?
Jacob: I don't know about reinventing… Ideally you should try to educate yourself as much as you can with what is around then avoid doing the same. That is what drives us to find new ways of visualising an object in a different light, in a different way, provide a different perspective. That is important to us.
Nathan: Working a lot with products does make you critical. We come across things where we talk about how it doesn't make sense. Recently we worked with a client on doing a pencil case – I don't know if it was reinventing it but it was nice to make our own, and we added some embellishments. So now we are making products! I feel that we have the confidence to know what we want out of a project or product, and then we work with the right suppliers and network to achieve this and get it right.
For more information about Haw-lin Services, visit haw-lin-services.com