IN CONVERSATION: STEPHANIE THATENHORST, THE ROOM WHISPERER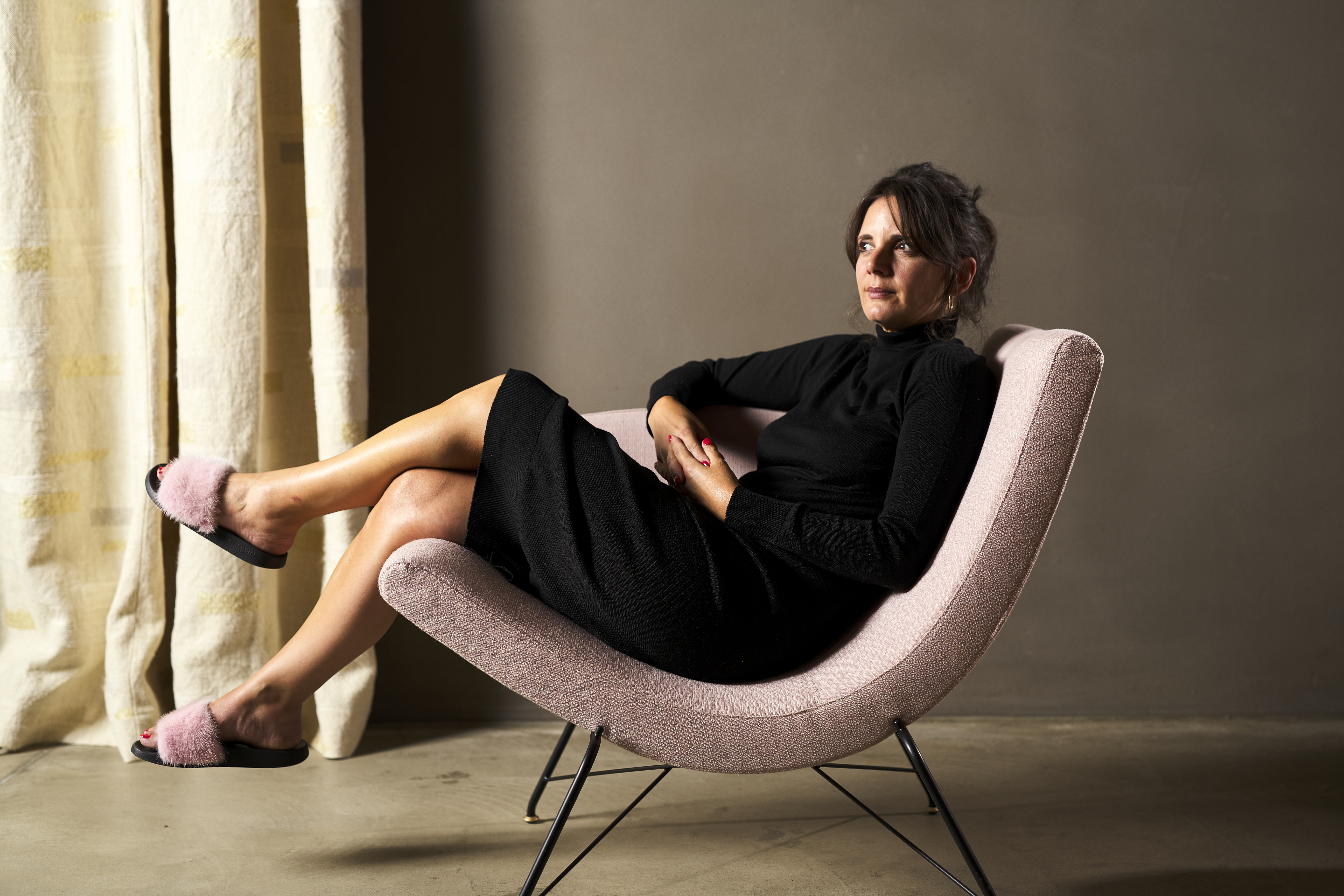 Stephanie Thatenhorst, founder of Stephanie Thatenhorst Interior Design.
As an architect, Stephanie Thatenhorst and her (all-female) team design restaurants, private homes, hotels, shops and more. Her work often reflects a kind of duality: the loud and colourful seems to appeal to her just as much as the quiet. She has a tendency to integrate deliberate disruptions into her designs to defy expectations and create an element of surprise.
Right about the start of the corona crisis, MYKITA opened the door to its Munich shop. Its interior design was a collaboration between MYKITA's in-house architectural team and Studio Stephanie Thatenhorst. Coming up to the one-year anniversary of the MYKITA Shop Munich, we reconnected with Stephanie, who shares her insight on creating places where people want to spend their time, including some quick hacks to improve your own living space during lockdown.

As an interior designer you have become known for your retail projects – can you talk a little about how retail architecture has developed in recent years, and what you personally think is important to make people feel comfortable in shops?
I think the thing is that we are not specialised in the retail sector, but involved in a wide variety of interior projects, including many private homes. So what I'm always aiming for is bringing a personal and comfortable ambience to retail projects, so that customers feel at ease and a little bit 'at home' making them to want to spend time in the shop.
Stephanie Thatenhorst Interior Design showroom. Photo courtesy of Stephanie Thatenhorst Interior Design.
Do you have any fixed guiding principles that you apply when furnishing rooms? Are there any signature elements to your creative vision?
It is different every time, there are so many factors that play a role. More than just furniture – it's about light, colours, surfaces, the layout of the room. Often a key piece will come to mind, something that I feel is just the right thing. And the rest follows around that. It can be a certain colour or a certain piece of furniture or light. So much has a lot to do with gut feeling and intuition, which is difficult to describe in words.
Stephanie Thatenhorst Interior Design showroom. Photo courtesy of Stephanie Thatenhorst Interior Design.
At the moment, many people are spending more time at home than ever – do you have any simple 'interior design hacks' to make homes more cosy and liveable that you can share with us?
The use of textiles, like curtains, cushions, carpets is always a quick and easy way to bring colour, comfort and cosiness into the home.
You co-designed the interior concept of the MYKITA Shop Munich – can you describe the distinguishing features of the shop?
The guiding concept and main visual features was all about contrasting the simple, homogeneous structure – all walls are grey – and the 'cool' materials, such as marble and chrome, with warm, soft materials and colours, such as the shaggy red carpet and the plush armchairs.
Do you have a favourite piece of furniture in the Munich shop or any other element that was particularly important for you to have there?
I would say our custom-designed counter in the entrance area. The combination of green and yellow marble with brown tinted mirrors put together in very individual shape is a real eye-catcher. This is our masterpiece

What do you love most about your work?
In the end it doesn't matter what type of project we are working on, it's always about creating spaces for people and we are entrusted with the task of breathing the soul into these spaces.