MY GUARD ONE WITH MASAMI HOSONO - PROTECTION, BUT MAKE IT CUTE!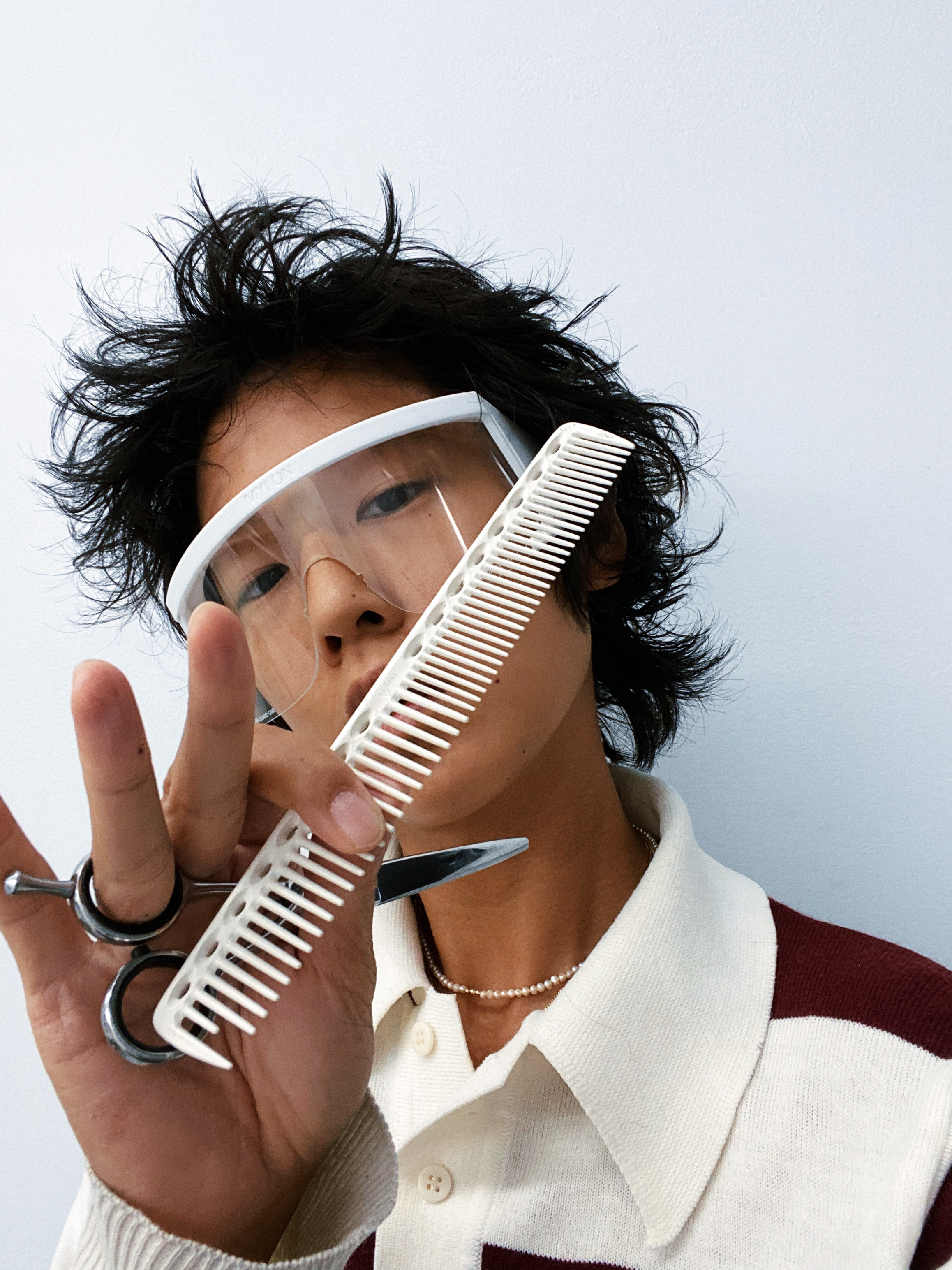 Masami Hosono, hairstylist and creative director of Vacancy Project.
Hungry for a chic chop and a life change, creative New Yorkers in-the-know head to Masami Hosono, a queer hairstylist and Creative Director of Vacancy Project, the renowned hair saloon and queer space attracting a community of New Yorkers from diverse walks of life. Originally from Tokyo, Masami still describes them-self as "very Japanese"— but with eight solid years as a New Yorker in the East Village, has established reputation for artistic, precise —and fast!—haircuts. Masami has had to adjust their own daily uniform to welcome clients back to Vacancy Project. Mask? Check. Gloves? Check. Eyewear? Check: Masami is one of the first global creatives to test-drive the GUARD ONE protective shield, as part of their daily routine.


MYKITA JOURNAL had the fortune to speak with Masami on Zoom about their creative vision, their unvarnished thoughts on GUARD ONE, and shaping one's own life, one snip at a time:
To start - we're always interested to hear how people describe what they do. How would you describe what you do at Vacancy Project? What types of people do you work with?
Vacancy Project has a big queer community. It's a safe space and gender neutral. Gender-based haircuts have been normalized for so long at most salons. Like "long hair is for women" and "short hair is men", but this perspective is outdated; we don't have those rules here. We see a person who needs a haircut and that's that.
My clients are very specific. A lot of them are creative people, in fashion, art, film, music. There's a mix of old and young: the students, but also old-school New Yorkers. And then there are my neighbors in the East Village — I've been cutting their hair even before I started Vacancy Project. The common thing among all my clients is that they want a different experience from other salons. They don't want a to sit down for two hours, get a blow dry and all of that, and they don't want to pay too much money. They want to get their hair done, go home, not wash their hair for five days and still look good.
How did you start? Find your way? Did you always want to cut hair?
My Mom is a pattern maker in Japan – she's a 'Fashion Mom'. But I never wanted to work in fashion although I've always loved clothes. I was more interested in hospitality and talking to people. I'm also very creative. In Japan, I used to really like the experience of going to a hair salon and I realized it's perfect for me - it's a service that's creative and where you meet a lot of people. I used to have a crush on my hair stylist. I never told her I had a crush on her — but everybody knew, since I came in for a haircut every 25 days… to cut off the tiniest bit of hair. I really wanted to work with her so when I was 17, I went to beauty school, applied for a job at her salon, got hired — and then she ended up quitting shortly thereafter!
That's how it all really started. What I really like about my job and industry is that you can wear whatever. Cover yourself in tattoos, dye your hair green? Fine. You still have a job. It's not corporate, it's independent.
We all see super interesting people showing off their Vacancy Project hairstyles on Instagram. What do you think is interesting in a client, what do they find at Vacancy Project?
Like myself, most of my clients have strong tastes and that's the most fun part. It's a collaboration, a dialogue. The hardest clients are actually the ones that are like "You do what you want, you're the artist". They think I like to hear that, but it's actually the opposite. When someone is extremely picky then I'm like, "OK, I got you!" I like the pressure, the people who say, "Oh I just moved from LA and I had my best haircut ever there and I don't trust anyone else." I don't know if they are trying to scare me, but I don't necessarily need them to trust me 100% before we start. It's about hair, so let's talk about hair. Let's find something we have in common. It's so important that we are on the same page before we start cutting.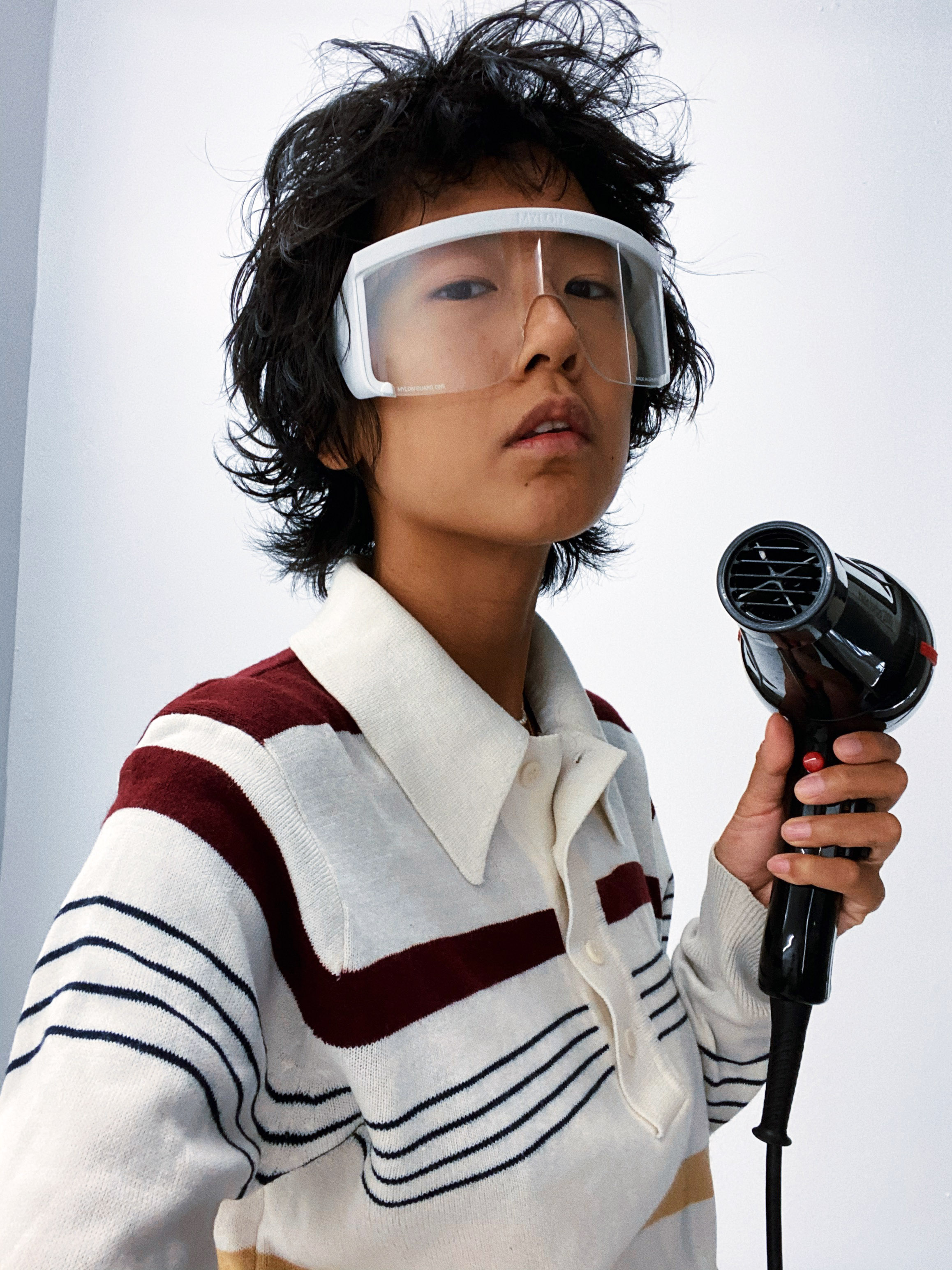 Masami wears MYLON GUARD ONE with the Clear lens shield.
So then what's your way to get on the same page? How do you know if a client wants to have conversation or not?
I have conversation with every client in some capacity. Each consultation is different. In consultation we talk about hair, and after the talk; it's routine. I know exactly what I'm doing; I don't change. Also, a haircut at ours only takes 10 minutes, so there's not so much time to get chatty or awkward while cutting.
Only 10 minutes?!
Yes, I don't know how it should take any longer? There's the conversation, the shampoo takes five minutes, the cut is five to seven minutes, and the rest is styling. Then you're done; you can go home!
Sounds like the consultation takes longer than the actual haircut! What do you try to find out in the conversation? What are you trying to understand?
It really depends. You have to read the room. Sometimes a client comes in and I can tell they have like 20 different reference pictures, but they don't want to show me. They feel silly to ask for a haircut worn on a supermodel or actor or whatever, so you have to build trust and make them feel super comfortable. Once they feel comfortable to talk to me, they very often know what they want. They might ask me for my opinion and then I might suggest some tweaks depending on what I see and learn about their jobs, how they dress, if they are queer and so on.
I definitely have some points I need to confirm. Like how much they want to cut. A lot of people have 'hair trauma' from the past. They told their stylist they wanted to cut one inch but then suddenly, it's five inches shorter. Of course that can be scary! I also need to know about their routines. Perhaps they use apple cider vinegar instead of shampoo, or they work out every day and need to wash their hair often. Things like that are very important and inform my decision. Also, I don't show any negative expressions, because I want them to feel good about the changes they are about to make. It's like a kind of therapy.
Do you get a lot of people who come in and say, "Oh my GOD, I'm tired of my life, I need a change"?
Yes, so many! Most of the time when we talk about break-ups, most people are scared to change. This one client showed up and said she was going to see her ex for the first time since they broke up, after being together for five years, and she needed to look cute. She wanted the ex to feel like they really fucked up. She had long hair and I ended up cutting it super short — I did my best to make them look hot and cute!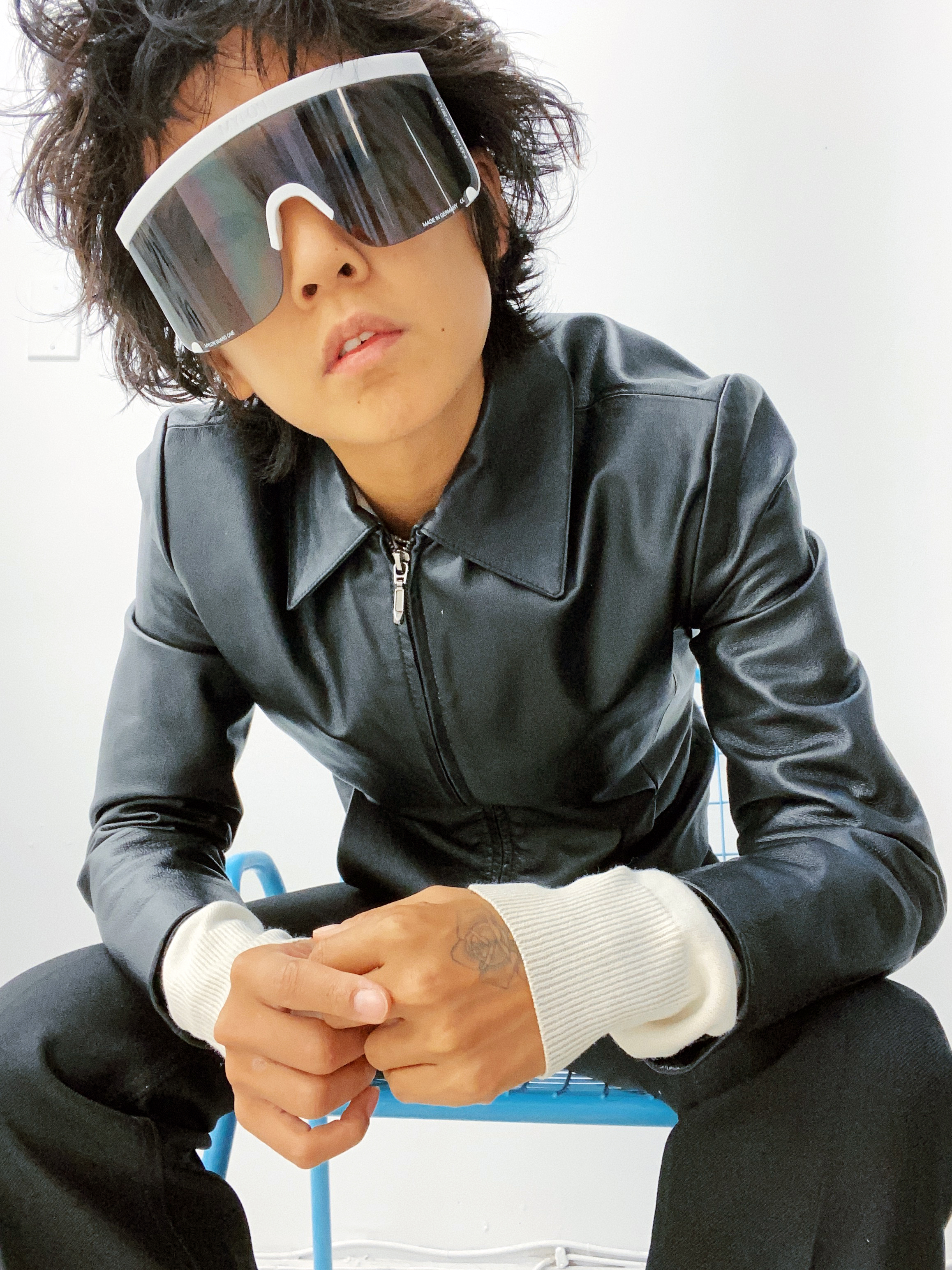 Masami wears MYLON GUARD ONE with the Medi Grey lens shield.
Emerging from quarantine, have you had to change your own routines, even what you wear?
I'm very happy to be back to work now. We are of course following the official health guidelines. I have to wear a face mask and gloves at all times. Gloves are very hard when cutting hair, because I can't feel anything and I keep cutting holes in them — the gloves, not the clients! (laughs)
What about the GUARD ONE frames, have you test driven them?
Yes! GUARD ONE is super lightweight and easy to wear. I could have them on for eight hours without it hurting. And it looks really cool. Even in protective gear, I always want to look cute and wear cute outfits, so this shield is helpful. When I wear my mask and shield at the same time, it sometimes gets a little bit foggy, but way less than with normal eyewear.
Do you wear GUARD ONE off-duty?
Not so much right now, because I'm actually very isolated with my social community. Since I work with a lot of people, sometimes I have 10 clients per day, I have a real responsibility and need to be extra careful. But once I start to see more friends or take public transportation, I'd definitely wear them.
Have your clients commented on GUARD ONE?
They have! Mostly they say that they feel safe when I wear them. They appreciate the effort. They also think they are cool, very fashion! And together with my face mask and pink gloves, it's certainly 'a look'.
How would you describe GUARD ONE in one sentence?
It's super light – like, sooo light. But then the shield itself is huge and yet it doesn't obstruct my view. It literally covers half my face. Which is cute!
Who would you recommend GUARD ONE to?
I'd recommend them to anyone who works with people on the daily – hair stylists, make-up artists, nail artists, anybody who works on fashion shoots. But, definitely as a hair stylist, I recommend the GUARD ONE to hair stylists! We all want to be safe while looking good.